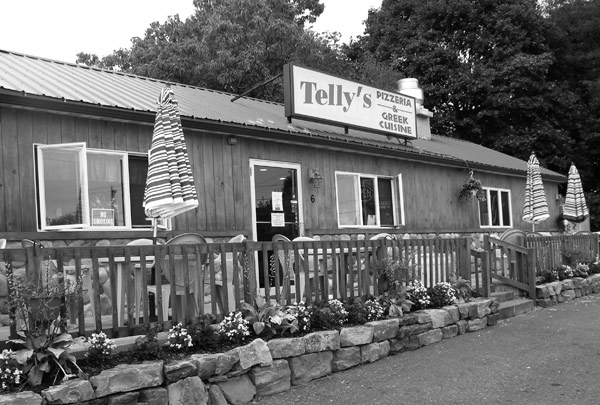 Telly's, a pizzeria with a Grecian twist, is the latest restaurant to come to Oswego.
The business relocated from Scriba , NY, and now sits on the corner of Baylis Street and State Route 104, located within walking distance for Oswego State students.
Despite the turnover rate at the location, now housing its third business within four years, Telly's is thriving since opening in August.
"I'm really the first owner with experience," said Telly Yagan, manager of the restaurant. "I had to change a lot of things."
According to Yagan, David Washburn, the current landlord, opened Oswego Hots in 2007 with his son, who had just graduated from Oswego State. However, his son was deployed to Afghanistan and the business shut down. Washburn then rented out the property to Hannah's, a hot dog and sandwich restaurant that closed a few months later after being late with the rent.
The property remained vacant until Yagan and his wife purchased the property.
After beginning preparations in May, it took about seven weeks to get the building into a suitable condition for business.
"I've been really busy and doing really well," Yagan said. This can be attributed to having a unique palette of both Greek and Italian food, and the Grecian aspect is helping to distinguish Telly's from the countless other pizzerias in Oswego.
"We make everything from scratch," Yagan said. "My wife and I put our souls into this place." Dana Yagan, his wife, is the owner of the business, while Telly Yagan manages it. Together they employ seven others.
The clientele that Telly's had been building up since 2006 has relocated as well, which has given the restaurant a firm base at the new location in Oswego. These clients come daily and Telly's is still taking orders for certain businesses.
The devoted loyalty is because of the Greek food, including gyros, pastitsios and moussaka. These are on the menu along with Italian favorites like calzones and pizza.
Only about 15 percent of the business is Oswego students, according to Yagan, which can be attributed to the fact that the majority of the students take Washington Boulevard and that the place is still new.
Telly's is open until 4 a.m. on Friday and Saturday nights, and delivers anywhere within a four-mile radius. Yagan hopes the amount of student traffic increases as students become more aware of the restaurant.