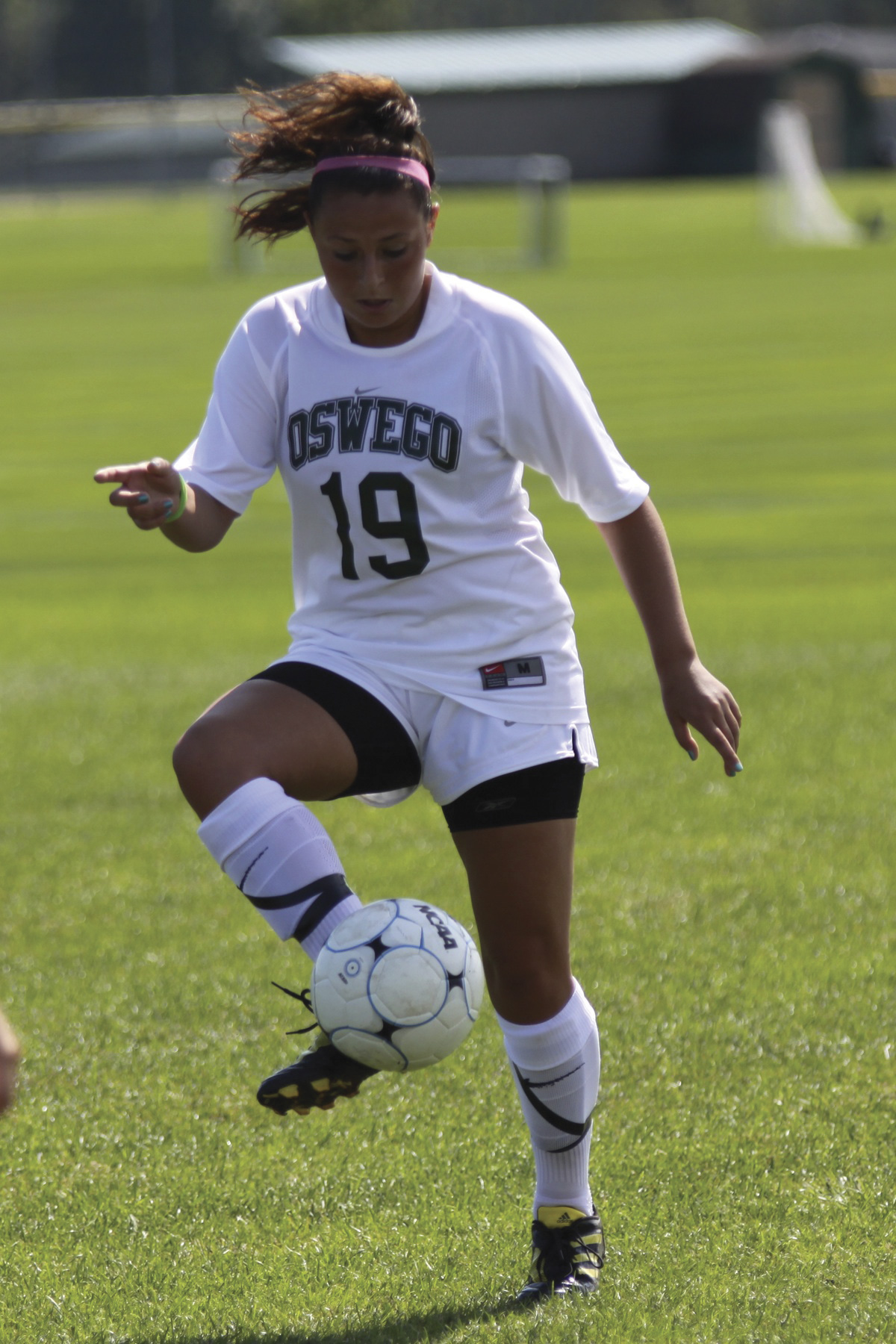 "Nikki Liadka is not your typical freshman athlete for the Oswego State women's soccer team. Liadka leads the team with six goals and 14 points, and is tied for the team lead in assists with two. She scored both goals in her team's 2-1 victory last week against Nazareth, including the game winner in double-overtime. Despite all her success on the soccer field, Liadka still has trouble understanding why she is getting so much attention.
""It's kind of weird being interviewed after games," Liadka said. "I don't know what to say. I did not have this kind of attention in high school."
"Ironically, the post game interviews might be the only difference for Liadka at the college level. She is playing at the same level of excellence she was last season as a leader of the Liverpool Warriors High School team. She is in the same position at outside midfielder and her head coaches, at both levels, have an interesting connection: they are related.
""Yes they're brothers," Liadka said. "I met (Oswego State) coach (Brian) McGrane through my high school coach."
"Liadka is a big fan of her current coach at Oswego State.
""He is easy to talk to," Liadka said. "Nobody on our team hesitates to talk to him or approach him. On game days, he pumps the whole team up and motivates us."
"The Lakers are 5-3 on the season and have won four of their last five games. The strong start can be attributed to the grueling three-a-days during the first week of practice.
"All of this work and preparation is nothing new for Liadka, who has been playing organized soccer for as long as she can remember. She does admit, however, that there is a clear difference between varsity soccer at the high school and college levels.
""There is a lot more pressure in college," Liadka said. "A big loss here means so much more than in high school. We are here to play soccer. In high school, we are taught how to win. In college, we are taught the need to win."
"It is this drive to win that catapulted Liadka into the limelight recently in the Lakers successful match against Nazareth. Liadka described the game against Nazareth as "dead tiring."
""We fought so hard all game long," Liadka said. "When (Nazareth) scored late, we knew we had to buckle down and play all the way to the end until we finished."
"In regards to her game-winning goal, Liadka was practically embarrassed when it was suggested that she won the game for her team.
""I think my eyes were closed," Liadka said. "I just threw my body in and I was hoping I could get in after the ball."
"Liadka's quick shrug of any credit is clearly evident of her upperclassmen teammates' leadership. Senior Captains Toby Klein and Kelly Morrit, and junior captain Laura Ambron have created a positive team environment.
""I was afraid, at first, to come in as a freshman and try and fit in on the team," Liadka said. "It's been so great and we are a big, happy family and there is so much talent on the team. Kelly Morrit is always on the field saving our butts and being such a great motivator. Shelly Bateman is so fast. She is great with the ball and when she gets it in the open field, I say, good luck, to the defense."
"The Lakers took their skills to SUNYIT on Tuesday and won convincingly, 3-0.
"Liadka would score two of the team's three goals that evening against the Wildcats. The two goals were her 13th and 14th points of the year, exactly 10 points more than the next closest teammate, Bateman, who has four points.
"The Lakers head to SUNY Plattsburgh and SUNY Potsdam this weekend, as the first major road trip of Liadka's young career continues.