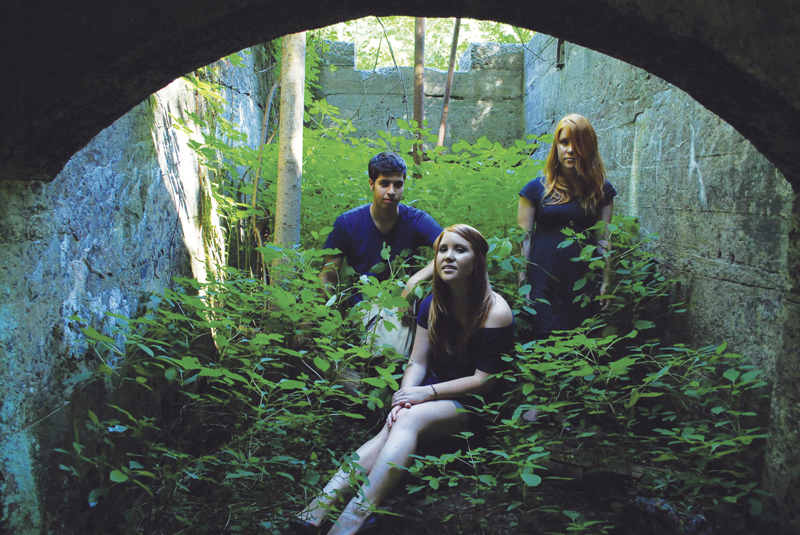 When Maggie and Maynah Goble graduated from Oswego State, they wanted to book a summer tour for their band, Closer Still, but quickly ran into difficulty. Eventually, the sisters devised a unique way to go on tour and promote their band.
Beginning in August, the three-person pop-folk band set out on an "Open Mic Tour" to get exposure and make contacts for future bookings. The group also set up a blog, http://theopenmictour.com, to document their trip and keep fans updated while on the road.
"We weren't having much luck… so we decided just to go out on the road anyway and play open mics," Maggie Goble, class of 10', said. "We were usually able to book shows after, so we'd go and play somewhere at open mic and then they would say why don't you come back and play a show?"
Closer Still consists of twins Maggie and Maynah Goble, and guiatarist Jason Checkla, class of 2010. The group covered over 2,000 miles in Checkla's 2008 Gold Honda Civic in about three weeks. The band's first stop was an "open mic night" at a bar in Philadelphia where they performed, sold CDs and got a booking to return in early October. From there, the group headed south along the East Coast, stopping anywhere there was an open mic night to perform at, and even the occasional beach to soak up some sun.
The group funded the tour themselves and relied on CD sales and gas donations to help pay the bills.
While on tour, the band found accommodations using the website http://couchsurfing.org, which allows travelers to connect with local hosts anywhere in the world.
"You can register on the website to house people for free if you have an extra couch or bedroom," said Maynah, class of '09. "In every city we went to it was free, so we would stay with someone we just met."
The band spent about half the trip staying with friends and the other half sleeping on stranger's couches. When there was nowhere to stay, the group slept in Checkla's car.
Checkla's car was packed so much for the trip that there almost wasn't room for the three of them. With all of the instruments and sound equipment, there was just enough room for each person to have a small bag of clothing. The group brought a keyboard, guitars, drums and extra microphones. Living out of Checkla's car in close quarters for the duration of the tour had an unintended consequence of illness spreading.
"We got a little sick at some point in the trip, but you have to learn how to fight through it because when there's only three of us, it's not like one of us can sit out," Maggie Goble said.
They persevered and the band was able to compensate when a member was sick. Maggie Goble's soprano, Maynah Goble's alto and Checkla's tenor provided a balance that allowed the trio to be flexible with their performances.
The band got up each morning and Checkla drove three or four hours to their next destination. And after they arrived, the waiting began. The group had nothing to do until later that night when the open mic started.
"We'd get to a city and we would just end up hanging out in a coffee shop with Wi-Fi the whole day until the open mic," Maynah Goble said.
During the day, the trio would post to their Open Mic Tour blog, answer e-mails and do some sightseeing. They especially enjoyed seeing the Liberty Bell in Philadelphia, taking in the landscapes of various cities and making side trips to the beach. The grueling pace of the tour meant the band was in a new city nearly every night. A typical day would entail driving in the morning, waiting for the open mic while sightseeing in the afternoon and then performing at night.
"The schedule of a musician is kind of nice because we don't have anything to do really until seven or eight at night, and then you work until two or three in the morning and then get to sleep the rest of the day," Maynah Goble said.
In addition to playing through sickness, the band also dealt with fatigue.
"By the end of the three weeks we were all just worn out," Checkla said.
The intense nature of the trip meant the group had to stay sharp any way possible. Maynah would drink Red Bull and Monster all day, while Maggie preferred the occasional cup of coffee to help stay awake. Checkla stocked up on powdered energy drinks before the trip because they were cheaper than regular energy drinks. During their trip, Checkla said they tried to spend as little as possible.
"Most of the time it was people buying us free food, buying us free drinks," Checkla said.
Toward the end of the tour, the band managed to slide into an open mic competition in Boston after another group had to cancel.
"It's always hit or miss with the open mics, you never know what you're going to get… sometimes you have to get there two hours early just to sign up," Maynah Goble said.
Closer Still was one of 29 bands in the competition and made it into the final three groups before winning the entire contest. In addition to winning the cumulated audience cover fees, the owner of the club decided to book them on the spot for a paid performance in October. The Gobles said they like the freedom of being on the road and even though they don't make a lot of money. They feel the music is more important.
"It was very liberating in a sense because we had no set schedule," Maggie Goble said. "If we didn't feel like playing one night, we didn't have to and if we wanted to go and play three in one day, we could."
The trio ended their tour on Aug. 26 when they returned to Oswego in time for margarita night at Azteca on Thursday, played at Old City Hall on Saturday and performed at the Clinton Music Festival on Saturday.
The band made a plethora of new contacts and booked several performances for the fall. They are planning to retrace their steps for another tour in the coming months. Their next tour will also be partially aimed at promoting and selling their new album, "Happy Everyday," which is due out at the beginning of October. Even though their pace thus far had been grueling, Closer Still has no intention of stopping anytime soon. They plan on being in the studio working on another new album before the end of the year and are even considering relocating to Baltimore for a few months to have a better touring base.