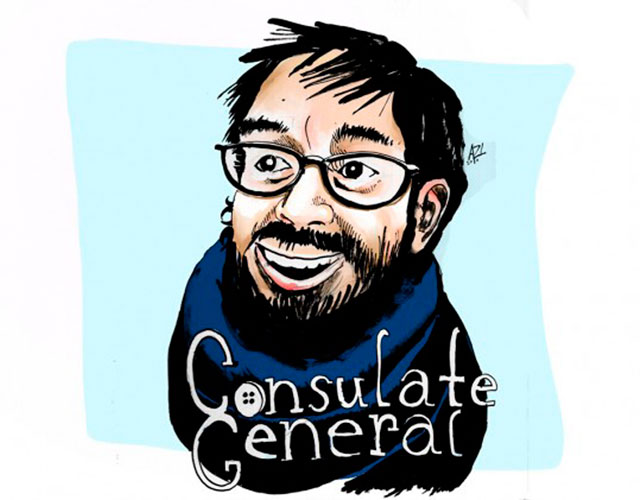 I recently had the chance to interview Alexander Chen about his new solo project The Consulate General. His new album is entitled "Person Number." It features slow melodic tracks that blend orchestral and electronic elements with Mr. Chen's excellent songwriting about longing and a little old place called Sweden.
Q: Why the name Consulate General? Did you feel like you were representing a foreign country's interests when you moved to Gothenburg, Sweden?
A: I was in the middle of relocating when I had to name this new project. We had to call Sweden's "Consulate General" office in the U.S. repeatedly to get our questions answered. It was pretty difficult getting someone on the phone. I think it was when I was writing a check out to The Consulate General of Sweden that I decided it would be a good name. Your interpretation seems about right. It sounds very mysterious, and old-fashioned to me.
Q: What was it about Gothenburg, Sweden that inspired you to write the songs on "Person Number"?
A: "What Time Is It Now" was written when I was in the thick of these mind-numbing logistics, so I wanted the lyrics to be very inhuman and technical. The title itself comes from one of those "What Time is It Now In…" time zone websites. (I was also inspired by) lots of acronyms (SWIFT bank codes, NTSC/PAL DVD conversion, things like that). When we were warned about these "TV Controller" people that come knock on your door to make sure you don't own a television (you have to pay a tax if you own a TV), I had to include that too. A couple other songs were written while I was still living in Berkeley, Calif. so there are quite a few references to that area too (like "Lonesome Sunday.")
Q: Has The Notwist's music influenced your songwriting? Who are some of your influences that you look to during the songwriting process?
A: For The Consulate General, I was actually listening to a Roy Orbison compilation when I decided to put a set of new songs together. The original versions of "Half-Day Honeymoon" and "Sweet Solano" were written in that vein. It veered into more comfortable territory as things progressed, but I think it's a good way to go – to start out with a really far out inspiration. My wife actually wrote "Cole Porter" on my hand yesterday.
Q: Your Song "On The Run" was written on a battery powered Casio keyboard. Was this an experimental way to write a song for you, or something that you do fairly often?
A: I do that often now. Over time, I've gotten very comfortable with the production process on the computer, but it can sometimes work against you. I found it very refreshing to sit with the battery-powered Casio in another room, just to not stare at a computer screen. Simplifies the variables.
Q: There are some great little interlude tracks on your album "Person Number," but the one that stands out to me is "Liesa Lietzke," it's got so much character. How did this track take shape?
A: Those interludes were originally created for this collaboration project with my wife called "Studio Masters." It was for an art show, where we created 46 two-minute songs, each based on a specific artist in the show. Then we loaded them onto MP3 players, like a museum audio tour, so people would have a soundtrack for the tour. "Liesa Lietzke" is one of my favorites as well. I think the drum sounds are samples of cabbage being peeled apart.
Q: What's next on your agenda over there in Gothenburg, Sweden?
A: I'd like to collaborate with some local musicians while I'm out in Gothenburg. I've been e-mailing with Boy Omega and I might sing a bit on one of his new songs. I'm also collaborating remotely on a few tracks with the guys from Blue Sky Black Death that I'm pretty excited about.