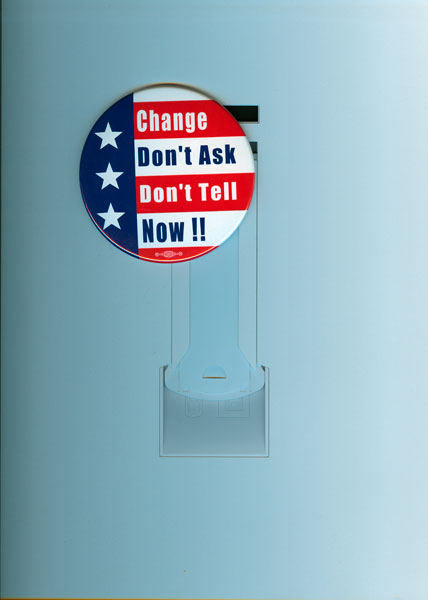 Oswego State's president Deborah Stanley said the debate surrounding Secretary of the Army John McHugh and the "Don't Ask, Don't Tell" policy has become overheated.
Stanley also said that she would more than likely wear a button advocating for the policy's end when McHugh visits campus on May 15, but only if she and others cannot meet with McHugh before his commencement remarks. The button reads "Change Don't Ask Don't Tell Now!!"
"We've proposed trying to arrange a meeting on behalf [of] faculty and students," Stanley said. "I think it would be a good thing. We want to get the message across."
The message would be one of supporting the repeal of "Don't Ask, Don't Tell." However, no meeting is scheduled as of yet; the secretary's schedule has so far precluded the get-together. Stanley added that she thought calls for boycotts and protests against McHugh were unwarranted.
"What I felt about the protest is that we were taking him on as an enemy," Stanley said. "But it's not true; the facts don't support it. He is in favor of changing Don't Ask, Don't Tell."
McHugh voted for the policy as a Republican congressional representative. Since joining the Obama administration McHugh has changed his tune, making statements in support of "Don't Ask, Don't Tell's" repeal.
"It's really important that these kind of issues be aired, but it's really important to get it right, because you could do damage to your cause when you don't get it right," Stanley said. "The cause is very important."
For their part, faculty members continue to take the issue to the students.
In preparation for McHugh's visit, an openly gay Air Force officer will speak at College Hour on May 5 in Lanigan 101. The speaker, calling himself J.D. Smith, is a graduate of the U.S. Service Academy where he helped organize a group of gay and lesbian service members to speak out against "Don't Ask, Don't Tell." Professor Charles Spector, chairman of the department of accounting, finance and law, is sponsoring the talk.
Smith, who is the co-founder of Citizens for Repeal, will speak about the experiences of gays and lesbians serving under the "Don't Ask, Don't Tell" policy.
"I think that's what College Hour is for," Spector said.
Spector is a veteran of the U.S. Armed services who spent two years on active duty and 10 years in the army reserves. He said he supports the repeal of "Don't Ask, Don't Tell" and would not mind gays and lesbians serving openly.
"The only thing I ever cared about was that [the] person next to me was the best person the army could find to do their job," Spector said.
But Spector himself said some of the proposed opposition to Secretary McHugh's visit was over the top.
"Personally, I don't think boycotting graduation is a good idea," Spector said. "I don't think disrupting graduation is a good idea. I think making a lot of noise is a good idea, just not at graduation."
United University Professions (UUP), the faculty's union, is strongly in support of repealing "Don't Ask, Don't Tell," said Spector, a former UUP president. The union has purchased the anti-"Don't Ask, Don't Tell" buttons and plans to distribute them to other faculty and students in advance of McHugh's commencement remarks.
Secretary McHugh will make remarks at the dual College of Liberal Arts and Sciences and School of Communication, Media and the Arts commencement on the morning of May 15. Sen. Charles Schumer, Rep. Bill Owens, and members of the SUNY Board of Trustees are also expected to be in attendance, Stanley said.