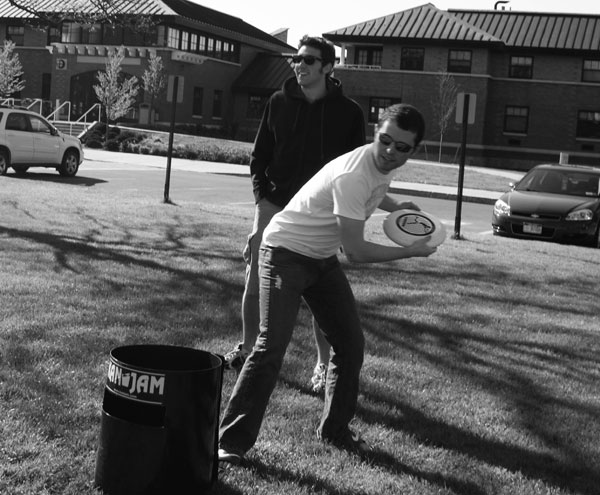 College students have been known to latch onto new fads, but Kan Jam, a disc-throwing game, appears to have made an impression and may be here to stay.
People across the country have been playing Kan Jam, which has grown in popularity to the point that a local Kan Jam league will start in Oswego.
Steve Smith had been playing Kan Jam for two years with his friends when he decided that a league was really a matter of necessity. He has begun setting up an intramural Kan Jam league and has gotten approval from the Oswego City Council to use space at Fort Ontario Park for the league.
"I thought about maybe just getting some guys and meeting up…once a week and playing," said Smith, a 2008 graduate of Oswego. "I could only do so many games…because of space, but by going to the city and having them allow me use of the facilities, I have basically as much space as I need."
Games will take place Mondays from 5:30 to 8:30 in the evening with the first game starting June 7 and a championship game tentatively scheduled for August 9, Smith said.
Smith and his friends are not alone in their love for Kan Jam. The game has been sold to tens of thousands of people since Charles Sciandra invented Kan Jam back in the mid-1990s. Sciandra and partner Mitch Rubin manufacture and distribute Kan Jam to over 600 retail locations around the world.
The Kan Jam story "started in the 1990s with a group of guys" that started playing a disc-throwing game with a metal trash can, Smith said. Buffalo residents refined the game, and in 1996 the inventors decided to apply for a patent. After 13 months, the patent was approved—Kan Jam was born.
The game uses two plastic "kans" set 50 feet apart. The object of the game is to get 21 points by throwing a disc toward your team's kan. The teammate can deflect the disc to attempt to make it hit the kan or go in. One point is awarded for a redirected hit, two for a direct hit and three points are awarded if the disc goes in the kan without interference. If the disc goes in the slit on the front of the kan, the team wins instantly.
From there it took five years to figure out the manufacturing process, but in 2001 they were finally ready to be sold.
Then in 2006, Rubin came on board. He had 14 years in sales and marketing before coming to Kan Jam and put it to use redeveloping Kan Jam to sell better in stores and appeal to more people. Rubin left his day job in 2008 to work on Kan Jam full-time.
"It just kept growing and growing…and then became a phenomenon," Rubin said.
As a testament to Kan Jam's success, the Kan Jam World Championship, held in Buffalo, had 110 teams from all over the country. This year Sciandra and Rubin expect over 200.
Kan Jam is not limited to just locals. For their part, students have been playing the game more and more. Many residence halls have Kan Jam sets that students can sign out.
Allen Barry, a freshman finance major, started playing Kan Jam last summer with his friends at graduation parties. He originally played ultimate Frisbee, but then tried Kan Jam.
"Kan Jam leagues are a great way to meet people and anybody can play." Rubin said.
Barry said he'd be interested in joining a Kan Jam league if it were offered on campus.
Smith said he is aiming to get 16 teams for his league; he already has about a dozen of his friends who want to join. Although the Kan Jam league will take place over the summer, Smith said he plans on starting an indoor league in the fall that students could join.