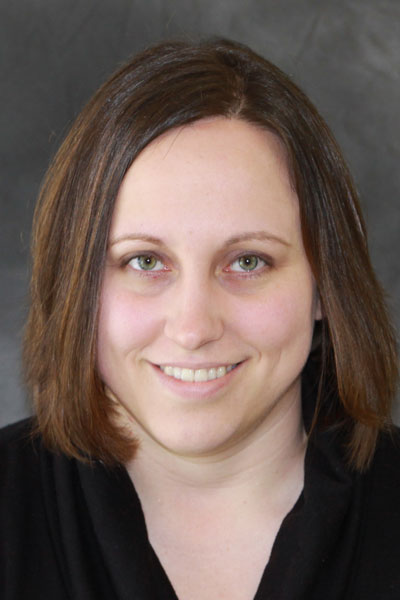 For the third time in the past four years the Oswego State Sports Information Department had to search for a new director to manage the university's 24 intercollegiate sports.
Adele Burk was hired over the summer to replace Mark Coley, who resigned after just one year as Oswego State's Sports Information Director (SID). After a year on the job, Burk has dedicated her time and effort to help promote Oswego State athletics.
As SID, Burk is responsible for handling all of the media coverage for the athletic programs at Oswego State. This includes updating the website, contacting other media and handling any requests from outside media groups.
Burk's main goal during her first year was to solidify a student staff within the sports information department. The department currently has a number of students who are trained on keeping statistics for each sport.
"I can't do this job alone and my student staff this year has been really great," Burk said. "They've been really flexible in adjusting to how I like things run compared to what has happened in the past."
Also on the top of her goals list was to improve the athletic website. In past years, the website has been infrequently updated, leaving athletes and family members upset. Last year there were instances where game recaps would not be posted until days after the game concluded. That has changed this year, as game recaps have been uploaded to the website within 30 minutes of the game's conclusion.
Burk's work on the website has not gone unnoticed, as she has received e-mails complimenting her on a particular article she wrote or just to tell her that she had been doing a good job.
Despite being the assistant SID in college, Burk didn't originally plan on making that her profession.
"I originally went to school to become a teacher, but I hated it," Burk said. "I figured that if I was going to be working long hours I might as well be doing something I liked and people who know me know that I'm one of the biggest sports nuts in the world and this job fits right in."
Growing up in Baudette, Minn., a small town of roughly 1,000 people, Burk attended Gustavus Adolphus in St. Peter, Minn. where she received her bachelor's degree in mathematics with secondary education licensure. She continued her education at Minnesota State-Mankato where she received her M.A. in physical education, non-teaching sport management.
While attending Gustavus Adolphus, Burk worked as the assistant sports information director as her work-study job where she became very familiar with the aspects of the job. After receiving her M.A., Burk had interviews lined up in Minnesota and Alaska-Fairbanks and had interviewed for an internship at Kansas University. Burk said that she accepted the SID position at Oswego State because they offered her the head job instead of just an assistant position.
Burk said that weather was not a factor in her decision, being from northern Minnesota, whose weather is very comparable to the weather in Oswego. However, the unpredictability of the weather in Oswego has been an adjustment.
"Weather might be one of thehardest things I've had to adjust to in terms of how fast it changes," Burk said. "It's pretty crazy, but other than that it is very comparable."
Burk admitted that the job is demanding, taking up a large percentage of her week. During a few weeks in the winter, Burk said that she worked about 100 hours over the course of seven days. On average, Burk said that she works around 80 hours a week.
While the job itself is stressful, Burk said that the most stressful part of the job is when there are four or five sporting events happening on the same day and all of the recap articles have to be posted before the next day.
"Fridays and Saturdays are the most stressful and it's only because of shear quantity," Burk said. "It can be really overwhelming at times."
An unexpected stressful situation for Burk took place at this year's "Whiteout" hockey game between Oswego State and SUNY Plattsburgh when sophomore forward Eric Selleck lit his hockey glove on fire. Burk still has a piece of charred hockey glove that was given to her by the team that she still has displayed on her desk.
Despite all of the trials and tribulations that comes with the position, Burk said that she has learned a lot about herself.
"I'm not as perfectionistic as I used to be," Burk said. "I don't let the little things bother me anymore."
Burk has enjoyed her first year as SID and plans on continuing to improve the website as well as prepare the student staff for next year. While Burke has helped to promote Oswego State athletics, she tries to stay as anonymous as possible and said that not hearing anything about her job performance can be just as good as constantly being complimented.