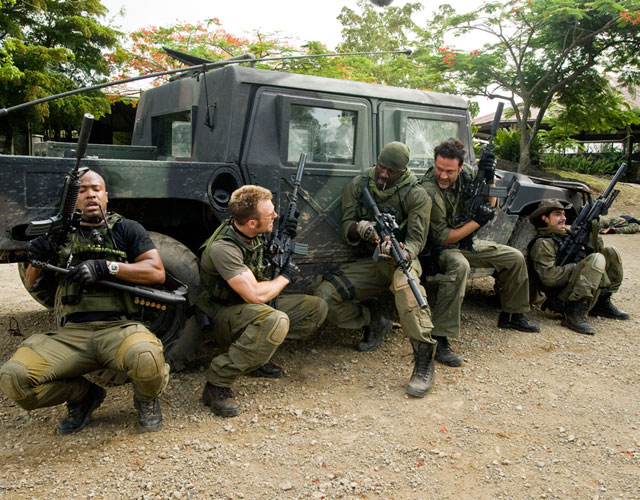 "The Losers" explodes to life on the big screen as an adaptation of the comic books by Andy Diggle and Jock.
The team; Jensen, the funny, flirty and nerdy technician, played by Chris Evans ("Push"); tough guy Roque, the heavy weapons expert, played by Idris Elba ("Obsessed"); family man Pooch, the vehicles expert, played by Columbus Short ("Death at a Funeral"); Cougar, the quiet ace sniper, played by Oscar Jaenada ("La Herencia Valdemar"); and Clay the ringleader with a tough shell but a softy on the inside, played by Jeffrey Dean Morgan ("Taking Woodstock") are on an assignment in Bolivia that goes drastically wrong.
The five are now stuck in Bolivia, presumed dead by the C.I.A, whom they worked for, and their families. A seemingly harmless town girl then approaches Clay. She turns out to be a former C.I.A. agent who is now working on an assignment for herself. Aisha, played by Zoe Saldana ("Death at a Funeral"), proposes an opportunity for Clay and his team to take down Max, played by Jason Patric ("My Sister's Keeper"), who ruined not only the team but their mission in Bolivia. Agreeing, the six team up to destroy Max and his whole evil operation. In return, the team attempts to get their lives back.
Sylvain White did an excellent job bringing the film together. Not only was the action non-stop and top-notch, each scene was captivating. This was even the case if nothing exciting was happening.
Most of the acting was superb and comical, yet Patric wasn't really all that great as the bad guy. Sure he was smart but his looks and the way he talked lacked imagination and enthusiasm.
The movie is definitely worth seeing on the big screen, but the trailer makes the movie look like it's going to be so much better than it actually is.