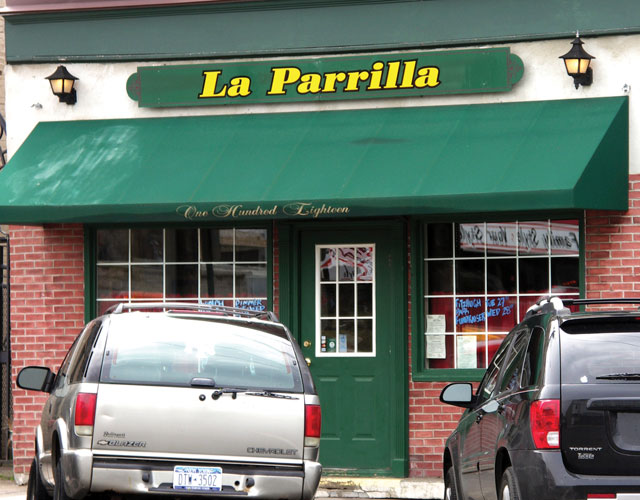 Nestled in a corner of W. 2nd Street in downtown Oswego is the Mediterranean inspired restaurant La Parilla. Chef Raymond Jock opened the restaurant this February after working in New York City and Florida for many years. Being an Oswego native, Jock has always wanted to open his own restaurant in the city. After graduating from high school in Oswego, Jock moved to Florida and landed a job as a cook. After working in a restaurant for some time he discovered he had a passion for cooking.
"I realized that it wasn't just a job to these chefs; they were truly passionate about it," Jock said.
This led him to attend culinary school in Florida and opened doors for him there. While in school, he had internships that turned into jobs at restaurants such as Charlie's Lobster House in Florida.
After working in Florida for many years, Jock moved to New York City where he opened his own restaurant, Nick and Toni's Café. While working there, he met many people that led him into his next line of work, cooking as a personal chef.
"It all moved really fast, well at least now it seems like it did," Jock said.
In the course of about ten years, Jock said he had opened the restaurant, got an agent and started cooking for private families.
Cooking for these families led him to work with many celebrities such as Barbara Walters, Howard Stern, Jerry Seinfeld and Regis Philbin. With all of his experience Jock is now looking forward to another chapter of his life that he is also passionate about, opening a restaurant in his hometown and giving back to the community.
"I want to do more than just open a restaurant," Jock said.
The setting is relaxing, with low lighting and artwork by children from local elementary schools lining the walls. It is an intimate setting, but will soon be expanding as the deck opens up for the summer season.
Two days out of the month, the restaurant will donate 10 percent of its earnings to a local elementary school. Supporting local farmers and buying local ingredients are important to Jock and the way he cooks. The chef cooks only with seasonal ingredients, meaning the dishes he creates are made with foods that are in season.
Part of the menu will soon be changing for the summer. Everything on the menu with the exception of the fries and pasta is made in his kitchen.
The menu now includes many kinds of Argentinean pizzas, and entrees including rigatoni alla bolognese and chicken alla matone. Jock is particularly passionate about the pizzas, which are all crafted with homemade dough and local ingredients. The chicken alla matone has three components to the dish: grilled chicken, garlic mashed potatoes and sautéed spinach all on top of roasted chicken jus, which is the natural juices from the chicken, with various herbs and flavors added on. Presentation of the dish is on point with a clean white plate to focus the attention on the food.
All entrees are served with either a homemade soup of the day or a house salad. Bread is also brought to the table with the chefs own infused extra virgin olive oil for dipping. The staff is very knowledgeable and attentive. Jock said he only buys the best of the best foods for the highest quality dishes, and Sarah Shaw, the restaurant's pastry chef, makes all of the pastries at The Oswego Tea Company, which is located on the East side of the city.
Jock said business has been booming and he is happy with the restaurant's success. Everything on the menu is affordable and well worth the money for a night filled with delicious food and pleasant atmosphere.