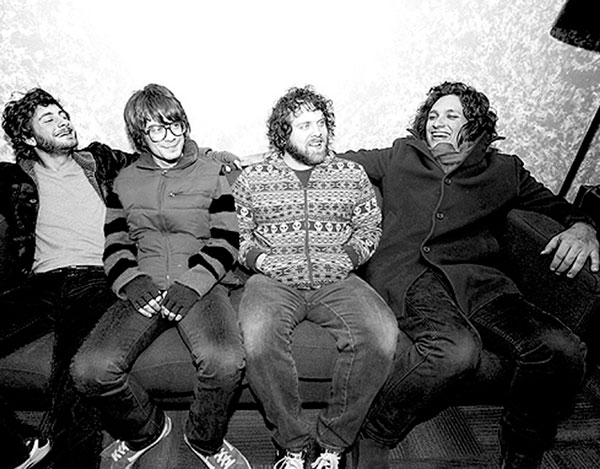 Sheldon Hall Ballroom will play host to Drink Up Buttercup on Thursday, May 6, at 8 p.m. in the fourth installment of Oswego State's Indie Series.
Headlining act Drink Up Buttercup originates from Doylestown, PA, just north of Philadelphia. Their music brings a jangle pop vibe to psychedelic rock and utilizes a variety of instruments, including a trash can.
"They have that vibe and sound that's inherently perfect for Indie Series," said Jasmyn Belcher, artistic director of the Indie Series. "Flawless vocals, awesome harmonies, trashcan pounding, different and catchy, all delivered in a one of a kind performance."
And performers are exactly what they become with an audience. The Philadelphia City Paper recently described their on-stage antics as a spectacle where "they flail around the stage, bash auxiliary drums and trash cans and toss mannequin parts to and fro." The group was not asked to limit their behavior for the concert.
The quartet consists of songwriter, guitarist and singer Jim Harvey, percussionist Mike Cammrata and multi-instrumentalists Farzad Houshiarnejad and Ben Money. They are touring in support of their debut album, "Born and Thrown on a Hook," which was released in late March.
To get an early feel for the band, check out their website, http://www.drinkupbuttercup.com, where the group is hosting videos for each of the album's tracks.
The opening act for the night will be Laura Stevenson and the Cans, a group that combines folk music with a sound that is being coined as "indie rock."
Belcher describes the opening act as an embodiment of the series, adding that they are "Hard-working, long-time musicians who really do it themselves."
Tickets for the performance are $7 for the public and $5 for Oswego State students. Tickets can be purchased at the door, Sheldon Hall will open at 7:15 p.m., or they can be purchased ahead of time at the Tyler Box Office, Campus Center Box Office and online through http://tickets.oswego.edu.