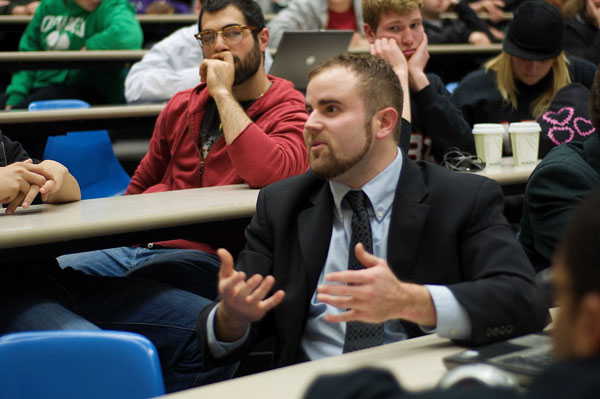 Oswego State music ensembles will continue to be funded by S.A. next year, despite fears that all funding for the organizations would be cut within the next five years.
An agreement made between the music department and S.A., which said that music organizations will no longer have caps on the number of students who can participate, saved the funding.
Funding was going to be reduced next year for all music organizations by an additional 20 percent, along with the 20 percent cuts already being made to all organizations because of the reduced budget.
"The proposed cut in funding came after the Senate Finance Committee found many of these music organizations in violation of the S.A.
constitution," said Ed DeLauter, chair of the finance committee.
The constitution states, in Article XIX, section one, subsection A, that "Student Organizations whose activities are not open to all SUNY Oswego students should not receive funding."
"S.A.," DeLauter said, "can't fund exclusionary organizations." "Some of the music organizations that can be taken for class credit fall under that category," he added. They violate this section of the constitution because the classes are capped.
Even though the classes have "relatively large caps," DeLauter said, "potential students could be turned away."
However, many people in the music department do not see how this is true.
"Our ensembles, with the exception of State Singers, are in no way exclusionary. Never has any orchestra reached its cap, in my 14 years here," said Juan LaManna, associate professor in the music department and director of the College-Community Orchestra.
"We never meet our cap," said Julie Pretzat, associate dean of the School of Communication, Media and the Arts. "We're not kicking people out."
She added that the only reason these classes have caps on them is because the rooms can only hold a certain number of people before it becomes a fire and safety hazard.
LaManna added that reducing funding to organizations like community-college orchestra and jazz ensemble "would be a disaster."
"S.A. has funded these organizations since the 1960s," Pretzat said. "They were funded at that time because they were still considered a club, rather than a class. There was, and still is, however, an option to take the class for a credit."
"You don't have to take it for credit," she added, but the option has to be there for music majors, who are required to participate in an ensemble for credit.
T.J. Scandaliato, vice president of S.A., added that in the '60s, Oswego State was being "weaned off" state funding, so the college collaborated with S.A. to fix that and help the music program stay afloat. They created a "situation where there was a hybrid between the club and class," Scandaliato said.
"Most of the organizations funds come from the music department," Pretzat added. They provide money for the directors, the equipment and the space. The amount of money allocated to the music organizations by S.A. is "minimal, compared to what is being supported by the department," she said. "S.A. funds about $18,000 per year, which is not much once it has been divided into all of the ensembles."
However, she said it is still an essential part of their budget, and too much for the music department to pay on its own.
Pretzat added that cutting funds to music groups would hurt all students on campus because the ensembles would no longer be able to do as many free concerts or participate in as many public ceremonies on campus, including graduation and the Torch Light ceremony.
"State Singers was one group of particular worry to the committee," DeLauter said All funding for this organization was going to be cut because there was "no doubt about their exclusion." Students have to try out for State Singers, and many do not get in. The cap was only 20 students.
"This violates our constitution," DeLauter said. However, after coming up with an agreement with the music department, State Singers will no longer exclude students, and therefore can still be funded by S.A. Everyone who wants to be in it would be accepted, regardless of skill.
Although the agreement will change State Singers, as they can no longer turn students away, they are still able to participate on campus as a club funded by S.A. If the funding was cut, "it would be very difficult to continue to exist as an ensemble," said Tim Lanigan, president of State Singers.
"This decision to keep funding is a positive forecast for us," Lanigan said. "We are looking forward to working closer with S.A."
The agreement, made and signed by the directors of all six music ensembles in question, says that the groups will no longer have caps and will not be "exclusionary." Under this agreement, it is possible for S.A. to continue funding the ensembles without any worries about legality.
The Senate will vote officially on Tuesday, May 4 to approve the final budget for the fall 2010- spring 2011 year.