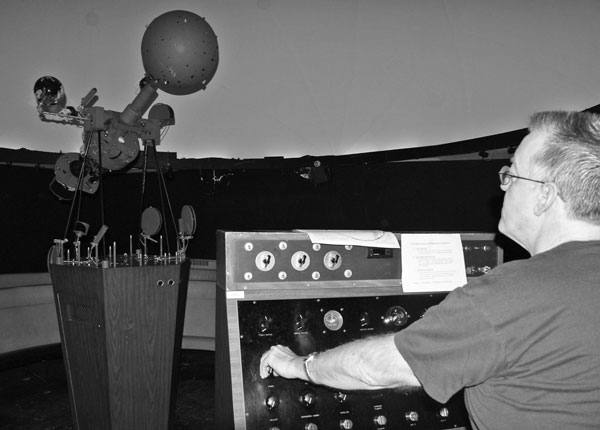 The Charles H. Jerred Planetarium in Piez Hall will close this June for three years while renovations are completed in the science buildings on campus. It is scheduled to reopen in 2013.
The planetarium, built in 1962 and named after the original director, currently features an "old school" opti-mechanical system. This will be replaced with a digital projector for a more IMAX like effect, said Scott Roby, professor of astronomy and director of the planetarium. "The new system will allow students to not only watch, for example, Jupiter move around the screen as a point of light, but to zoom in and virtually land on Jupiter's moons," Roby said.
"Astronomy students normally visit the planetarium at least once or twice a semester," said Shashi Kanbur, associate professor in the physics department. Not every class goes, but the planetarium is a good teaching tool for professors who choose to take advantage of it.
The planetarium is also "used for public outreach," Kanbur added. Many elementary schools visit it for their science classes, and there are also regular public planetarium shows.
Local school districts, Boy Scouts, Girl Scouts and senior citizen groups often come to the campus for these special shows, Roby said.
Roby started the free weekly shows in 2006. They tripled the previous attendance at the planetarium, Roby said.
When the planetarium is shut down for renovations, the astronomy department will have to find alternate ways to make up for its loss. "We can't do much," Kanbur said.
The outreach program will have to be shut down and professors will have to resort to using computer software, such as "Starry Night," to teach what they could normally show using the planetarium. These programs are "a little more interactive" than the planetarium, but limited in that only 25-29 students can use the programs at one time, Roby said. They would not be as helpful for larger classes. For these large lecture classes, one option could be to have students buy textbooks that include software similar to "Starry Night," he said.
The Astronomy Club on campus will also be affected by the closing of the planetarium. "It's kind of unfortunate but it's not something [the club] uses all the time," said Lillie Ghobrial, president of the astronomy club.
The club currently holds "Star Parties," or telescope observing events, once every semester. Roby said the club will now be encouraged to hold events once a month instead, to "take up some of the slack" of not having a planetarium.
Ghobrial added that they are trying to get as much use out of it now as they can before the planetarium is shut down. "It'll be for the best in the end," she added.
"There's going to be a lot of intermediate temporary hardships," Roby added.
Those in the science department will hold onto the fact that "in three years we'll have a better building," and also an improved planetarium, Kanbur said.
The planetarium will host one final public show called "A Half-Century of Excellence" and will showcase the best demonstrations from the last 48 years that it has been open, Roby said. It will run on Sundays through the end of May.
"We're sad that the planetarium's got to be closed for a while," Roby added, but he said the department must "make these sacrifices to get to better facilities."