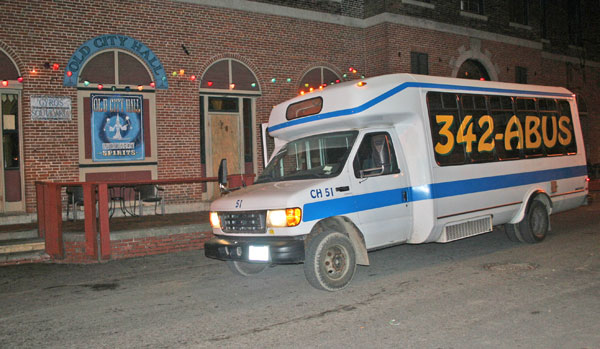 A new bus company has come to Oswego State to offer students another option to get home on weekends. Similar to "Drunk Bus," Call-Abus was created to commute student to and from campus safely.
Call-Abus, also known as "Nightlife Transportation," was created two weeks ago in Oswego. The manager of Call-Abus, Bob Malone said he started his company for the students.
"I always would see the massive amounts of students waiting for rides after leaving the bars and decided that this would be a good business for students," Malone said.
Though Call-Abus may be competition, the owner of the "Drunk Bus" does not see it that way.
"I don't feel that they are not a competition, this is a free world and it's just another business," said Lee Walker, owner of the "Drunk Bus."
Walker has been operating his bus for seven years.
"Originally I started this business to meet students around campus and it turned out to be quite a success so I continued it," Walker said.
Walker charges students $2 to ride the drunk bus each way.
"At times we have specials to show our customers a thank you," Walker said. " Just last week we had a student appreciation week and charged students $1 each way."
Call-Abus also charges $2 each way from the college to downtown Oswego. They also have weekly specials for students.
"We started a Facebook page for students to join and enjoy our weekly specials," Malone said. "Last week we had a special where any student who stored our number in their cell phones would get a free ride to anywhere back and forth and this week we have a special where anyone who [joins our] group on Facebook will get a free one way ride."
The Facebook page, called Call-Abus includes information such as how to contact the company, weekly specials and photos.
Freshman Jennie Hatzmann thinks that the buses will benefit students and help prevent DWI.
"They do stupid stuff when they're drunk," said Hatzman, a childhood education major. "They can walk out in the middle of the road or try to drive themselves. If it's known about and they have the number they can call it so they won't have to drive themselves and walk."
Captain Tory DeCaire of the Oswego Police Department said that he supports any safe mode of transportation that will prevent DWIs.
"One of the main points here is that anything that helps decrease instances of DWI and overall protect students and citizens of Oswego," DeCaire said. He advises students to plan for the proper transportation if they are unable to drive.
"The last thing you want to do is to have to make a choice between operating a motor vehicle or making a long walk home," DeCaire said. "Planning ahead to arrange for rides would be the safest."
-Additional reporting by Elizabeth Sauchelli