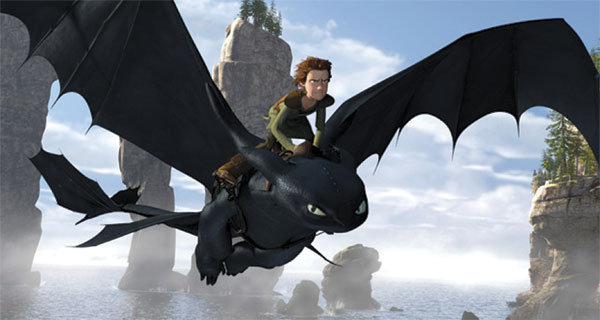 "How to Train Your Dragon" soars on the big screen in 3D, directed by Dean DeBlois and Chris Sanders, as as adaptation of the book by Cressida Cowell.
The movie is set back in the time of the Vikings. The main character, young Hiccup, voiced by Jay Baruchel ("She's Out of My League") dreams of becoming a great Viking like his father Stoick, leader of the Vikings, voiced by Gerard Butler ("The Bounty Hunter"). All he has to do is capture and kill a dragon (not to mention work on gaining muscle mass). In doing so he will not only gain respect from his father, whom he has a broken relationship with, but also win the heart of tough-girl Astrid, voiced by America Ferrera ("Ugly Betty").
The opening scene of the film shows the village being attacked by various dragons. Hiccup feels this could be his opportunity to show his tribe that he really is worth being called a Viking.
He sneaks a cannon from the shop he works at and uses it to capture the "Night Fury" dragon, which no Viking has ever captured, let alone killed. Instead of killing his fallen prey, he sets it free. As the action heats up, the two must pair up against the discrimination and find a way to defeat the real enemy of this Viking tribe.
The actors, whether its Butler and Ferrera or the supporting cast, fit perfectly with each of their characters. The directors did wonders with the film. Not only did the wonderful animation and storyline itself flow fluidly, but the breath-taking view in various scenes felt so real, it was captivating.
The Vikings are fearful and hateful of dragons because they base their hate on assumptions about them. Hiccup realizes that the dragons are just as afraid of the Vikings as the Vikings are of them. The movie's moral seems to be that people shouldn't fear or hate the things they don't know or understand.
This movie is a wonderful choice for any age group. It's easy to understand and follow, with plenty of laughs and action. It's an adventure of a lifetime where the audience can experience first-hand how to ride and train a dragon.