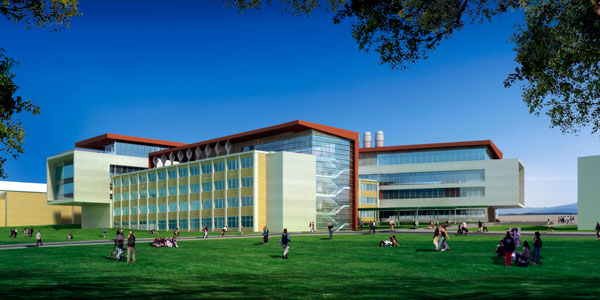 Renovations for Piez Hall are under effect and classrooms and offices are being relocated to other buildings on campus.
The first phase of the science facilities plan will call for displacing classrooms in Piez to other buildings such as Hewitt Union and Snygg Hall.
Director of Facilities, Design and Construction Thomas Simmonds said the plan is to have Snygg completely phased out by the summer.
"We've got some renovations happening right now, so as of commencement, and through the summer we will take Piez Hall offline," Simmonds said.
The process, which Simmonds called "de-commissioning," will involve moving classes and professor offices to other on-campus buildings. Simmonds said one of the main factors in displacing students is scheduling in the new building.
"Between the available classes in the Hewitt Quad, what we're building in Hewitt and what's available on the east end of campus, we have some challenging schedules, but we've got some ideas that we think can work," Simmonds said.
The Piez Hall renovations are just a part of the overall science facilities plan on campus that will expand academic opportunities for students and faculty. The temporary movement of classes and offices will be a brief part of the overall plan for the science facilities, said chemistry professor and chair of the science planning committee Casey Raymond.
"In the short term it's going to be painful," Raymond said. "But it allows us to complete the project in three years instead of five years, and it shortens up that painful period."
This "painful period" will consist of an arduous, systematic evacuation and reconstruction of Piez, Wilbur and Park Hall and will relocate classrooms temporarily to the second floor of Hewitt Union.
"Fences are going up right after commencement…so the first part of the project gets started early this summer, which is, moving utilities," Raymond said. "We've got to move electric, phone, data, plumbing…so that's getting started this summer. From that part of the project, we'll move right into new construction which probably will begin late summer, or fall, it depends on how our construction schedule goes."
"The estimated completion of everything, so that everyone moves into the new science building, is late spring, early summer of 2013," Raymond said. "So our hope is that we'll have all summer to move into the new building, and then fall 2013, will be the first semester that classes are taught in the new building."
Not only will the new complex be conducive from a constructional standpoint, but the design of the building will be instrumental for developing demonstrative and leadership skills.
"Bringing all six departments in a school of education together can be a very positive dynamic," Linda Rae Markert, dean of the school of education, said. "Right now, a lot of the focus is on what we call discipline specific or specialized laboratory and we need to make sure that the space allocated for those specialized labs is connected well with what you would call general purpose constructional facilities."
"I see a lot more opportunity for collaboration and for the students coming in, they're going to have an opportunity to work cross-disciplinary within the school and also will potentially be able to collaborate more with the sciences," Markert said.