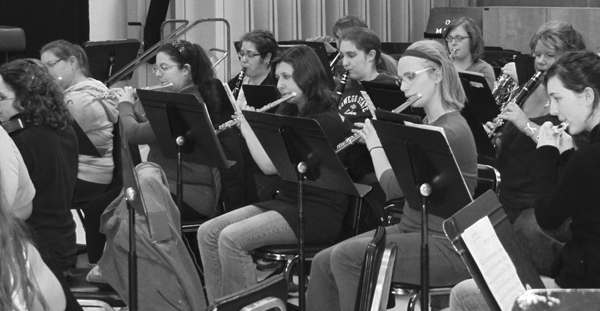 The Oswego State music department is gearing up for a month full of performances from various ensembles. They will cover a wide array of musical stylings from Spanish folk songs to Broadway show tunes.
The first event is the Spanish Art Song Recital, put on by the Applied Voice students and led by professors Todd Graber and Elisabeth Kisselstein. The concert is on Monday, March 8 at 7:30 p.m. in the Campus Center Auditorium.
On Thursday, March 11, the College Community Orchestra will be performing a concert in Sheldon Hall Ballroom at 7:30 p.m. Juan LaManna, conductor of the orchestra and chair of the music department, chose selections from famous musicals and movies. He chose this repertoire because he is familiar with the orchestra, which consists of 35 students and five community members. He's sure the audience members will enjoy the program. The State Singers will also perform selections in this concert.
The month will round out with the annual Collage Concert. The concert will "showcase our best students and show how good our department is," LaManna said.
The concert, happening March 26 at 7:30 p.m., will feature all the major ensembles from the department, including College Choir, Jazz Ensemble and Wind Ensemble. In addition, selected student performers, small ensembles and some faculty will be performing.
The Collage Concert is also a fundraiser for music department scholarships.
LaManna hopes that the events on campus will showcase the music department. In addition, he hopes that "everyone involved and attending has a delightful time."
The Spanish Art Song Recital and College Community Orchestra concerts are free. Tickets for the Collage Concert are $5 for Oswego State students and seniors and $10 for adults.