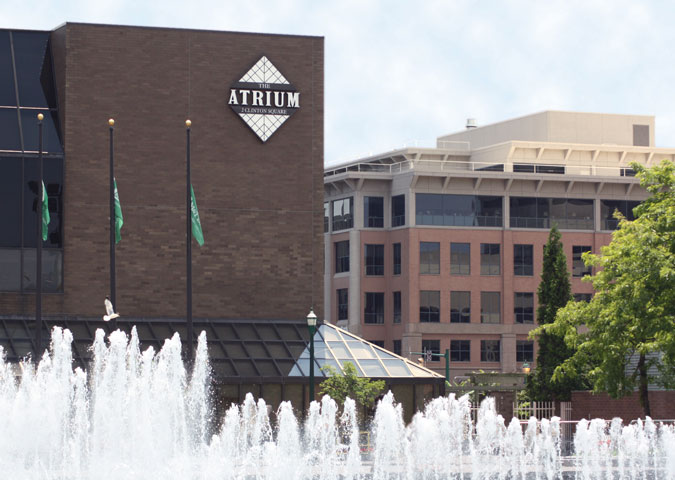 Graduate school classes are being held at the Metro Center in Syracuse due to the location and proximity to a majority of the students, which causes some distress for those students closer to campus.
The Metro Center opened in May 2007 and has had steadily growing enrollment since its "course to connect" program which offered first-time graduate students that were not enrolled a chance to take one free graduate course.
Rachel Jewell, a first year grad student who is majoring in literacy education said that the location of the classes being offered impacts her decision on whether or not to register for them. She had wanted to take an elective at Oswego, but it conflicted with her schedule. After finding out the only other place it was offered at the Metro Center she chose not to take it.
"For those of use who live on campus or in Oswego it's frustrating when the only available option to fit in with our schedule is in the Metro Center," Jewell said. "It's convenient for people who would be commuting to Oswego."
Jewell said that the price of gas and weather conditions are the two factors that impact her decision not to take classes at the Metro Center.
The Metro Center is an opportunity to introduce graduate programs offered by Oswego. Some programs that are offered include gerontology, trauma studies, mental health counseling, School of Business and School of Education programs.
"It's a way for SUNY, I think, to better serve the state," Dean of Graduate Studies David King said in regards to the location and opportunities offered by the Metro Center.
Although the Metro Center does offer graduate programs, it's only portions of the programs and certificates. Students would still need to take courses online and on campus. The graduate department alerts students of this ahead of time.
"We brief the students as they come in," Director of the Metro Center James Jerose said. "I do hear some grumblings because they have to drive down, but that's part of the deal in terms of the classes they selected."
Only a small percentage of the graduate programs are offered at the Metro Center, meaning most full-time students still have classes on campus.
Approximately 1,000 graduate students take classes at the Metro Center, with 60 percent part-time and 40 percent full-time.
"It was really designed for an outreach to part-time students, for access to several of our graduate programs," King said.
The Metro Center was chosen for several reasons, one being its proximity to a large number of students. The location serves a majority of the students taking graduate classes because most of them, King found, did not live in Oswego.
"If you look at the total population of about 1,000 graduate students, it's much more convenient for 90 percent of them to have it there," King said.
It is also located near Armory Square and Hanover Square, which gives students a chance to experience the restaurants, entertainment and cultural events that take place there.
Dan Semeraro, a first year mental health counseling grad student, took one course at the Metro Center in the fall. He said that the commute usually took him 45 minutes.
"I would recommend people carpool," Semeraro said. "It is in downtown Syracuse and parking can be an issue sometimes."
He also said that he chooses classes based more on time than on location.
"I really tend to look at classes that I'm more interested in taking," Semeraro said. "If they're in Oswego that's great, but it's really not a deal breaker if the class is off campus."
Another reason this particular location, out of the three dozen that were considered, was chosen is because of its many parking locations.
"We wanted a place that was more high traffic, pedestrians in the evening," King said.
The proximity to the night and citylife and the fact that the Metro Center has a security guard in the evening went into Oswego State's decision of utilizing the facility.
The Metro Center is a wireless building that has a café, four classrooms, a seminar room, instructional room, and offices for faculty administrators.
"I think it's been very successful; it's a very attractive facility. It's been popular," King said.
The Metro Center offers the chance for people to continue their education by having them continually upgrade their skills. The title "professional developments" gives people the chance to learn more about their specific job or major. It is specifically designed for those who are already working by giving them training to better prepare themselves.
"It's basically life-long learning," King said.
Along with graduate classes the Metro Center holds art exhibits, non-profit organizations and professional groups train there, and is used for statewide meetings.
Over the next few years the Metro Center will be upgrading computing facilities by upgrading computer bandwidth to support other programs that are more graphic extensive.