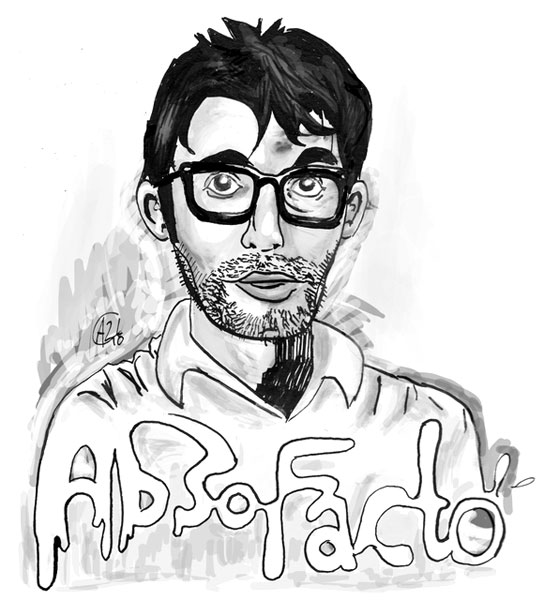 I recently had the chance to catch up with the Michigan Native and Mason Proper frontman Jonathan Visger about his "Tagalong" EP under his new solo moniker Absofacto, and other happenings in his realm.
Q: Why the name change from Bug Lung Baby to Absofacto and what does Absofacto mean?
A: I soured on Bug Lung Baby myself after a while and decided to go with the other name I was kicking around at the same time as BLB, Absofacto. It's a misspelling I've seen of "ipso facto." It caught my eye and is abstract enough to feel like it fits a little better with how abstract my music can be. But knowing me, I'll probably change it 50 more times before all is said and done.
Q: Your lyrics and songwriting seem very literary and seem cinematic. Do you have any plans to write a book? Or perhaps score a film?
A: I'd love to score a film, and have done some "fan scoring" of my own. I wrote the Mason Proper song "Life's Cornucopia" specifically to sync up with the opening credits of "To Kill a Mockingbird," for instance. It's on YouTube somewhere. As far as writing a book goes, it's something I'm interested in, but I still haven't mastered making great albums or anything, so I know I should just focus and keep trying to improve at music. It's probably more realistic that I might write a few short stories someday and post it on the Internet or something. In the meantime, I'll just keep dreaming up the stories and writing songs as a little window into them.
Q: While we're on the topic, who are some of your favorite authors and filmmakers?
A: I got into Haruki Murakami this year and am just reading one after another. I want to read everything he's done. Edward Gorey is another big influence, the way he just gives you glimpses into situations without ever laying it all out. It's no secret I'm an insane David Lynch fan too. I think there are a lot of parallels between him and Murakami actually. These guys are the biggest influence on my lyrics at this point.
Q: You recently worked with filmmaker Adam Netsky on your video for "Paper Crane." What was that collaboration like?
A: I had been friends with him and his older brother Josh for years, and always was really impressed with the videos he made for Josh's music. I called him up and told him I had no money but wanted to make a video, because I knew he was used to making cool things happen on low budgets. He told me that if I could get myself to his house in Rochester, N.Y., we'd make it happen. So I went, and we set up some green tarps in his kitchen and he told me how to walk around, and when to look at empty spaces and stuff, and then I went home and he and his family built all this stuff and finished the video. I love the handmade feel of it. He did this kind of "The Fountain" inspired thing, doing all the visual effects by filming real things up close and overlaying them.
Q: Any word on a new Mason Proper EP or album?
A: Album, for sure. We're working on it, but it will be done when it's done. I'm really proud of what we did with "Olly Oxen Free," but I want to step it way, way up this time around, and I'm willing to be patient to make sure it works out that way.
For a free download of Visger's music, http://www.absofacto.com.