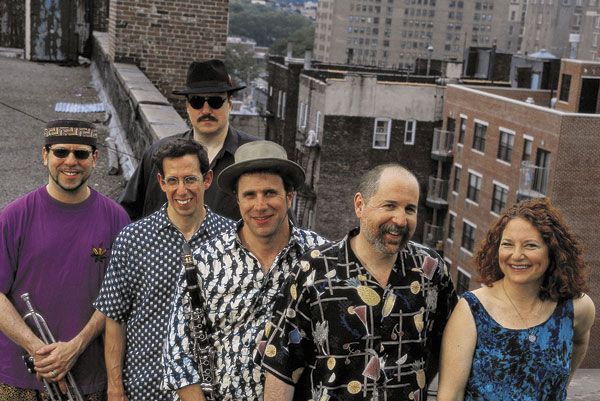 Grammy winners The Klezmatics are making their way to Oswego State Wednesday March 10. The group's music is a taste of Eastern European Jewish tradition with a modern twist. The band has been on the scene since 1986 when they made their way out of New York City's East Side. They like to incorporate issues in their music that are important to them such as human rights and anti-fundamentalism. In the past 20 years they have released nine albums and have collaborated with artists including Ben Folds Five and beat poet Allen Ginsberg.
In addition to their musical collaborations, they have also been featured in theater, dance, film and television projects. The Klezmatics have made their way onto CBS's "Late Night with David Letterman," various NPR programs, MTV News, "Sex and the City" and many other well-known programs. Not only have they played in the U.S., but they have also performed in over 20 countries. Some of the venues and festivals they have played at include Central Park Summerstage, Carnegie Hall, Colours of Ostrava (Czech Republic) and Jazzsomer Graz in Austria.
The performance is part of a series of artists and groups that highlight the Arts, Identity and Diaspora program going on through ARTSwego March. The goal of the program is to join the exploration of arts with exploration in the classroom. ARTSwego coordinator Mary Avrakotos is a supporter of the group and has been working to bring the group back to Oswego ever since their performance at St. Mary's Church in 2007 as part of ARTSwego's "Songs of the Spirit."
"Music is a lens through which we can come to understand the response of a people to displacement," Avrakotos said. "The soul is resilient and with the music of The Klezmatics there emerges a haunting joy. This promises to be an unforgettable evening."
The group received a Grammy in 2006 for Best Contemporary World Music Album for "Wonder Wheel: Lyrics by Woody Guthrie." They also won a New York Jewish Music Award in 2006. In addition, The Klezmatics are the subject of a new documentary, "On Holy Ground," which is soon to be released.
Band member Frank London will offer a free public presentation at 12:40 p.m., March 11 in the Campus Center Auditorium. The performance is titled "Tradition in Transition."
Tickets for the 7:30 p.m. performance on March 10 cost $7 for Oswego State students, $15 for adults and $12 for seniors and students. They can be purchased by calling 315-312-2141, at http://tickets.oswego.edu, or at the Tyler Box Office. The performance will be held in Waterman Theatre in Tyler Hall.