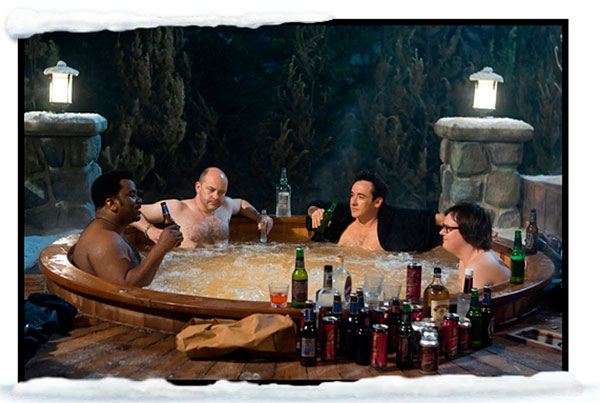 Craig Robinson is known as Darryl from "The Office" and Clark Duke is known as Lance from "Sex Drive," and now they're traveling through time in "Hot Tub Time Machine." The movie stars four men whose lives have become monotonous and dull. That all changes when they end up traveling back to the '80s through a hot tub that doubles as a time machine.
"I read the script and I loved it. I laughed out loud," Robinson said. "I got involved at the same time Corddry did, then Clark Duke came along. Then they said John Cusack was coming in… that just took the movie to another level."
When asked if there was a lot of collaboration and improvisation in the movie, both Robinson and Duke said they were encouraged by Steve Pink, the director, to collaborate and put in their own lines so they could develop their characters further.
Robinson co-starred in the movies "Zach and Miri Make a Porno" and "Pineapple Express." Always the funny man, he might be willing to show a different side.
"I'm about to do a dramatic role," Robinson said. "I can't say who with right now, but it's one of these Oscar-nominated directors."
Of all the places on the big screen people might have pictured seeing Robinson or Duke, a ski resort in the '80s is one place that might not have crossed their minds, but that's where this film takes them.
"I had to learn how to ski and I'm black so that was interesting," Robinson said. "I also had a sinus infection for a few weeks. Having to film and do that was kind of crazy. "
"I had to gain 40 pounds for the movie," Duke said. "So that was hard."
The movie also stars John Cusack ("High Fidelity") and Rob Corddry ("The Daily Show"), with Chevy Chase also playing a small role.
"Working with Chevy Chase was awesome," Robinson said. "He's a comedic legend. It was awesome just to watch him work and learn from him."
"I was already in love with him," Duke said.
This movie has something for everybody. "I have a hot tub scene with Jessica Pare," Robinson said. "So that will ensure that all the males are happy. Then there's John Cusack, so that will ensure that all the females are happy."
The mind-numbing question that has enraptured millions upon millions of women is what kind of underwear these men wear and both Robinson and Duke agreed.
"Boxer-briefs are the ultimate in [cradling] technology," Duke said. "It's the most accomplished undergarment that we've come up with."
So, in the year 2010, is the world finally ready for a movie starring three middle-aged men, a charmingly chubby young man and a hot tub that travels back to a time when Rubik's Cubes were considered entertainment?
"I have people coming up to me, people I don't even know, in the grocery market saying how they can't wait to see this movie," Robinson said. "So, yes, I think people are definitely ready for a hot tub movie, and I think they're going to enjoy the ride."
Be ready to buckle up and enjoy the movie. The movie, and the sexual wrath of Robinson and Duke, will be released March 26.