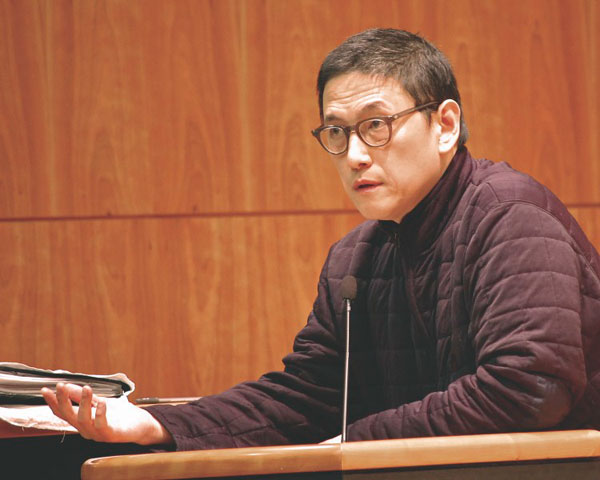 Ever wonder what it would be like to see the world differently than everyone else? Life in death and sound in silence? American poet Li-Young Lee doesn't wonder; that's how the world appears to him.
Lee, one of America's premier poets, visited Oswego State for three days this week and participated in multiple activities across campus to share his advice with students, faculty and staff.
Arriving on campus Monday, Lee was introduced to faculty and students and participated in a meet and greet at the Lake Effect Café in Penfield Library. The event allowed students to ask questions on a variety of topics, regardless of its relation to Lee's poetry.
Lee also held a question and answer session on Tuesday that allowed students to ask questions pertaining to his poetry and the art that he creates. Creative writing classes were cancelled for the hour and the third floor of Poucher was filled with those eager to hear his words of wisdom.
Coming from a family of scientists, Lee explained his constant comparison of poetry to scientific explanations. He often compared writing poetry to constructing DNA.
"The real paradigm for poems is DNA. You're trying as hard as you can to pack as much information as you can into as little space as possible, and make it mean something," he said.
Lee also spoke about poems being part of death, a common theme that is integrated into all poetry.
"Poetry maybe only has one subject, and that is ultimately death," Lee said. "All human speech is done with the exhaled breath…That's like death. But when you breathe in, it's like breathing life. So verbal meaning is made only on the dying breath."
An extremely humble poet, Lee refused to name a favorite work of his own. Instead, he considered himself a "pretender" as he walked around campus working with the students.
"I have a very bad relationship with my own poems," Lee said.
Leigh Wilson, a creative writing professor and committee member of ARTSwego, said she truly believes he's extremely humble and is not able to recognize how successful his poems actually are.
"None of this is a pose, he truly believes all of his poems are failures," Wilson said. "But that's just a measure of the magnitude of what he's trying to do… he believes, absolutely, that they cannot measure up to this immense vision he has of everything."
Writing poetry to Lee is not a job, though his passion has led to success that pays all the bills. But Lee never thinks of it in those terms. Instead, poetry is an obsession.
"I feel as if I got kidnapped by poetry," Lee said. " I was supposed to do something else with my life, I was supposed to do something adult, but I just got so distracted…I feel like I get up in the morning and I'm doing it already. It's like I'm living in the middle of a poem all the time."
Wilson recognizes Lee's obsession, and directs students to aspire after Lee's passion and invest it in their own art.
"To him, poetry itself is embarking on the highest calling that a human being can have on the planet," Wilson said. "I find that so uplifting because it means that you follow your heart in spite of it [money]. Paychecks don't matter then. And it's sad that our culture doesn't value those things."
Lee also held a reading Tuesday night his work and answered questions from the audience. Lee then expanded on his obsession with poetry and explained that the only audience he can have is God.
"There are three bodies involved in creation: the poet, the poet's obsession and the curtain," he said. "And behind the curtain the audience is listening."
Students connected with Lee, expressing their struggle within their own work to find their true meanings.
"I've always struggled with whether to write and appeal to an audience or just write for myself," creative writing major Emily Engelhard said. "I love the abstract way he views the world."
Lee's appearance was the first in a four-part series by ARTSwego about "Arts, Identity and Diaspora."
"If you wanted to think of one poet about identity in diaspora, you would think of Li-Young Lee," Wilson said. "He was the logical choice."
Students and faculty alike were mesmerized by Lee's work and the wisdom he had to impart.
"Students who were talking to him were in tears because they were so moved. They were given such hope for what they wanted of their own art because of him….we were extremely lucky to have him."