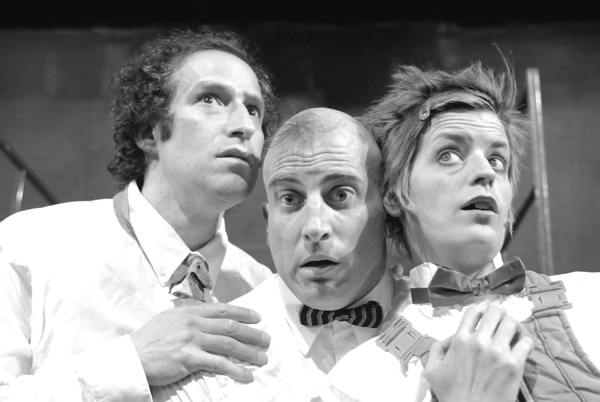 Usually when you think about clowns, a certain image comes to mind. The same thing goes for the classic horror story "Frankenstein." Yet when theatre troupe 500 Clown combined the two, they changed perceptions of both. On Feb. 2, Oswego State had the chance to see this hilarious and innovative combination in Waterman Theatre.
"500 Clown Frankenstein" takes Mary Shelley's story and makes it into a madcap romp as the cast, consisting of Adrian Danzing, Matt Hawkins and Leah Urzendowski, attempt to construct Dr. Frankenstein's laboratory. 500 Clown, which started in 2000 in Chicago, displayed their unique blend of comedy, physicality and improvisation while dealing with obstacles along the way, such as malfunctioning lights and an unruly table.
Instead of utilizing the common perception of clowns, with the white painted faces, red rubber noses and giant shoes, the clowns of "500 Clown Frankenstein" were more of comedic acrobats than anything else. Throughout the performance, they kept the audience on the edge of their seats with how far they were willing to push their bodies as they climbed, dragged, punched, jumped and ran throughout the stage and the theatre.
One of the strongest elements of the show was the audience participation. As soon as the audience came into the theatre, the cast members interacted with them, which continued throughout the evening. Whether it was asking for clothing items to construct the monster or encouraging chanting as an angry mob, 500 Clown kept the audience on their toes. There was even a point where they incorporated someone texting into the performance.
500 Clown kept the audience laughing with their quick wit, brilliant improvisational abilities and excellent comedic timing. This, paired with the physical nature of the performance, kept the show exciting and in constant motion. In addition, the three performers worked off each other extremely well, which contributed to the overall enjoyment of the show. In the end, "500 Clown Frankenstein's" blend of comedy and excitement made it a great night at the theatre.
The cast of "500 Clown Frankenstein" did more than perform their unique style of physical comedy during their visit to Oswego State. On Feb. 1st they gave a workshop on the creative process and physical theatre. In addition, they spoke to several theatre and business classes on campus.