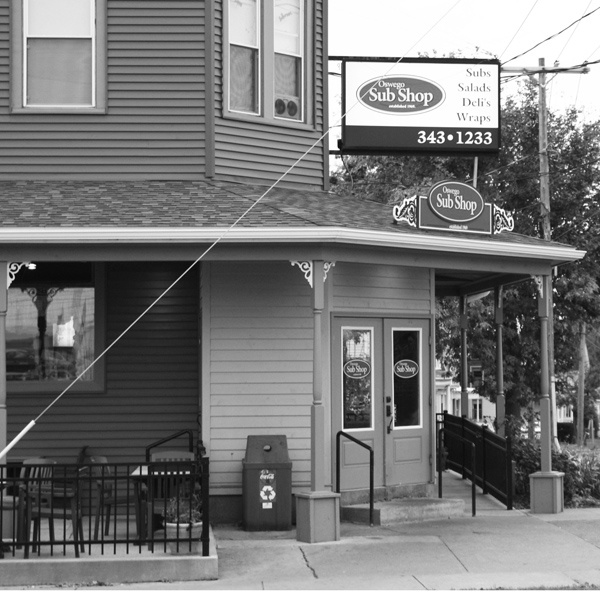 Local businesses are complaining about Oswego State's Plus Plan. With Oswego Sub Shop and Dominoes Pizza currently the only two businesses using the Oswego State program, other establishments are crying foul.
"Students are constantly asking us why we don't accept Plus Plan," said Enzo's Pizza Manager Melissa White. She said Enzo's Pizza "constantly tried to get on the Plus Plan system but always got denied because the school told him only one pizza shop is allowed to accept Plus Plan, which is Domino's."
White said she would be overjoyed if Enzo's Pizza could use the Plus Plan system.
"We're always interested in being on Plus Plan," White said. "We've just never had the opportunity."
It's no wonder that local businesses want to get on the Plus Plan system. Both Domino's and Oswego Sub Shop have seen an increase in orders due to their participation.
"The Plus Plan system is working great for us and we are constantly getting orders from students all week long," said Kristin Soper, an Oswego Sub Shop manager. She said Oswego Sub Shop needs two employees to work their phones because they receive so many orders.
Auxiliary Services, which administers Oswego State's Plus Plan system, looks at several criteria before allowing restaurants to use the system, said Mike Flaherty, the Auxiliary Services' general manager.
"We like to partner with companies who are responsible, financially stable and have passed their health inspections," Flaherty said. "We have to make sure our students are protected in every way."
But Pizza Pub owner Thomas Underwood said the selection has more to do with protecting Domino's Pizza.
"We did try to apply for Plus Plan," Underwood said. "I've been in this very spot for 35 years and served the college community very well… Domino's had a contract with the college and wouldn't let any other pizza business on."
Underwood said Pizza Pub gets numerous calls each night asking if they accept Plus Plan. Those are customers Underwood would rather not turn away.
Flaherty said that he has never seen either Pizza Pub or Enzo's Pizza apply for the Plus Plan system.
"Other than Zonies and Wonton House, no one has expressed interest," Flaherty said. "I don't have letters from 12 people in town asking to be on the program."
Flaherty also said that both Subway and Fajita Grill were approached about joining Plus Plan, but declined. Logistical considerations prohibit many establishments from joining the program, Flaherty said. He admitted that some businesses are scared off by having to stay open until two or three in the morning.
"It's not an insignificant amount of work," Flaherty said.
Currently, Wonton House, the newest restaurant delivering to campus, is applying to be on the Plus Plan system, said Jason Shi, owner of Wonton House.
"We get at least 10 to 15 daily phone calls of students asking if we accept Plus Plan," Shi said. "Ninety percent of my business is being used by students, and getting on the Plus Plan system would eliminate students from spending their cash."
Even before opening Wonton House, Shi met with Oswego State's catering services about getting on the Plus Plan system.
"I want my business to be under the Plus Plan system because I want a long term relationship with the students and the campus," Shi said.
Flaherty confirmed that Wonton House's application will be considered in April, when Auxiliary Services constructs their budget.
"We have to make sure that it is stable enough where we know there will be a long-term business with them," Flaherty said.
Despite the increase in business, not all restaurants delivering to campus find that the Plus Plan program works for them. Zonies, which was accepted into the program last year, dropped Plus Plan after only one semester.
"The Plus Plan was a flaw to us," said a Zonies manager, who wished to remain anonymous. "Students used to meet downstairs with our drivers and sign, but Plus Plan would not accept the receipts and we started losing money."
To be part of Plus Plan, vendors agree to deliver to students on campus and accept payment from Auxiliary Services later. But in order to be paid by Auxiliary Services, the vendors must collect signed receipts from all Plus Plan transactions.
"If I ever got a Plus Plan slip from a vendor that wasn't signed by the student or was signed with a different name, I would not pay the vendor," Flaherty said. "How am I supposed to know whether a student received his or her product or not?"
This paper ticket system was a problem for Zonies because sometimes they were unable to match student identification numbers to their names due to poor signatures. In these cases, Auxiliary Services refused to pay Zonies for the food they claimed to have delivered.
"There were too many cases where signatures were not perfect, which caused us to lose money,"the Zonies manager said. "It hurts when you are a small business."
He suggests an overhaul of the Plus Plan system of payment.
"If Oswego State had a system similar to a credit card where the money would be automatically deducted from the account, it would be easier and we would definitely be willing to join the Plus Plan system again," the manager said. "At Oneonta College, they have a system where the student's ID is swiped and the money is automatically deducted from the account, and I think that would work perfectly if Oswego did that."