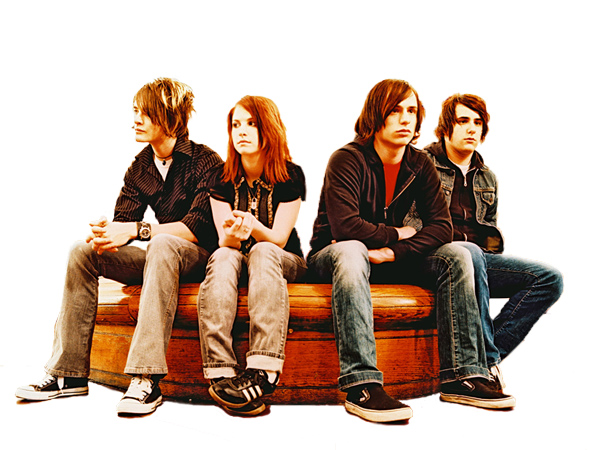 Paramore's newly released album, "Brand New Eyes," is bound to impress and satisfy. Faithful fans of Paramore's previous albums, "All We Know Is Falling," and "Riot!" can finally have their dose of the favored alternative style.
Paramore, formed in Franklin, Tennessee in 2004, features Hayley Williams (lead vocals), Josh Farro (lead guitar/backing vocals), Jeremy Davis (bass guitar), Zac Farro (drums), and Taylor York (rhythm guitar).
Many consider Paramore to be an emo rock band, though that is not the case. They are indeed a rock band, but they seem to be in a class all their own. They have the spunk of a pop band, the emotion of an emo band, and the power of a hard rock band.
Paramore's previous albums were very full of life and gave the listener a shot of pure energy. They included hits like, "Pressure" (from the album, "All That We Know Is Falling"), "Misery Business" (from the album, "Riot!"), and "Crushcrushcrush" (also from "Riot!").
Even though their first album was successful and popular, Paramore didn't get their now well-known reputation until the release of their second album, "Riot!" followed by a contribution to the ever-popular "Twilight" saga with the hit "Decode," which was featured in the movie's soundtrack.
Now, in their newest album, "Brand New Eyes," released on Sept. 29, Paramore comes back with the same energy. However, there seems to be something a bit different this time around. The first single, "Ignorance," packs a much bigger punch than previous singles. Williams seems to have a determined sound to her voice, and that is complemented with the up-beat tempo and vigorous back-up from the band. Her anger and annoyance towards the subject in this song is evident, and she does a great job of portraying it.
Williams seems to be using her vocals to their full potential in this album. In the tracks, "Ignorance," "Brick by Boring Brick," and "All I Wanted," she really belts it. Her voice stands out much more than it ever has before, and she shows much more emotion. Listeners can appreciate her power and confidence.
Paramore decided to include a few slower songs to balance the album nicely. Some of the slower tunes include, "The Only Exception," where once again Haley shows off her talent with a nice acoustic guitar in the background, as well as in "Misguided Ghosts."
"Misguided Ghosts," is probably the first time Paramore has really broken down their sound to the bare skeleton. This one features only Haley's vocals and a couple of acoustic guitars in the background. Listeners can't help but stop and listen to the story Haley tells.
This may be Paramore's most successful album. It has more depth than previous albums, with much more emotion. In the deluxe version of "Brand New Eyes," listeners are treated to not only one, but three acoustic versions of tracks. Also, there are two videos included: the music video for "Ignorance," and the making of "Ignorance."
It's easily said that Paramore will gain a larger audience with this album, while keeping true to their original fans. For now, it seems that Paramore is growing in popularity, and it won't stop any time soon.