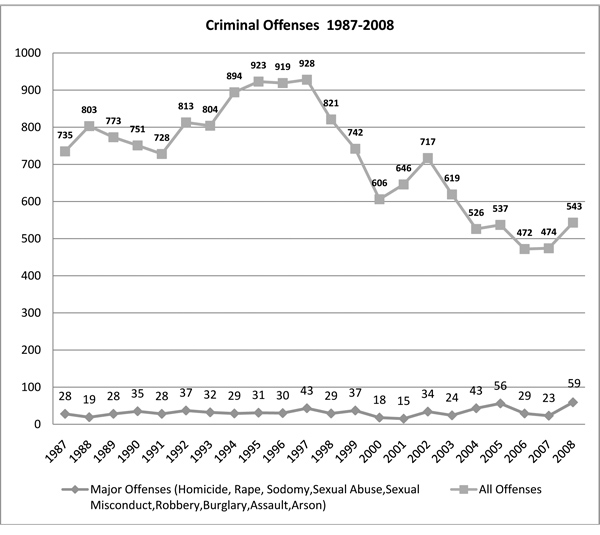 Despite a small spike in reported campus crime in 2008, crime at Oswego State is on the decline since peaking in the late 1990's.
The year did see a reported spike in burglaries on campus, according to the 2008 federal Clery Report, which requires all campuses to make crime statistics available to the public.
Burglaries were up from 25 to 45 between 2007 to 2008, however, those numbers don't reflect changes that were made 2008 in reporting burglaries under the Clery Act, Assistant University Police Chief John Rossi said.
The amendments, made in August 2008 broadened the definition of burglary so that they consistently reflected numbers reported numbers nationwide without dealing with variations in state law.
"Burglary is defined differently from state to state," Rossi said. "The Clery Act wasn't reflecting those differences, therefore they pushed to standardize reporting."
Other amendments to the act included increased reporting on hate crimes and increased protection for "whistleblowers", or those who come forward and report crimes.
The numbers do reflect a patch of burglaries and larcenies that occurred in the Campus Center in 2008. Partly in response to these incidents, as well as the high traffic in the building, UP is looking to establish a small patrol post directly in the Campus Center. The office would serve as an anchor point for patrols in the building during the day and would not be operational 24 hours.
Located on the first floor of the Campus Center, the post would serve as more of a drop point for patrols in the building as apposed to full substation, Director of Campus Life Richard Hughes said.
To address security issues on campus, the college is currently looking at a comprehensive security plan for all buildings on campus. In the meantime, Hughes noted that building managers have increased rounds in the building to help deter any illegal activity.
In other areas, criminal mischief cases at Oswego State have seen a 54% drop from 2002-2008, while cases of petit larceny were the lowest in the last 7 years.
Crime statistics at colleges generally reflect the area where they are located, Rossi said. The semi-rural nature of Oswego County lends itself to lower college crime, as opposed to urban-based colleges.