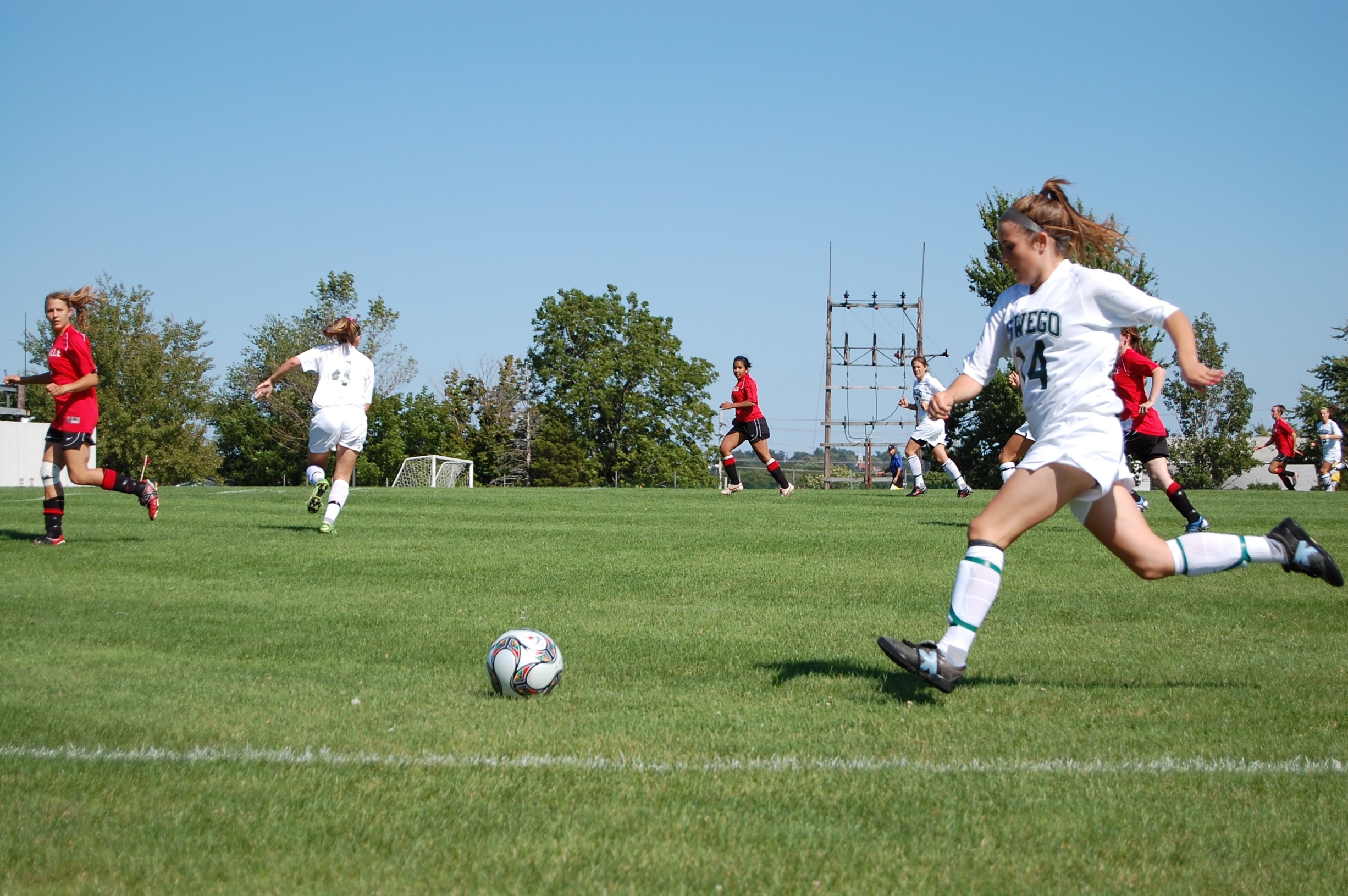 With a quick start and an unrelenting offensive attack, the Oswego State women's soccer team handled an overmatched D'Youville College team 10-0 in their home season opener.
D'Youville only dressed 11 players for the game and was without much of their starting lineup, which led to a sputtering offensive attack. Oswego State controlled the game from the opening kick, dominating D'Youville with speed and ball possession to earn its first win of the season.
The Lakers started the scoring early and often, netting four goals in the opening five minutes and adding four more throughout the first half to jump out to an 8-0 lead. In the first half alone, Oswego State outshot D'Youville by a margin of 23-0 while D'Youville failed to produce a shot for the entire game. Head coach Brain McGrane, now in his third season as the coach of the women's soccer program, stressed the importance of getting out to an early lead in the game and having such a successful opening game.
"Walking out, I was telling my coaches it would be nice to get on the board quickly," McGrane said. "It's just important anytime you start a game to get on the board as quickly as possible."
Several players contributed to the Lakers' onslaught of goals in the first half. Sophomore midfielder Laura Ambron scored two goals in the first five minutes and freshman forward Michelle Bateman added two of her own in the first seven minutes to set the tone for the rest of the game. The Lakers were connecting passes, possessing the ball and spreading the attack to both wings as well as receiving runs in the middle from forwards in a seemingly unstoppable offensive attack.
One of the benefits of jumping out to such an early and commanding lead was that the Lakers were able to give their subs valuable game experience, which is not so easy to come across during the middle of the season in division play. McGrane was impressed with the play from his young team.
"We're starting eight freshmen and sophomores, so experience is limited," McGrane said. "Field position wise we are very new and very young, but we played very well."
The only player who didn't receive any valuable time during the game was Oswego State starting goalkeeper Christine Fergosi. Due in part to a suffocating defensive effort and the lack of firepower from the D'Youville forwards, Fergosi had an uneventful opening game in goal for the Lakers.
Oswego State continues their four-game home stand with a game on Thursday, Sep. 3 against Cazenovia.