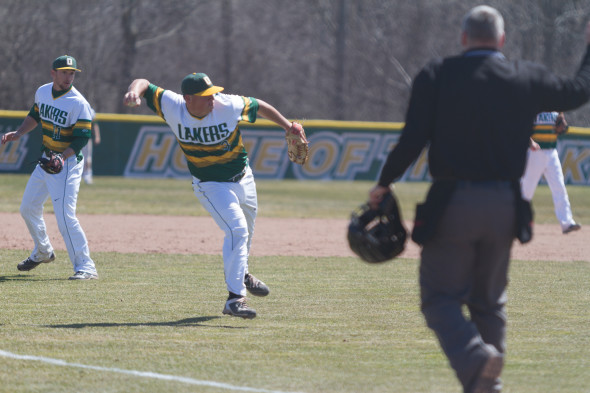 The Oswego State Lakers host the SUNY Cortland Red Dragons in a doubleheader today at Laker Baseball Field to close out their regular season SUNYAC play.
The Lakers (23-6, 14-2 SUNYAC) faced the No. 1 Red Dragons on April 7 in Cortland, N.Y. when they were ranked No. 2 in the country. That game took until the bottom of the 10th inning to decide a winner with a walk-off hit from Red Dragon infielder Mark DeMilio with two outs. The Lakers trailed 7-2 heading into the eighth inning and rallied to score four runs then one more to tie things up in the ninth. The Red Dragons' pitching staff flexed its collective muscle in the matchup and the Lakers were only able to collect six hits. Meanwhile, Oswego State's pitching staff struggled to keep them in the game giving up 15 hits.
It should be noted that the Lakers did not start Brendyn Karinchak (6-1), arguably the squads best pitcher right now. The senior has posted an earned run average of 1.76 in 46 innings pitched on the season and within the SUNYAC he has an ERA of 1.09 in 33 innings pitched. Expect Karinchak to get a start today.
Since they last met, the Lakers have won seven of their last eight games by a total of 28 runs and the Red Dragons have dominated their conference match ups. As of late, SUNY Cortland has defeated SUNY Fredonia 15-2, 10-5 and 12-0 as well as SUNY Oneonta 13-0, 10-3 and 21-3.
Oswego State's bats have been hot this season with leadoff man Dan Saccocio batting .378 and leading the team with an on-base percentage of .545. He has also reached base 23 times after being hit by a pitch in 98 at bats. In the three through five spots of the batting order, Eric Hamilton is hitting .385 with 31 RBIs; Myles Kutscher is batting .359 with three home runs on the season (two of which came over the weekend) and leads the team in doubles (11) and RBIs (36); Jordan Giller leads the team in batting average at .424 and is just as solid at first base.
SUNY Cortland's bats are just as hot with all players on the squad with at least 30 at bats recording a batting average above .300. The Red Dragons are led by Anthony Simon, who went 3 for 4 against the Lakers on April 7, as well as DeMilio, who has three of his team's 14 home runs on the season.
The Red Dragons have outscored their opponents 286 to 111 in 2015 and their pitchers have a combined ERA of 3.11.
First pitch for game one of the doubleheader is at 1 p.m. with a scheduled start time for game two at 4 p.m.