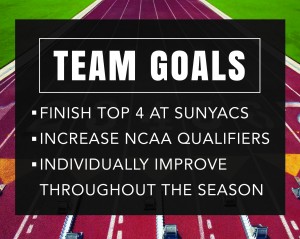 The 2015 Oswego State men's outdoor track and field season kicked off April 2 at the University of Rochester, and after its best SUNYAC Championships in nearly a decade, the team is ready to get even better.
The men's team left the track at SUNY Geneseo last May with sixth place out of eight teams. By season's end, it also sent then-junior captain Matt Wagenhauser on to the NCAA Championships in Delaware, Ohio for the 400-meter race. Wagenhauser, a four-time individual SUNYAC champion, has his sights set on an even better senior season for the team, as well as being a part of a group at the 2015 NCAA Championships in Canton, N.Y.
"Everybody always does better in outdoor, so I think top four is a realistic goal," Wagenhauser said. "We also want to qualify people for nationals. We want to get more people there. Hopefully get a couple relays and opens."
At the University of Rochester's Alumni Invitational, the team finished eighth out of 12 teams and some of the team's newcomers stepped up right away and contributed. Freshmen Jake Barbara and Doug Castro were a part of the 4×400-meter relay team along with senior Nick Reinsdorf and junior Ben Griffin, which took second place. In the field events, freshman Ethan Erlich took second place in the javelin.
"It's the rookies I'm really interested in. I want to see what guys like Kyle and Ethan can do in the multis and to see where we can stack up," head coach Derek Rousseau said. "If our guys continue to progress with the returners, we can definitely score a lot more points this year at the [SUNYAC] meet and I think that's going to set us up to finish in the top half of the competition come May 1 at SUNYACs."
Colin Greenseich and Justin Sommer are in their third competition season of their freshman year. The two were large contributors in the second half of the cross country season and, despite racing all year, they continue to succeed. At last Thursday's invite, Greenseich took second in his first-ever 10,000-meter race, while Sommer finished third in the 3,000-meter steeplechase.
"Coming in from cross country is a really long year," Rousseau said. "For a lot of freshmen, it tends to become a struggle at the very end of the outdoor season. But these guys don't look to be showing any signs of wear and tear at all. They look to be getting better every day."
Griffin is a rookie in his own right as a transfer from Binghamton University racing in his first year for Oswego State. The junior competes in the mid-distance races and enjoyed frequent success throughout the indoor season. One goal on his radar is reaching the NCAA Championships for outdoor with his 4×400 relay team from the indoor season.
"It was nice to see the outdoor competition and what it'll be like for the rest of the season," Griffin said. "I'd like to qualify in the 1,500 and the 800 maybe for the ECACs as well as the 4×4 at nationals with Matt, Nick Reinsdorf and Brandon Comden."
Wagenhauser, Reinsdorf and Comden are three of 11 seniors on this season's squad. There are two graduate students, Damian Archie and Brian Wisely, on the team as well. The large leadership group is a strength of the program.
"I train with Nick and Ben. We push each other hard every single workout," Wagenhauser said. "We're always fighting to beat each other in every single workout and get that little extra work in. You just see it around the track. All the senior leaders are really pushing to get us where we need to be."
The team set high goals for itself heading into the indoor season and the seniors especially wanted to make waves at the SUNYAC Championships. But it finished seventh out of eight teams at the competition. The seniors are still looking to leave their mark on the program and are even more driven than before.
"As a senior, I don't want to leave on a bad note," Wagenhauser said. "I want to leave on a high note, so that when we're gone the program has something to work off of. Really, the indoor season only motivated outdoor."