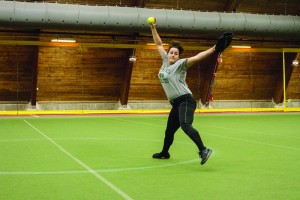 Following the 2014 campaign, there was speculation as to who would step up to become the next ace for Oswego State softball.
Enter junior pitcher Lisa O'Callaghan, a multi-sport athlete known for her impressive field hockey play at Oswego State over the past three years, who is in the midst of her first year as a member of the Laker softball program. The New Hyde Park native has taken on a heavy workload thus far, having appeared in seven out of 10 contests – six of which were starts.
"I always played softball when I was a kid and it continued into high school," O'Callaghan said. "I grew up in a family that loves baseball, so I would always play with my older brother and cousins."
The right-hander explained how when she first arrived in Oswego, she had every intention of playing both softball and field hockey. Despite the then-freshman talking with former head coach Casey Price about playing for the team, the physical exertion and everyday stresses of field hockey preparation coupled with classwork proved to be too exhausting.
"It came down to me just being really tired all of the time and wanting to focus on my studies during the offseason," O'Callaghan said.
Teammate Alexis Nasca was responsible for recruiting O'Callaghan when she first started inviting the multi-sport star to voluntary throwing sessions over the offseason. The two developed an unbreakable friendship, which influenced O'Callaghan's decision.
"From there, I made many more friends and I really liked what coach's vision was for the team," O'Callaghan said. "I was just worried about shaking off the rust, having not played competitively for three years."
O'Callaghan has not needed to shake off any rust just yet for the Lakers, indicated by her 2.81 ERA. The power pitcher has struck out 22 opposing batters, limiting them to a .183 batting average over 37.1 innings of work.
"What makes her so difficult to hit is her changeup drop," said pitching coach Shawn Samson, who has over 35 years of experience in coaching intercollegiate athletes. "Her demeanor remains the same throughout, regardless of how well she's pitching. She's absolutely unwavering on the mound and that's exactly what you look for in your go-to pitcher."
In light of poor weather conditions recently, the Lakers have been forced to play on neutral field sites where they have been 3-7 so far this season.
Luckily, the newly recruited pitcher is not fazed by pitching on the road.
"I pitched for my high school's away team, so my experience with traveling and playing on unfamiliar grounds gives me an edge over other players," O'Callaghan said.
The Lakers (3-7) are scheduled to have their first set of home doubleheaders this weekend against Buffalo State on Friday and SUNY Fredonia on Saturday.