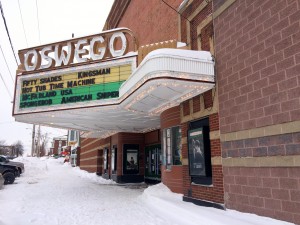 For those who have not experienced the wonders of Oswego Cinema 7, take some time out of a Friday night to sit down and experience real cinema.
Cole Smith, the head manager of Oswego Cinema 7, which is located on 138 W. Second St., is helping to keep the theater in top shape with its new addition of brown leather seats. For only $8.50, moviegoers are presented with recliner seats in some theaters in which to enjoy their film.
"The new leather chairs have really brought in a whole new variety of customers," Smith said. "It's been really busy. Summer 2015 is coming around for a new season and I'm looking forward to it."
Oswego Cinema 7, originally called the Hippodrome Theater, opened prior to 1910. The cinema is a place of escapism and the cinematic experience within the theater is second-to-none with their film reel projectors. The amount of film reels in the United States has tremendously decreased since the digital age in the late '90s, so with this choice, Oswego Cinema 7 is keeping the golden age of classic Hollywood alive.
The front of the theater is a sight itself. It has bands of dark red, red and yellow perpendicular and horizontal belts. Cast stone surrounds the outside of the building and pleated stripes are painted vertically on the entrance facade.
The theater has huge, kingdom-like, double doors that seem to open to another universe. The opening room before entering the main ballroom is similar to the rooms seen at Universal Theme Park haunted houses where groups of people are instructed by a menacing beast to venture further into a transcendental horror factory. However, when entering the main theater lounge, we are greeted with bright smiling faces of actors and actresses on glossy movie posters instead of vicious swamp creatures or The Mutant Pirates of the Caribbean.
The Oswego Theater, from the owners of M. Shapiro and Sons, opened the playhouse on January 22, 1941. It was designed by architect John Eberson. Thanks to him, Oswego Cinema 7 is featured on RoadsideArchitecture.com as an architectural masterpiece alongside over 2,300 pages and over 60,000 photos. The theater was built before the primary focus of this website though, which are sites built from 1950 to 1970.
The theater is also listed on the National Register of Historic Places, which is a National Park Service where historical places are supported and provided the best historical and archeological resources.