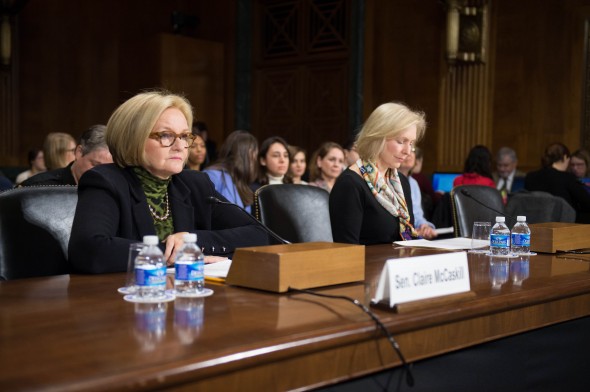 Recently, U.S Sens. Kirsten Gillibrand (D-NY) and Claire McCaskill (D-MO) praised a national initiative in President Barack Obama's budget to put more than $30 million in new resources to combat campus sexual assault.
That amount would help fund an additional 200 full-time staff at the Department of Education's Office, which investigates and enforces sexual assault laws at colleges and universities, according to Gillibrand's office.
"This budget request would finally provide the resources needed to properly investigate sexual assault complaints and put more cops on the beat to raise accountability on college and university campuses for accurately reporting statistics to the federal government," Gillibrand said in a statement.
As a former courtroom prosecutor of sex crimes, McCaskill knows all too well the ramifications of sexual assault. The senator hopes the appraisal will encourage victims to report the sex-crimes to local authorities.
"These additional resources are a terrific step in ensuring that as more survivors come out of the shadows to report these crimes, schools and law enforcement have the tools they need to help empower students and bring perpetrators to justice," McCaskill said.
Gillibrand has been an advocate for college sexual assault prevention measures for some time.
In summer of 2014, Gillibrand and McCaskill proposed the Campus Accountability and Safety Act, the federal bill hopes to provide sexual assault survivors with an increased amount of support services in the future. The appraisal requires academic institutions to be proactive about reporting acts of sexual violence in the college community.
While the legislative proposal is pending systematic approval, sexual assault continues to be a strong topic in the SUNY system alone. In a 2013 to 2014 report by the Associated Press, 238 cases of sexual violence and assault occurred at SUNY campuses. According to the study, Oswego State was identified as having three different departments where sexual harassment or discrimination had occurred.
An increase in sexual assault cases throughout the U.S.  has resulted in a heightened communal regard for campus safety. Lisa Evaneski, Oswego State's associate dean of students and Title IX coordinator, supports the legislative initiative. She stated that the university provides student survivors with an existential amount of crisis-related services. Evaneski explained that the sexual assault policy would be most valuable to colleges outside of the campus community.
"I hope that if it passes, that there will be programs to assist campuses like ours to further improve what we are doing," Evaneski said. "We have worked closely with external victim advocate groups to develop our current and future policies and have been given feedback and structure by the Office of Civil Rights as well."
Mary McCune, the program director of the Oswego State Women's Center, approves of the senator's appraisal and said that the college has imposed policies to fight against acts of sexual violence.
"I do think that heightened attention to this matter at the federal level is bringing about change in the way that campuses deal with sexual assault," McCune said. "The new SUNY-wide policy regarding affirmative consent is a positive step as is the development of a uniform sexual assault policy for all SUNY campuses. The fact that SUNY Oswego has a victim support advocate on campus is an important step taken locally."
Despite the protective measures Oswego State has taken to establish campus-wide safety, some students feel marginalized by acts of sexual violence on campus. This academic year alone, there have been several sexual assault incidents that occurred on and off campus that involved Oswego State students.
"Sexual harassment is a very big thing on our campus and it needs to be stopped," said sophomore and English major Lindsay Karback. "It makes me sad being a female that people are disregarded. People need to be taken seriously and I think this will help it move along."
Junior and public relations major Tiziana Vecchio, explained that sexual violence is a critical issue that needs to be treated properly on campus.
"This is a serious issue that needs to be taken more seriously," Vecchio said."We have all this media and information going around [about] sexual assault on college campuses, but there is so much more that can be done. I think it is great that the senator is putting money into sexual assault cases because we could all benefit from it."
Junior and finance major Michael Potter,lives off campus but is still aware of the sexual assault crimes due to the SUNY alert system. Potter said that the plan would improve the security of students in the college.
"Thirty million dollars will go a long way," Potter said. "People's lives are at stake. People aren't replaceable. The school is supposed to protect all these kids, whether they are off campus or on campus."
In a class research project, senior Raeann Mariella highlighted that during a span of one year, Oswego State recorded two sexual assault cases. She said that the small amount of cases reported is not nearly close to the amount of unreported sex-crimes that occur throughout the campus.
"It is so hidden and undercover that it should be more investigated," Mariella said. "People are scared to talk about it but it needs to be talked about. It's a lot bigger than people realize. It happens often but it's not reported. Even when it is reported, I'm not sure if the school handles it right."
Freshman Brittany Morgan is not too familiar with the severity of sex-crimes on campus, but explained that students should receive justice for the acts of violence committed to them. She said that students do not attend college to be taken advantage of sexually.
Gillibrand's bill will be re-introduced to the newly installed senate in the coming months.