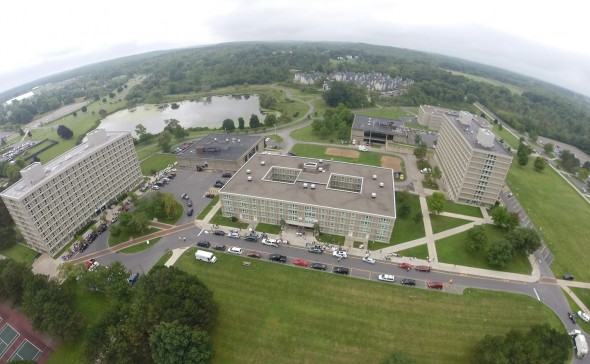 This year when students begin the room selection process for housing next year, they will notice a new step. Students now wishing to live anywhere on campus will have to complete mandatory in-person, pre-registration.
Marie Driscoll Germain, the associate director of Residence Life and Housing, believes adding this step to the housing selection will help eliminate any confusion students may be having.
"We wanted face-to-face communication with students to explain the process completely and answer their questions before they obligated themselves to anything," Germain said. "Online can be great; however, with an admittedly complicated process, we felt face-to-face contact was needed."
In the old system, the hole process was online. Many people have complained that the housing process is complicated, so in order to eliminate confusion, they are establishing this new in-person pre-registration to help go over the process in a clearer manner.
"Since adding Village Room Selection to the process, we've had increasing complaints from students and parents that the process is complicated and hard to understand," Germain said. "The things that make the process complicated exist in order to maintain fairness, as well as give students priority consistent with the rest of the Room Selection process. After last year's process, we decided to add an in-person step to hopefully help students understand the process better."
To start the housing process, students are given a form that outlines critical information about the process, Germain explained.
"Residence Life and Housing professional staff members go over the information on the form with students in small groups," Germain said. "Students are required to initial several places on the form, indicating that they have received the information. Then, they 'check out' with a staff member individually. The staff member makes sure the student has initialed that they received the information. The student then signs the form; the staff member initials the form and gives the student one copy of the signed form."
Students feel this new mandatory in-person pre-registration will be more of an inconvenience than help. Xochitl Santamaria is currently a sophomore and is not sure of any true benefits in having the in-person pre-registration.
"I do not think it is a bad idea to have an in-person registration. However, I attended the pre-registration for the Village and I don't think it was very helpful, informative or really beneficial," Santamaria said. "The information we received seemed to be available online. I can see how some students might find this as an inconvenience because we all have busy schedules."
Kim Abbondondolo is a junior this year and she plans to live on campus her senior year. She feels after living on campus for three years that it is unfair she now has to meet in person prior to the housing selection.
"I don't think that having mandatory in-person registration to live on campus is very necessary," Abbondondolo said. "I want my room selection process to be fast and easy and I believe this is an inconvenience to students and makes the process much more difficult."
The in-person meetings will continue as the housing process proceeds from the Village to the residence halls this spring.