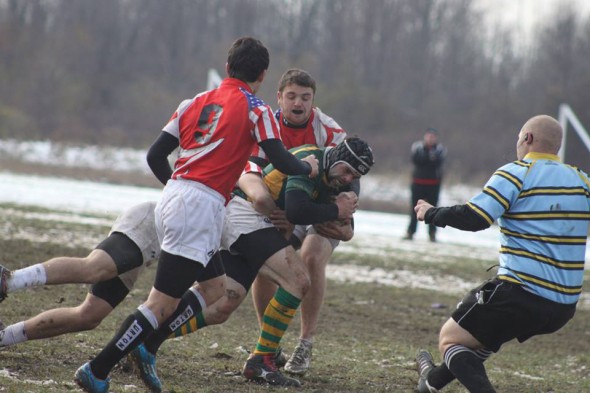 After a season of hard work, comebacks and team chemistry, men's rugby has earned a berth into the Div. II regionals and entered the top 10 spot in the men's rugby Div. II rankings.
Throughout this season, Oswego State men's rugby team has gone 10-1, putting them in the regionals against University of Vermont this upcoming weekend at the University at Rhode Island. Leading the team is head coach Jim Clark with captains TJ Kimmel, Steve Vertucci, Kyle Kelly, and Kevin Burke by his side.
According to senior Kimmel, captain and president of the club, one of the people who it can attribute its success to is Clark.
"He is at practice four days a week and he plays a big role conditioning the team and getting us ready for gameday," Kimmel said.
With a mix of returning upperclassmen and new additions, the roster has totaled above 50 players this year, which is bigger than the usual 30 players in past years. According to Kimmel, after the first three or four weeks, the club knew they had a playoff team. Starting off with a half-mile run warmup and stretching, the team practiced up to six days a week, two hours a day. It continued conditioning, perfected technical skills, like ball handling and passing, but put an
extreme emphasis on overall fitness. While conditioning Tuesdays and Thursdays, focusing on drills on Wednesdays and Fridays and cooling down on Mondays, the coach mixes up the workouts to keep the players in top shape.
After a two-game winning streak, men's rugby suffered a disappointing loss to SUNY Cortland 24-10 back in late September. Coming back from such a defeat, it went on to win the next eight matches, including the rematch against SUNY Cortland for the state championship.
After their success, the Wizards came back on top of SUNY Cortland in the national rankings and went from 19th to 9th.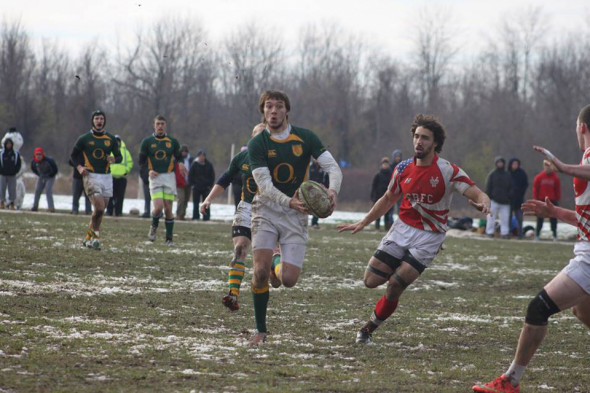 "We were a little wiry playing Cortland for a second time," said junior Reid Adler, vice president of the club. "After losing to Cortland the first time we set them as the standard to be the team that we had to beat for the season so the week before playoffs and state championships, we played Cortland and beat them pretty well. From that point, we knew that was a big turning point in our momentum. We beat them, we could definitely get through states. So we did it."
The last time Oswego State competed in states was in 2012 when they lost to Colgate University who is now a Div. I team.
"Any guy who was on the team then, that is the one game that has been on the back of our mind," Alder said.
At championships last weekend, the Wizards defeated Buffalo State and kept the momentum in their challenge against SUNY Cortland. According to Kimmel, Oswego State had a nice lead by halftime and, as the game progressed, it knew it was going to consider itself state champs.
"My sophomore year we lost the state championship," Kimmel said. "So coming into this season the state championship was the main goal, but the fact that we get to play beyond the state championship and compete for the national title is great."
Throughout the season, their off-the-field chemistry has been a step up from previous years, which has translated on the field and them through what could be considered the most successful season in a some time.
"This is definitely the closest I have ever been with any of my teammates," Adler said. "In the past two years with this team, we have been close, but this year it has been especially like all I do is hang out with my team and I am sure it goes with everyone else. Rugby and rugby, that's who we hang out with who we live with. We spend every weekend together, everyday practicing and the only day we don't is Sunday and I am pretty sure everyone hangs out anyway.
A lot of the off-field chemistry works with the on-field chemistry. After everyone has been playing with each other for so long, you know what people are going to do. Being with someone so much you really get to know them better. It is a big aspect of communication. Being able to know what the person next to you is going to do. Everyone is really close, it is a really close-knit group, everyone is friendly and we are all like brothers."
Going forward the team will travel to Rhode Island for regionals where it will play against the top sixteen teams in the country. Playing University of Vermont on Saturday for a spot in the quarterfinals, the Wizards will then play in a tournament against University of Rhode Island, Bentley University and University of Wisconsin-White Water to declare their standing on the national level. If they win both games this weekend in the region they continue to play to against in the final four for the national title.
"We have never been to the Div. II sweet sixteen tournament so it has been a true milestone for the club in all of the 45 years it has been alive," Kimmel said. "We just want to play with pride, we know what we can do, and we have been doing it for three months. We came here to achieve one milestone of winning state championships so from here on out it is just having fun and seeing what we can do."