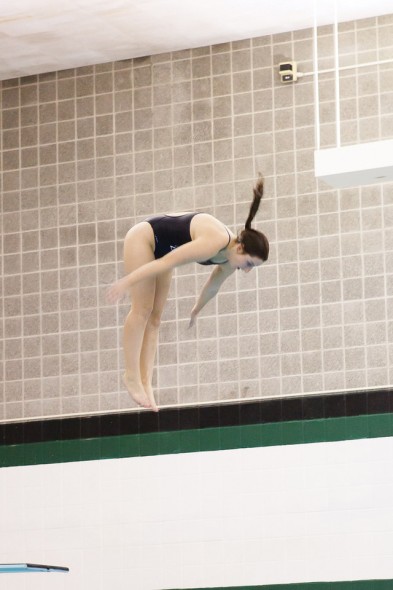 The divers on both the men's and women's swimming and diving teams have had success in the past and each year the goals are always the same: perform better, go further in the post-season and help the whole team overall.
Someone who is not new to this plan is men's senior Justin Berrios. Last year, Berrios finished 13th in both the 1-meter and 3-meter diving at the SUNYAC Championships.  Berrios was not too pleased with just earning 13th and plans on doing even better this year in his final season as a Laker.
"I wanted to set a goal this year to make the zone cut, and if I make zones, I want to try and make nationals," Berrios said. "I know it's there."
'Zones' is the qualifying meet for nationals. Divers can qualify for 'zones' through earning a certain point total in at least two meets or at SUNYACs. For the 1-meter, it is 275. While for the 3-meter it is 285.
Sophomore Ben Hale has already earned himself a spot at 'zones' in the 1-meter event this season. Last year he earned seventh in both the 1-meter and 3-meter at SUNYACs and also qualified for the zone meet in his first season as a Laker. Though he set the bar high in his freshman year, Hale is ready to improve on the successful season.
"There's always pressure to do better and do well, you just got to push yourself," Hale said. "Every year you're looking to progress."
Both Hale and Berrios helped each other in their own ways last year, with Berrios helping Hale learn the ropes with being on the team, and Hale pushing Berrios to do better because of the great performances he had very early in his career at Oswego State. But, though Hale might have had a better season in the record books, he was very grateful of how Berrios has helped him.
"He had the experience. He helped me get real comfortable here. He still pushed me to do the best I can," Hale said. "We go back and forth in scores, so we push each other to do better than we have been doing."
Diving coach Kevin Morgan also sees the impact Berrios makes as the diving captain, with helping Hale last year, to now being a role model for new-addition freshman Luke Snyder.
"He knows my routines, he knows how we run things, he knows the culture we have created here," Morgan said. "So he's the one I look forward to giving instructions when I need help with some of the other divers. They really look to him and they can feed off him. He's the pulse and heartbeat of this team right now."
Snyder has already made his presence known as he has gained points off the boards in some early season meets and is almost already competing at the level Hale and Berrios are. Now having all three of them doing well, Morgan sees it as a great advantage for himself as a coach, but it also leads to them all performing better.
"I've got these guys feeding off of each other. That's not me doing anything. That's just them playing the game of 'I dare ya'," Morgan said. "That's really special when you have a team that's that talented and can do that off of each other. It makes my job as a coach a lot easier."
Snyder mentioned how Hale, Berrios and Morgan have helped him improve as he never had a specific diving coach in high school. Now, with Morgan helping him bring up his scores, and Berrios assisting him in coaching with the technique part, he is already seeing improvements in his skill level this early on in the year.
But with Berrios and Hale helping Snyder, it also goes both ways as Berrios noted that Snyder is a little bolder when it comes to trying a new dive, and it motivates the other two to try it as well.
"He's a fast learner, he wants to do better, he strives to do better every single day and I think that's what helps our team out as well," Berrios said.
On the women's side, the diving team boasts an unusual case in senior Kathryn McKinney. Last year, McKinney came in as a junior transfer. Being new to the team, she tried something she was not used to, and that was diving.
"I was always interested in diving, and I had grown up in the pool. It was just something I really wanted to try, so I started diving and I fell in love with it," McKinney said. "But being here I loved swimming too, so I was just like 'I'm going to do both.'"
With both participating on the swimming and the diving team, it leads to a balancing act by McKinney. But she is thankful her coaches and teammates are by her side.
"It's a lot of hard work. I swim in the morning, and I dive at night," McKinney said. "But the coaches are very good, they both work well together with me, and my teammates are very supportive."
Last year, McKinney qualified for SUNYACs in both swimming and diving. Morgan made the point that this is a rare occurrence having someone on both teams, even more so with how well she is doing.
"I've talked to high school kids, I've talked to college swimmer and divers, and usually by this level you are focused on one discipline. It's very difficult to balance it out," Morgan said. "Kat is balancing them both out, and being successful at both, which just speaks to her character."
From a diving perspective, Morgan also notices McKinney is ready to perform even better than last year.
"I can see it in her eyes where she's putting more effort in the dives. She's more focused on the details on what's going to make the dives better, and she's more willing to try those newer dives and make the adjustments," Morgan said. "Where as last year it was just try to get comfortable with being back on the board again."
All of the divers believe having Morgan lead them is very special, as he is an Oswego State alum and owns all the records in men's diving for the Lakers.
"He knows what we've been through, he knows what Oswego's about, he knows what he's talking about, he knows how to help us out and how to coach us in better ways," Berrios said.
"He definitely helps with the mental aspect, and that's a big part of the sport. Half the battle is getting yourself to do the dives and the other half is thinking about it too much," Hale said. "He is really good at getting you comfortable and making sure you're confident."
For McKinney it is about how Morgan and Holman have implemented new strategies through technique and a weight-lifting program.
One thing that is different about the swimming and diving from most sports is that the team has separate practices throughout the day. Swimmers have their own practices, and the same goes for divers. But, when they come together, they are all one team.
"We don't see each other a lot but when we're at the meet, we're a team. It doesn't matter if someone's swimming or someone's diving," Berrios said. "Someone's always there to support each other no matter what."
McKinney is one of those that Morgan sees as a great example for that with her participating in both teams' practices throughout the week.
"She bridges that gap. Sometimes the worlds do get separated,'' Morgan said. "Well Kat does both, so with her swimming both, she really pulls this team together into one giant unit."
That is the way the coaches like it as even though they are not together all the time, embracing the program as a whole from both the men's and women's teams is what it is all about.
"It's about the logo on the suit. It's not about the name on the back. It's us coming together. [Coach Holman] and I work together very well in understanding what we need to do in order to get team points so we can make the program better. It's not swimming. It's not diving. It's the swimming and diving team. It's not men. It's not women. It's the swimming and diving program," Morgan said. "We're working day in and day out to make sure this entire program is getting better as a solid unit."
Both the men's and women's teams will be swimming and diving in their final dual-meet of the fall semester at the College at Brockport on Saturday.