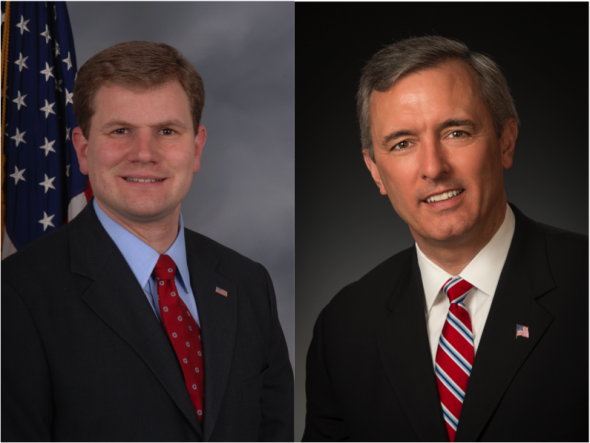 During the last week before the midterm elections, Rep. Dan Maffei and John Katko faced off in a series of broadcast debates in the race for New York's 24th congressional district.
Voters were not able to see any kind of debate between the two candidates this entire election season. Democrat incumbent Maffei and Republican challenger Katko first debated on Oct. 17 on WRVO Public Media. They debated again on the same station on Oct. 26, then participated in a series of televised debates, first on Time Warner Cable News on Oct. 27 and then CNY Central on Oct. 28.
In the debates, the candidates discussed a variety of both local and national issues, including the Ebola virus, the job market, negative campaign advertisements, Common Core,  Social Security, the Affordable Care Act, ISIS and immigration.
One of the highly political issues brought up time and again during the debates, one that Maffei and Katko claim to represent while the other does not, is bipartisanship in Congress. Currently, the Republicans hold the majority in the House of Representatives and the Democrats hold it in the Senate. Since the Republicans took back control of the House in 2010, the lack of bipartisanship has been a matter many Americans are upset about. A March 2014 poll from the Bipartisan Policy Center's Commission on Political Reform and USA TODAY found that 77 percent of Americans disapprove of the job Congress is doing.
During one of the debates, Katko was asked if he had any strategies to fix this problem.
"I do. The very first thing I am going to do if I get elected, or when I get elected, is I want to call up the senators in the state, and I won't care whether they are Democrats or Republicans," Katko said. "I'm going to call Sen. Schumer and Sen. Gillibrand and say, 'What can we do together to get these things done and get the gridlock moving?' I think it will be a very strong symbol of me working across the aisle from day one. And quite frankly, my entire career I've had nothing but working with various factions—putting together task forces in El Paso, Puerto Rico and back here, of all manner from gangs and drugs. You have to put together coalitions. Law enforcements have vastly different priorities on federal, state and local levels. You have to get them to come together, and I've been doing that for 20 years and I am confident that I can do it."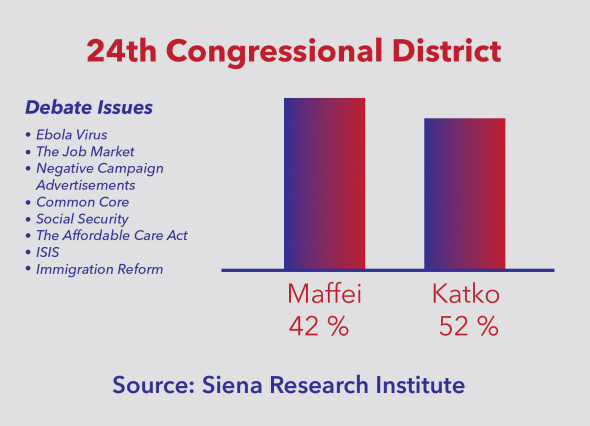 Maffei responded to Katko's statement saying his opponent has opposed many pieces of legislation that when voted on were very bipartisan.
"The bipartisan budget agreement that saved $85 billion and is keeping the government open until right through 2015 that I supported, he opposes. Very bipartisan. The bipartisan bill in the Senate to provide just for background checks for firearms, something that the FBI has plenty of statistics tell you makes places safer—it's bipartisan—he opposes it. The immigration bill in the Senate—we clearly need comprehensive immigration reform to secure our borders and to make sure that farmers have workers that they need—he opposes it. So, what bipartisan stuff is he for? And in terms of working with Sen. Gillibrand and Schumer, ask Sen. Gillibrand and Schumer. I worked with them all the time. That's the only way you can get things done, is in a coalition. Mr. Katko, I think he says, well I'll call them up, as if they haven't ever picked up the phone. It just doesn't… it doesn't work that way, and we've been down this road before with Ann Marie Buerkle, and you know, I'm not sure if we should risk it again."
Ann Marie Buerkle was Maffei's Republican challenger in the 2010 and 2012 congressional elections. Buerkle unseated Maffei in 2010 and Maffei defeated her in 2012.
Both Maffei and Katko have emphasized their stress on job growth in the Central New York area over the course of the campaign season. The candidates both agreed on the principles of how to get the local economy going again.
"In the end, it all boils down to who has got the best opportunity to get it done," Katko said. "Mr. Maffei has been in Congress four of the last six years, two of them he had control of the House, the Senate and the presidency, and he's got nothing done. Last year alone, 3,100 jobs left Central New York. Three thousand one hundred jobs.  The recovery in Central New York lags recovery in New York state, and recovery in New York state lags recovery in the nation. We have given Mr. Maffei an opportunity for four of the last six years to lead us, and nothing's happened."
Katko also stated a remark he has repeated at the multiple debates this week, saying, "If I don't do something in two years, I expect my constituents to throw me out."
Maffei responded, agreeing the two have similar plans, but that the difference is his plan "has details."
"A lot of what Mr. Katko says is, 'Oh let's keep the good and get rid of the bad.' But he doesn't say how to pay for anything. He says he is fiscally responsible, but he doesn't point to any cuts that we should make. He doesn't point to any way to pay for things. There are no details in his plans.  In fact, the seven bullet points that he offered fit on one sheet of paper."
One of the most controversial national issues of the Obama presidency is the Affordable Care Act, which was signed into law in 2010 by the president. Not a single Republican in either chamber voted for the bill's passage.
"I don't think I'm talking about repealing the bill," Katko said. "I'm talking about fixing it. I think there's great portions of Obamacare, there's great principles. First of all, everyone has health insurance. No matter what happens, we have to make sure everyone has health insurance. And we have to take a look at some of the great provisions, like the wellness provisions in there, and the 26-year-old policy, and portability from pre-existing conditions. Those are all good things, and there's a lot of good things in Obamacare.  But there is also a lot of things that are very bad about Obamacare, and I think we have to have that can-do spirit."
Maffei acknowledged there are both positive and negative provisions of the act.
"There is no question that the Affordable Care Act is not perfect," Maffei said. "And there is no question that the Affordable Care Act is doing some good things. The question is, should we have just voted no, as Mr. Katko would have, and continued to do nothing? Incidentally, prices were sky-rocketing long before the Affordable Care Act. And in fact, if you look at the numbers, medical inflation has gone down."
Both candidates have felt they expressed their opinions and plans clearly for the listening and watching audiences.
"Rep. Maffei prevailed in tonight's debate by standing up for Central New York values and highlighting his strong record of working with Democrats and Republicans to create jobs, strengthen the middle class, and put Central New Yorkers first," said Maffei spokesman Kane Miller.
Katko's campaign did not respond to requests for comment.
The final debate between the candidates is scheduled for 7 p.m. on WSYR channel 9 on Nov. 2.