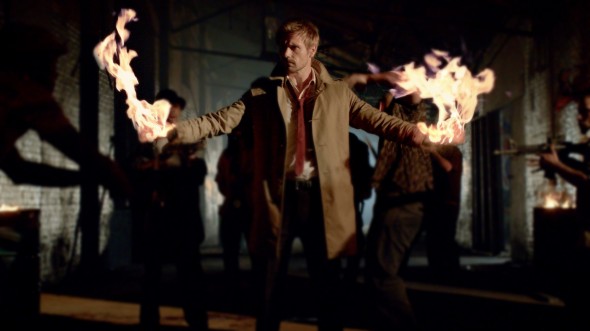 Everyone loves a British accent. This wasn't the entire basis for bringing the popular anti- hero John Constantine to the small screen, but it's more than a choice of vernacular. It's a subtle commitment to the DC universe's version of "Constantine."
For those who don't know, John Constantine the character is incredibly interesting. He isn't the low talking action monger that Keanu Reeves depicted in the 2005 film; he's actually kind of funny. Welsh actor Matt Ryan ("Assassin's Creed IV: Black Flag") brings Constantine a much-needed sense of depth and even though Constantine remains one of the darker DC Comics productions to date, Ryan manages to actually capture the cynicism and wit John Constantine is known for.
The series opens its first scene with our main character on a self-imposed stint in a mental institution, his first words being "Make sure they're tight love." The moment encapsulates one of the biggest flaws of "Constantine" as a show, its tone. This problem stems from the subpar dialogue, which is to be expected from a primetime NBC program. But more surprisingly, Ryan's ability to bring charisma and energy to Constantine is eclipsed by the fact that he shines in the show's character-driven scenes. Seemingly standing head and shoulders above the rest of the cast, Ryan actually brings Constantine beyond an angst-filled dabbler of the dark arts; he's damaged and it's obvious.
To the credit of Daniel Cerone, who wrote the script, "Constantine" builds a fascinating back story and throws viewers right in the middle of it all. One of the strongest plot points is Astra Logue. Astra (newcomer Bailey Tippen) is a young girl who Constantine attempted to save by using another demon to handle his business. It didn't go well. The aforementioned demon, Nergal, not only does not do Constantine's bidding but drags Astra to hell. It's these details that paint the context of Constantine's character and gives the season hope for some interesting arcs.
Thankfully, "Constantine" has something else going for it. It looked pretty cool and this combined with decent story arcs is admittedly fun. From moments like the creation of a crater into hell and exorcism like body-bending, "Constantine" puts a staunch amount of effort into                        its presentation.
Director Neil Marshall, known for his work on "Game of Thrones," is the main culprit for the creative take on the dark arts. These moments make up for the weakest part of the show and that's who Constantine comes back for, Liv.
Liv is the stereotypical dead friend's daughter who acts as the driving force for the plot, and as quick as she comes she goes. Lucy Griffiths, who was cast as Liv, was written out of the show as regular filming began. Aside from Liv, we're given an interesting cast of characters to work with, Chas (Charles Harlford), Constantine's oldest friend and a survival expert, and Manny (Harold Perrineau), an angel who brings Constantine a more than ineresting oppurtunity.
Though it was a pilot, "Non Est Asylum" only scratched the surface on what is a wealth of character development. While it was clear the creators, Daniel Cerone and David S. Goyer, wanted to approach Constantine's pilot episode with a bit of lighthearted humor, it wasn't exactly cynical. With that said this pilot isn't without any hope. The depth of the storyline and Ryan's performance will carry this show or be diamonds in the rough of another one season and done show.