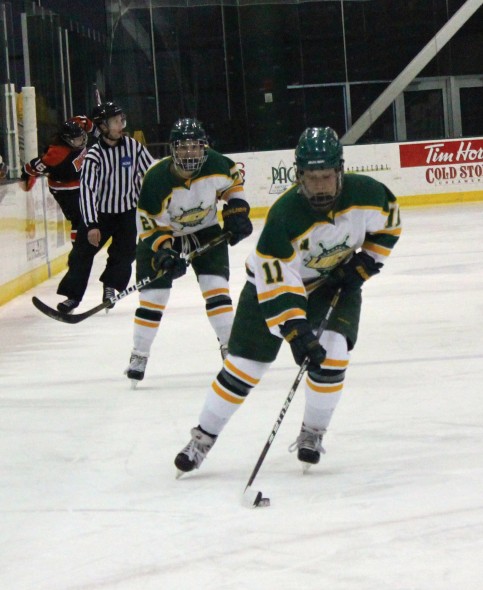 Starving. That is the word Oswego State women's ice hockey captain and junior goalie, Tori Trovato, used to describe the eagerness of the team to take the ice this season.
After over six months, the wait for Trovato and the Lakers is nearly over. When the Lakers take the ice Saturday against the Toronto Midget Aeros, the success of last season will be firmly planted in the past, as they attempt to make history for a second consecutive season.
The aforementioned history came in the form of a record-setting year for the Lakers last winter, as they earned a program high 17 wins. However, by virtue of the four-year collegiate program, this Oswego State team has undergone a major transformation, losing nine seniors from last year's team.
For the most part, the discussion around this Oswego State team has had nothing to do with the players it currently has and has had everything to do with the players it lost.
One constant for the Lakers has been their head coach, Diane Dillon, who enters her eighth season with the Lakers in 2014. A veteran, Dillon acknowledges the caliber of players the Lakers graduated, but she has little doubt this new team can achieve the same successes of last year.
"Every year is different, and certainly teams change," Dillon said. "We have some very skilled players coming in, in addition to our younger players maturing. We have strong goaltending, that hasn't changed. I think we're still one of the best in the league in the net, if not the best. We've added some speed and some scoring ability, which is one thing I think was really lacking last year."
"Do I think we can match the win total? Sure," Dillon said. "I think it's just going to be a different Laker team going after that total."
Fortunately, one thing the Lakers are not losing is leadership, which is exemplified by two of their new captains, Trovato and junior forward Lizzy Marks. The letters on the jerseys of Marks and Trovato are merely technicalities, as both of them have been leaders on the team since their arrival two years ago.
"As sophomores last year, all we did was just absorb every bit of information from those captains," Trovato said. "We'd ask questions, we'd ask how to handle different situations, and they really helped us as emerging leaders."
Marks, who was disappointed with her total of two goals last season, is aware of the expectations around her this year.
"It was frustrating last year not being able to produce like I wanted to, but going into the summer those are the things you work on," Marks said. "You shoot pucks on the driveway, you stick handle, you do everything you can to get better. The pressure to put points up is there, but you have to do the little things right first."
Trovato's path to becoming the captain may be even more interesting when one considers her role on the team, as Dillon has yet to name a starting goaltender for Oswego State. This comes as no surprise, however, as the Lakers played the entirety of last season without an official starting goalie.
Last season, the Lakers held three goalies on the roster. Aside from Trovato, Oswego State handed the net to then senior Catherine Cote, and current senior Bridget Smith. Bringing in freshman Mariah Madrigal this season, along with Trovato and Smith, Dillon expects the competition for the position to be tough.
"Bridget is our lone senior, with three years of experience and determination under her belt," Dillon said. "Seniors always get a little more hungry when they realize that their college playing career is coming to an end. Then there is Tori, who's maturing as a junior now, and is arguably one of the best athletes on our team. Those two are going to be going head to head all day long."
Last season, Trovato entered with the least collegiate experience of the three goalies, so naturally Dillon has not counted out the freshman Madrigal from making a play for the goalie position.
"We've added another freshman [Madrigal] who is a little feisty," Dillon said. "She's come in here thinking she's playing, so she's going to be on these girls' tails, trying to earn playing time."
Trovato, like her position demands, remains focused and determined to earn playing time.
"My mentality has been the same since freshman year," Trovato said. "When I was a freshman I had two girls in front of me, but I still wanted it just like Mariah does now. The net is up for grabs for anyone to take. If she has a good week of practice, Mariah could be in the net this weekend. That's just how it goes."
As if the Lakers needed further motivation for this upcoming year, they found it when their rivals SUNY Plattsburgh won the SUNYAC Championship  last season.
"We're sick of coming in third. We're sick of losing to Plattsburgh and Elmira," Trovato said. "At our house we have a picture on our bathroom mirror of Plattsburgh hoisting the ECAC West trophy. I see that every day. We have that desire. It's our   turn now."
For these Oswego State players, time is short. They are aware how quickly their time as Lakers will pass by.
"We're lucky. There are thousands of women who would die to be in our position right now," Trovato said. "We've got to take every day one step at a time, and not take what we have for granted. This is a once in a lifetime opportunity. We're here for four years and then we're done. Give all we have now before it's over, because it will be over before we blink."
Trovato and Marks have two years left as members of the Lakers, but they can ill afford to look that far ahead. You can remove the nine seniors, but you can not remove the winning attitude that this Oswego State team carries with it. When the Lakers take the ice on Saturday against the Midget Aeros, they will be faced with plenty of skeptics, but do not be surprised if this group of winners proves all the critics wrong.