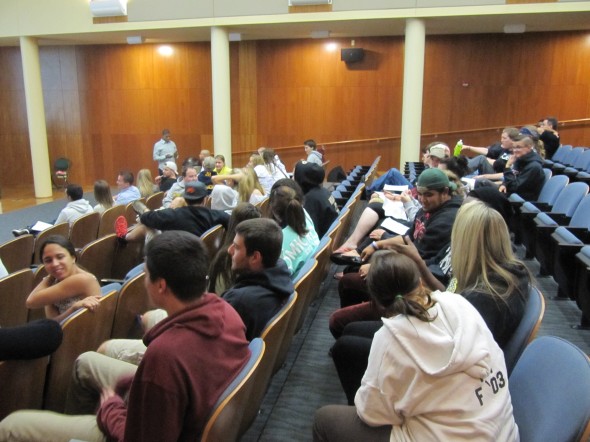 Oswego State has been making strides to further educate the campus community about diversity and inclusion.
Previous issues have rendered concerns about the acceptance of differences on the Oswego State campus. This has recently driven student leaders recently to head training sessions on diversity and inclusion for students, faculty and staff alike.
"As many of you know, last semester there were a few racial incidents that sparked concern from various student outlets that implored the administration of the dire need to address the issues of underrepresented students," said Christopher Collins-McNeil, Student Association director of civic engagement. "It is this kind of student activism that SUNY Oswego needs more of. We need to recognize our power and responsibility we have as students to address the issues of diversity and inclusion that directly affects each and every one of us on this campus and then act."
In the beginning of the fall semester, many professional staff and student leaders including resident assistants, Marano Campus Center building managers and set-up crew as well as Office of Learning Services members and SA executives went through diversity and inclusion training with Derek Greenfield, a visionary speaker, consultant and thought leader dedicated to inclusive excellence who speaks about diversity and inclusion around the country.
The training session was aimed at student leaders and taught these students about diversity and inclusion. By the end of the training, these students were forced to think differently about how the Oswego State campus could be made more inclusive in itself with the help of these student leaders.
"I think [our] campus is pretty diverse," Kiana Racha said, a broadcasting and political science major. "I was really surprised when I came to Oswego how many different cultures there were and how many different clubs and organizations there are to accommodate them."
Although many students might see Oswego State as a diverse institution, not all community members feel the same way.
"I feel the campus is fairly diverse," Lillian Tejada, a transfer junior human resource management major, said. "However, I feel that most of the students are Caucasian. The biggest problem in terms of diversity is that most of the international students live in one residence hall together. They are not spread out through the campus. A lot of the residence halls do not seem diverse as a whole."
Justin Brantley is the SA director of multicultural affairs. Brantley has been partnering with Collins-McNeil during the multiple diversity training sessions.
"The biggest problem that faces SUNY Oswego is that we stray away from talking about certain issues," Brantley said. "The difficult conversations to talk about are the ones which lead to the most learning and growth. Sometimes, it seems as if we sugar coat and ignore the major issues, and don't give certain diverse people the space to discuss the concerns of their community. With that being said, I think the problem is now transitioning into a strength/building experience of our administration, and a major focus of our campus. The initiative of our faculty and staff has been truly admirable, and I personally applaud their efforts to change the culture here at Oswego."
Junior broadcasting major Mitchell Lamb said the training was effective personally, but he is concerned about its success in terms of Oswego State's demographics.
"The diversity training was surprisingly intense," Lamb said. "We need to make the campus more inclusive, but I have no idea how just due to the sheer size of the place."
Greenfield conducts powerful keynotes and workshops at colleges on issues such as diversity and inclusion, motivation, team building, student development, innovative pedagogy and hip-hop culture colleges, according to his website.
"It was life changing to see how much participation he [Greenfield] could get out of a large group," senior business administration and public relations major, Maria Bonacore said. "I wish I would have experienced this training in my earlier years at school."
Collins-McNeil said he would love to have Greenfield back at Oswego State and said SA already had talks with him about returning sometime next year.
"This semester, Dr. Greenfield's trainings were geared toward specific student leaders; however, my hope is to equip SA executives and other student leaders to be able to provide these trainings in an official capacity on a larger scale," Collins-McNeil said.
Since the training with Greenfield, Collins-McNeil and Brantley had two other sessions with students, one with all presidents and treasurers of SA-funded clubs and organizations and one with the Greek Council.
"One thing that we made a point to do was to not only discuss diversity but inclusion as well," Collins-McNeil said. "Diversity is recognizing each other's differences, which is important to celebrate and not ignore difference, but inclusion is taking those differences and working to make everyone feel included. To ensure everyone's voice is heard and working to make each person on this campus feel valued and important."
The trainings have left mixed results on Oswego State students, however. Being a very sensitive subject for some, some students have expressed that the diversity and inclusion training focuses too highly on race when it is just one of many diversity issues the Oswego State campus faces.
"I feel that the fact that they must lecture us on race is ridiculous," said senior history major Marc Gummerson. "This is a college campus in the 21st century. I have never looked at any student differently because of their race and would never discriminate against them if they wanted to join a club."
Collins-McNeil said that one of the activities that attendees participated in was called the "identity wheel," where students had a circle and they would allot a slice of the wheel to a size that reflects one's awareness of a specific social group membership–religious background, sexual orientation, ethnicity, physical and mental ability and race. Listed on the side of the exercise were definitions of various social group membership examples as well as an example of an identity wheel on the back."
"I feel like [the diversity training] was positive but it was stuff I already pretty much knew," said junior accounting major and economics minior Katherine Pike. "It did focus a lot on race, but they did try to incorporate in other diversity aspects as well."
Brantley acknowledged the topics discussed can be sensitive to some people and insists that is part of the equation.
"I am conscious that some topics may have given people an uneasy feeling, which in all honesty, is often necessary for the impact to be felt," Brantly said. "However if they only focused on the racial segment of our presentation, then those students truly missed the bigger picture and purpose of the training. To me, this only means that the conversation has to continue, and people such as Chris and myself must revolutionize our process, keeping in mind all of the surveys and responses that we received from the three previous trainings."
These trainings are not only happening at Oswego State. It is a growing movement, nationwide, to incorporate all student equality while in college.
This past weekend SA representatives traveled to the University of Connecticut to attend a Diversity Student Summit with guest speaker Maura Cullen, a nationally renowned educator on issues of diversity and inclusion.
"The summit brought together student leaders around the northeast working to create inclusive and diverse college atmospheres," Collins-McNeil said. "Dr. Cullen is very familiar with SUNY Oswego, having ran a workshop this past summer for Res Life & Housing."
As the semester continues, it is likely that diversity and inclusion trainings will continue, as Oswego State is taking action for diversity and inclusion very seriously. Likewise, it is expected that this initiative will continue on campus.
"[SA President] Tucker Sholtes and myself have future plans to utilize the many conferences and workshops around the northeast so that we can better address the issues on our campus by learning from other student leaders who have really paved the way for the work that we're doing," Collins-McNeil said.
Collins-McNeil and Brantley are willing to do trainings for any club or organization that is willing.
"We are in contact with the ALANA organizations to conduct a 4th training, which has potential to be IST approved for further student interaction," Brantley said.