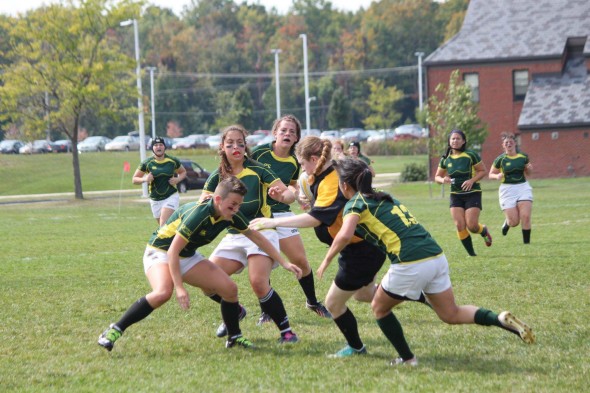 The Oswego State women's club rugby team is taking on a new challenge this fall, as they are competing at the Division II level for the first time.
Moving from Division III up to Division II includes playing more games in the season than they ever have before, against even tougher teams. While this is proving to be a big adjustment, as seen in their 0-3 start to the fall season, senior captain Kathryn Lombardo says they are getting better with every game.
"It's definitely been difficult," Lombardo said. "But the last couple of games we've been getting better slowly and slowly, adjusting to the hardness."
Aside from the tougher competition, Oswego State always faces the challenge of having new members join that know little to nothing about how to play rugby. This year that group comprises about half the team, with the majority of them being freshmen. Without a coach, it is up to the president, captains and senior members of the club to teach their new girls the game.
"It's definitely important that our veterans are always around and supporting each other because we have to self teach," Lombardo said.
Emily Schwerzmann, a junior-elect captain, added that it creates an interesting dynamic since the players coming in with no experience are learning from other players who also came into the program with no experience at first.
Despite the lack of experience, Oswego State does not have a problem generating interest to join the team. Some girls join simply for the workout that such an aggressive sport like rugby provides, and others admit that it is a great stress reliever.
The biggest challenge this presents to the women's rugby club president, Mary Lenhart, is being able to keep track of everyone and communicate with them effectively.
"The most difficult part is getting everybody on the same page all at once," Lenhart said. "It can be a lot to handle, especially because we usually have about 30 to 40 girls."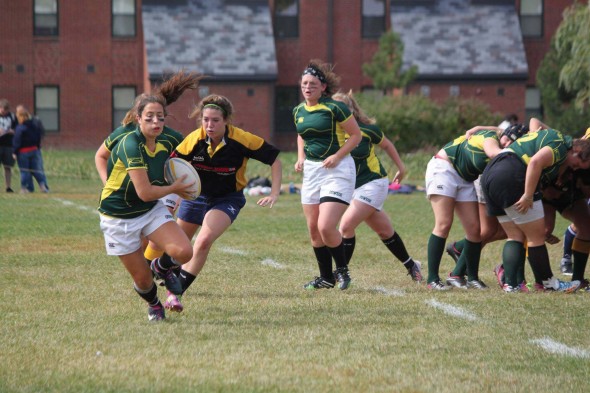 Practices for the team are held at the Hidden Fields on the Oswego State campus, which for the next year will be overcrowded due to the construction of the new turf field on the hill above Romney Field House. This has forced many of the school's varsity teams to hold practices at the Hidden Fields as well, but it should not affect the women's rugby team's practice schedule at all.
"Nobody is ever on our field so that's awesome," Lombardo said, referring to the section of the field all the way in the back. "Everyone else is always over there fighting for space, and no one comes and bothers us usually."
Schwerzmann added that it actually adds a little more excitement to being out on the Hidden Fields with so many other teams around.
"It's kind of cool, though, because normally it's just us and the guys' rugby team out here," Schwerzmann said. "But now it's all the soccer, field hockey and lacrosse teams too, so it's pretty fun."
Although the weather thus far in the fall semester has been nicer than one would expect in Oswego, it is normally another one of the challenges faced by the women's rugby team. When it gets so bad that they can no longer practice outside, they will still find a way to practice in the gym. With the style of sport that they play, however, rugby players are not the type to shy away from a little foul weather.
"We've been out here in hail, rain, snow, everything," Lombardo said. "When it's really hot or freezing rain it's the worst, but we played our first two games of the season when it was down pouring."
With the fall season about halfway over, the only expectation that Oswego State has now is to keep improving day by day. By the spring season, the girls believe that they will be used to the new competition and the new members of the team will be a lot more comfortable.
"I expect us to slowly progress and get better and grow as a team," Lenhart said. "Then, in the spring semester, I think we'll really be bonded, and we'll do a lot better in tournaments because we're used to it and everybody will get the game."
Lombardo admitted that this semester is serving as a bit of an adjustment period for the spring season and beyond.
"It's definitely hard playing DII teams, but I think we're up to the challenge," Lombardo said. "When we're gone, and the new girls are adjusted, they'll be able to kick some butt."
While Oswego State hopes to be a little more competitive in the spring, they insist that it is always about having fun for them. Schwerzmann said that she loves everything about the women's rugby team, but her favorite part is the friends she has made.
"My favorite part is the people, as cheesy as that sounds," Schwerzmann said. "When I first joined, I thought everyone was going to be mean, but everyone was super nice, so I stuck around and really started to like the sport     from there."
Lenhart and Lombardo also said that being part of a positive team that is always known for great sportsmanship is what they like the most. For such an aggressive sport, they are close with the teams they are playing against, and they always get along well.
"After every game we've had a coach or a ref come up to us and say that they value our positive attitude," Lombardo said. "Even if we're having a bad game, they've said that we're the most positive team they've ever played against."
The Oswego State women's rugby team has four more games in the fall season, two of which will be played at home on the Hidden Fields. Their next game will be at home on Saturday, Oct. 4, at 2 p.m. against Buffalo State.