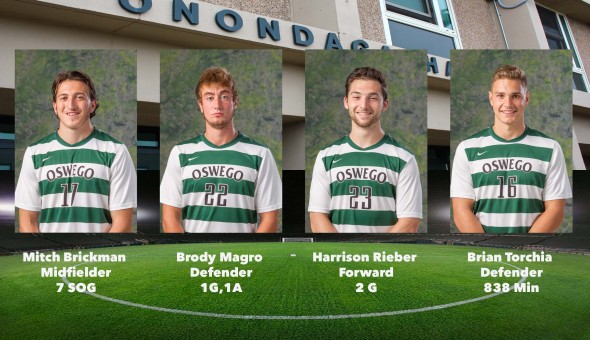 College is a unique network that brings young adults from all over onto one campus. At Oswego State, students come from all across the state, from the tips of Long Island to the border of Canada, and some from beyond New York's borders.
As a Long Island native, Harrison Rieber, sophomore forward for the men's soccer team, has figured out living with people from across the state may not be too difficult at all.
By living in Onondaga Hall with teammates and fellow sophomores Brody Magro, Brian Torchia and Mitch Brickman, all who came to Oswego State last year from Rochester, Rieber has found a way to build camaraderie with his teammates, and form a strong bond on and off the field. When it was brought up that he grew up over seven hours away, he laughed it off.
"When we're together, I feel like we're brothers now," Rieber said.
Although it has only been just over a year since they have joined the team together, the suitemates notice a strong connection building between them, and so has their head coach, Bob Friske.
"Some of them are from Rochester, one is from Long Island, but they're great friends on and off the field and they have good chemistry together," Friske said.
Friske even said that he sees the chemistry that they have built off the field, helping them on the field.
"We're so much closer," Brickman said. "We're with each other 24/7. If we want to be with each other or not be with each other, we're still with each other. That's what it comes down to."
Last year, the team finished with a disappointing winless season, finishing 0-10-5. So far in 2014, they only have one win, but improvements are seen across the board.
When asked if they saw improvements from their first year to their second, they all unanimously agreed.
"From the personnel to the skill level to chemistry to taking it more seriously, it's been a big step up," Rieber said. "Last year our record didn't really portray us in a good way, and obviously this year hasn't been too much better, but he (Friske) has been taking it a lot             more seriously."
Friske has high hopes for this season as well.
"They can move the ball around very well," Friske said. "It's my goal to have the most fit team in the conference, and we're still working on that, but besides that, their ability to move the ball around on the field is definitely better than last year.
While losing a majority of their games on the season, the contests have been tight and competitive, and the Lakers have even outplayed some opponents   in losses.
Despite only one win, the Lakers have actually exceeded their opponents on shots on goal in seven of their nine games.
Brickman recognizes his team's ability to apply offensive pressure and is determined after so many close losses to start capitalizing.
"It's very frustrating, especially as an attacking player like Harrison, Brody and I are," Brickman said. "It's very frustrating because you almost feel like you're letting your team down. I'm the guy that's supposed to be putting the ball in the net."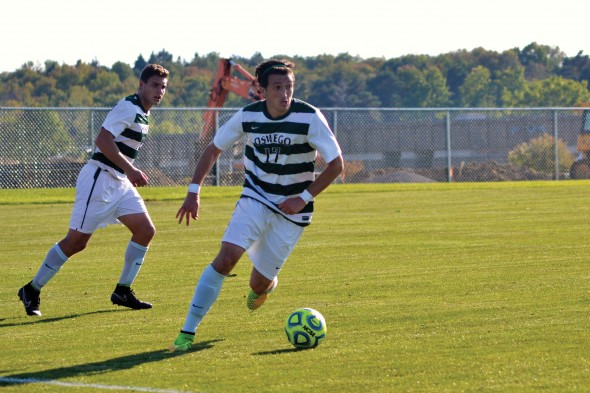 "It's more motivating than anything, rather than just getting discouraged," Brickman said. "Just gotta keep pushing. We've been saying that we're going to get it next time."
Friske also had an optimistic look at the recent struggles on offense.
"Although it's nice to have an opportunity to have goals, and where as last year we only created a few chances, this year, even though it is early on in the season, we're creating our own chances," Friske said.
Because the four sophomores have taken huge strides and become a vital part of the team's success, the question of leadership, despite only playing in their second year has arisen.
"I think because of our friendship, we can all be leaders in some way," Rieber said. " I'd say our main leaders are Zack Saccocio and Michael Fuss. They're more of our vocal leaders."
Friske believes these four have potential, but it is still too early to give such titles.
"Well it's early in the season, and everyone on the team has an opportunity to step up and become a leader. They're exceptional players and have that ability," Friske said.
Friske also alluded to the beginning of conference games for the Lakers as they have recently begun, and will continue to play other teams from the SUNYAC. So far in conference play they have lost to SUNY Oneonta, and tied SUNY New Paltz in double overtime.
Tight games are always tough to swallow. The fact that knowing your team was so close, but could not finish has been heavy on this team.
However, like on many other subjects, the players are optimistic that this will help them for the future.
"Of course it'll help us for the future," Brickman said. "Experience is everything. If you've never been in an overtime game before, then your first overtime game you are obviously not going to be as ready. We've played about 10 overtime games so far."
Friske agreed. He definitely sees these games that are decided in the opponents favor and losses for the team to eventually become wins.
The upcoming games for the team are big ones, as they play both SUNY Potsdam and SUNY Plattsburgh home this weekend at Laker Soccer Field.
Torchia, who is the only one of the suitemates to play on defense, looks to continue on a solid defensive campaign thus far.
Magro, who has a goal and an assist this year, looks to increase his shots on goal percentage, which currently stands at 23.1 percent.
Rieber, who only has three shots on goal, has scored goals on two of those, which is good enough for the team lead.
Brickman, who leads the team with seven shots on goal, with a percentage of 50 percent, looks to finally get the first goal of the season he has been searching for.
This group of young men, enthusiastic about the love of the game and their friendship, even ecstatic about an article being published about them, all look to continue to build their relationship here at Oswego State.
While the title of leader may not be very lucid at the moment, there should be little doubt, looking ahead, as to who the leaders of the team will be in the upcoming years. They can all be found living together in the same suite. No amount of distance can deny that.