Tonight saw the best offensive output of the season for the No. 4/4 Oswego State Lakers as they went on the road and knocked off conference foe SUNY Potsdam by a score of 7-1 in the Maxcy Ice Arena.
The Lakers exploded offensively tonight with a three goal first period and four more in the second to blow out the Bears and pick up two more valuable conference points.
Oswego State's scoring came from five different scorers, with two goals from Josh Zizek and Mitch Herlihey.
Zizek's play tonight added to his team leading total of 15, scoring his eighth and ninth goals of the year. With both goals coming on tips in front of the net, his physical play set the tone for the Lakers to pile on the goal total.
"I'm proud of him," Oswego State head coach Ed Gosek said. "He's been working hard and has been very good on draws. He's been reliable and consistent for us."
The Lakers first period was controlled by Zizek, scoring his two goals during that frame on tips in front of the net.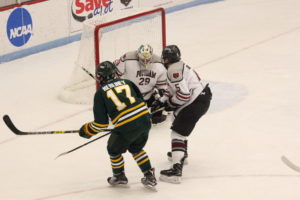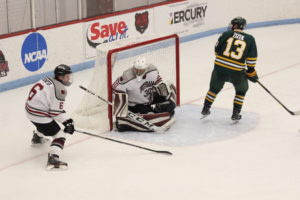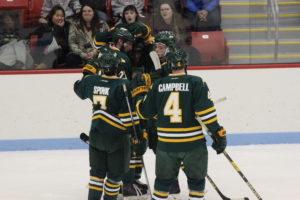 Another player who stood out for Oswego State tonight was Herlihey, who opened the scoring for Oswego State just 9:50 into the contest and netted another early in the second period.
These goals are coming at a good time for Herlihey, who was held scoreless for the first seven games of the season.
"He's had opportunities, they just haven't fallen for him," Gosek said. "I thought tonight his leadership and from a scoring standpoint it was good to see."
After the Lakers took a commanding lead, the game began to get chippy with many hits and slashes behind the play that took the fun out of a blowout win.
With goals from Tanner Spink, Chris MacMillan and Mitch Emerson enough to put the Bears down for good before the end of the second period, there was a multitude of missed calls that allowed the game to get out of hand.
Joseph Richardson of SUNY Potsdam took a game misconduct penalty as well as a trip and a head contact major in the third period when he cross checked Herlihey who was already down on the ice.
The Bears also had another major earlier in the game, when Vinny Guimond was called for a charge. He also slashed Joseph Molinaro of Oswego State behind the play, which went uncalled but sparked most of the violence between the teams for the remainder of the game.
The Lakers performance tonight was a reminder of last seasons team, who not only beat most of their opponents, but were also able to score enough to dissolve any doubt on who would be the victor.
Seven goals surpasses their highest total, which came during the 5-3 win over SUNY Fredonia on Nov. 18.
In net, the Lakers unexpected excellence from their rotating goaltenders continued tonight with a 24 save performance from David Richer, whose only blemish came on a Sean Kacerosky power play goal at 15:06 of the second period.
"They had some great opportunities early and he came up with two saves that I thought were the turning point of the game," Gosek said. "I thought David played extremely well."
With his winning effort tonight, Richer lowered his goals against average to 1.77 and raised his save percentage to an exceptional .929, something Gosek credited to the spirited competition between Richer and goaltending partner Cedric Hansen.
"They really push each other," Gosek said. "It's like 'Okay, I did my job, now you do yours."
Gosek would not disclose who is starting tomorrow in net when the Lakers travel to Plattsburgh State for their rivalry game, but both goaltenders have shone thus far through nine games.
The Lakers still trail SUNY Geneseo by two points for first place in the SUNYAC, but have three games in hand on the Ice Knights to make up the deficit.
Tomorrow, Oswego State will look to further their undefeated conference record when they take on Plattsburgh State at the Stafford Ice Arena.