History
Oswego State men's hockey has compiled a record of 59-24-4 over the SUNY Geneseo Ice Knights since their first matchup. However, the Lakers historical dominance does not account for the upswing that the Ice Knight's program has been on in recent years. In the last ten games between these teams, it has been even with both teams having a 4-4-2 record.
A Closer Look
In recent memory, there have been a few games between these teams that have been chaotic and high-scoring. Dating all the way back to the SUNYAC Championship game at the Ira S. Wilson Ice Arena in 2013-14 when a Shawn Hulshof goal in the frantic final minute put the Lakers over the top by a score of 7-6. Last season in both of the games these teams played, the result came down to the final seconds. At Marano Campus Center Ice Arena, the Lakers stormed back from a late 3-1 deficit to win 5-3 for their biggest victory of the year to that point. Later in the season when playing at SUNY Geneseo, Oswego State came back from being down 5-0 to push the game into overtime where they would finish in a 5-5 tie.
Oswego State Goaltending
Through six games so far, Oswego State men's hockey has stuck to a rotation between goaltenders David Richer and Cedric Hansen, with neither of them able to establish the Lakers crease as their own.
With three starts apiece, both goaltenders have flashed potential to take over the net, but also committed some mistakes, which have led to the open competition continuing into the latter half of the first semester of the season.
This weekend Richer is slotted for the road contest against SUNY Geneseo, while Hansen is in line to start when the Lakers return home a night later to take on The College at Brockport.
Richer has been awarded the win in all three of his starts this season, collecting a goals against average of 2.00 and a save percentage of .920.
The Mirabel, Quebec native has the better statistics of the two Oswego State goaltenders, but a few mistakes have halted Gosek and the coaching staff from naming him the full-time starter.
Specifically, against SUNY Canton at the Marano Campus Center Ice Arena, Richer allowed a goal off a dump in that caromed off the end boards and toward the net where it hit Richer's skate and into the net.
Though it was obviously a fluke and a mental mistake, the redshirt sophomore likely looks back on this moment as a reason he and his impressive stat line has not been granted full-time duties as the Lakers starting netminder.
Hansen was in net for the Lakers only loss this season, though it came in a tough 2-1 overtime result on the road against a strong Hobart College team who was ranked No. 9/10 at the time.
That contest was also Hansen's first collegiate start, after sitting for the majority of his freshman season behind Zawadzki and Jacobson with the exception of two periods at the end of blowout wins.
The precedent set last season of a rotation that rolled through the entire season until the Lakers fell to Hamilton College in the first round of the NCAA tournament proves that Gosek is not uncomfortable with choosing a starting goalie for the duration.
Though Richer has the stronger statistics, it is not my a large margin. Hansen's 2.32 goals against average and .902 save percentage show he is just as capable of an option in net.
As much as Oswego State would enjoy it if one goalie was able to separate himself as the starter, neither one has shown the ability to be the number one or faltered to the point where they become the default number two. Going forward, it would not be surprising it both goalies continued improving and fans of the Lakers see another full year of rotating goaltenders.
Lineup Card
OSW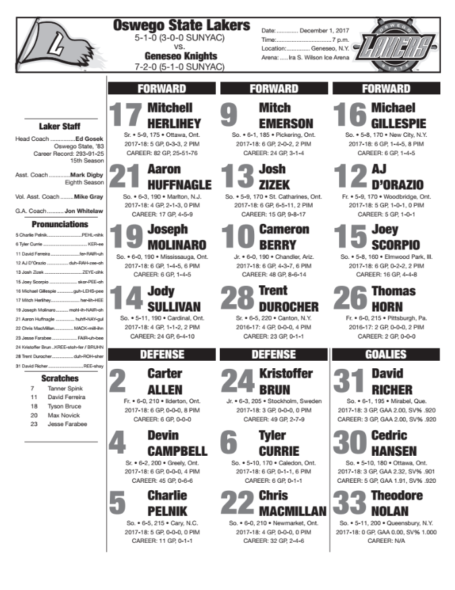 Forwards Trent Durocher and Thomas Horn retain their spot in the lineup, keeping an element of physicality for what is sure to be an intense game against the Lakers rival. David Ferreira remains sidelined with an injury even after being cleared to play this weekend, likely just to make sure the forward does not aggravate the injury.
On defense, Kristoffer Brun returns after missing the Lakers last two games for an NCAA Leadership conference. Max Novick was suspended earlier this week for a hit during the Lakers last game against SUNY Fredonia on home ice. David Richer will start in net tonight, continuing the rotation between him and Cedric Hansen.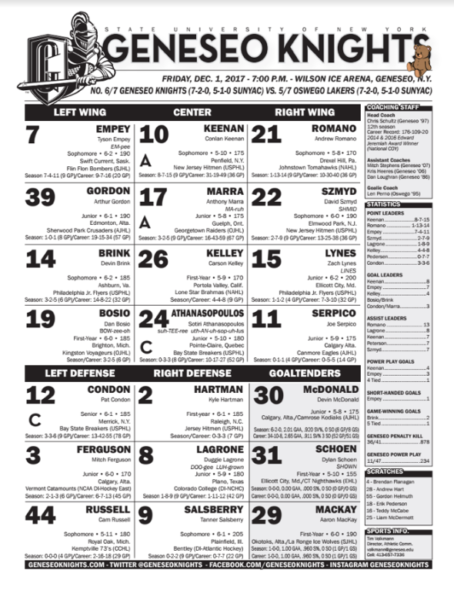 Players to Watch
OSW- David Richer
At this point in the season, it is time for every team to take the training wheels off and really start zoning in on getting conference wins and positioning themselves for post season play. Richer has been deadlocked in  this rotation with Hansen, and there is no doubt both of them are looking to seize the starting role. With that said, look for a motivated Richer to steal tonights game against a high-powered SUNY Geneseo offense.
GEN- Devin McDonald
McDonald is the unquestioned starter for the Ice Knights, starting eight of their nine games so far. He has a nearly identical stat line to Oswego State's Richer, with a .920 save percentage and 2.01 goals against average. The SUNY Geneseo junior is more than capable of standing on his head, and even though these games are usually high scoring, McDonald can keep the Lakers off the scoresheet if he is on his game tonight.
Prediction
These games are nearly impossible to correctly predict. There is limitless Div. III talent on the ice from both teams, from their forwards and all the way back to the net. However, on the bench is where the difference will come from. Ed Gosek of Oswego State and Chris Schultz of SUNY Geneseo are exceptional coaches, and neither of them will ever lose a game for their team. But, Gosek has proven he can walk with his team into any arena and steal a game. Expect the Lakers to come out on top in their highest scoring game to date this season.
Oswego State wins 6-5 in overtime.