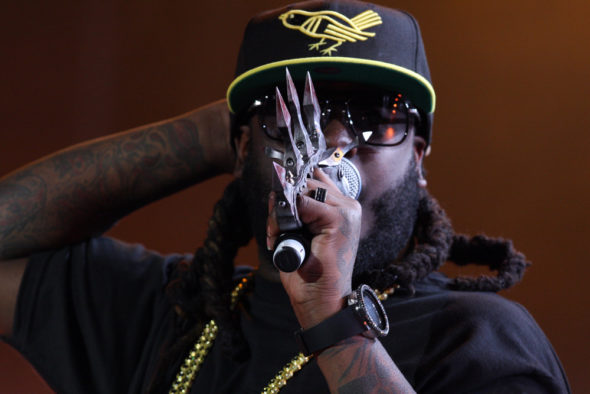 Bartender" artist, T-Pain, released his fifth studio album, "Oblivion." Known primarily for his contemporary R&B, T-Pain shies away from what he has done so well in past songs like "I'm N Luv (Wit a Stripper)" and "Buy U a drank (Shawty Snappin')." Featuring artists like Chris Brown, Tiffany Evans, Mr. Talkbox, Manny G, Black Youngsta, Ty Dolla $ign, Ne-Yo and Roberto Cacciapaglia, T-Pain has a decent lineup regarding selected talent. For those who are looking forward to smooth vocals, they are missing out for the most part, as "Oblivion" focuses more  on rap than R&B.
"Somebody tell me who died / And made you boss."
Coming on strong in the first track of "Oblivion" with "Who Died," T-Pain establishes that he still is on top and his brief absence while working on "Oblivion" does not change a thing. With evoking lyrics toward fellow artists that are topping the charts like Migos and Future, T-Pain tries to clarify that he was the original root for today's hits. 
"Now these n***** busy trynna erase all that / Ain't that a b****? (boot!) / I did everything for the culture / At gun point, with the mask off / But I ain't cry about it, I ain't lie about it / I just kept working my a** off / Now all of a sudden everybody figured out what I was sayin' back in '05."
"Classic You" with T-Pain, featuring anyone else, would most likely be an R&B hit. However, with featured artist Chris Brown ("Forever"), who has lost most of his respect in the music industry since assaulting fellow R&B artist Rihanna ("Work") back in 2009, the romantic lyrics fall flat.
"That's classic you, oh (you, that's my h**) / You be mobbin' in this b**** (yeah, in this b****) / You be vibin' in this b**** / Zero f****, baby, you don't give a s*** (yeah)." Originally intended to be released on "Oblivion," "Classic You" was leaked by "music mafia" back in August.
Attempting to keep with the times with "P**** On the Phone" is a poor crack at a catchy tune. It is focused solely on the likes of sex and abruptly insensitive lyrics. From there, within the next two minutes, T-Pain manages to create a nearly comical and harsh track that is plainly crude.
"Ouuh yeah I see you (See you) / But I'm just tryna see what's underneath that white beater / The neighbors gon' think I'm a wife beater / So when you hear that / Baby I need ya."
"Textin' My Ex," on the other hand, is a beat-heavy R&B track that features Tiffany Evans.
"But this unknown number, this is all you / Even though this ain't right / I'll give it to you, I won't think twice / Didn't mean to hurt you / Just hope your new girl don't catch you texting your ex."
Focusing on loneliness and the familiarity of old relationships, T-Pain rekindles an old love in the song as well as his well-known R&B vocals, which leave the listener conflicted between the morals and talent featured in the song.
With references throughout the 16-track album that are just a little too outdated for today's audience, T-Pain also lacks sensitivity when it comes to degrading lyrics and current culture as well as featured artists. Although he has provided a good attempt at rap, it is best that he sticks with the R&B sound he took so long to perfect.
Photo:  Eva Rinaldi (https://goo.gl/Vsqu2z) via flickr