The No. 1 seeded Oswego State Lakers followed up Thursday's 11-10 walk-off win over Ithaca College with a 1-0 victory against the No. 4 seed Tufts University, eliminating the Jumbos from postseason play. This was the very same team, with 22 returners on the roster, that ended Oswego State's season last year.
The two top-20 nationally ranked teams were locked in a pitchers' duel throughout, with both starters going the complete nine innings. Oswego State junior Robert Donnelly was the winning pitcher of record, throwing the complete-game shutout over the Jumbos. Donnelly allowed six hits but struck out nine batters and only walked two, keeping the Lakers undefeated in the regional, despite the offense only mustering four hits all day.
"He's been a big-game pitcher ever since he's been here," Lakers manager Scott Landers said. "He stepped up today, threw strikes and had all three pitches going… He pitched a great game and hung in there for us to give us a chance to win."
Tufts starter RJ Hall matched Donnelly's nine innings on the mound, but allowed the eventual game-winning hit in the eighth inning to John Barnes. Hall finished the day with seven strikeouts and four walks. Hall had a no hitter going through four and two-thirds innings until Olsson lined a sharp single to left.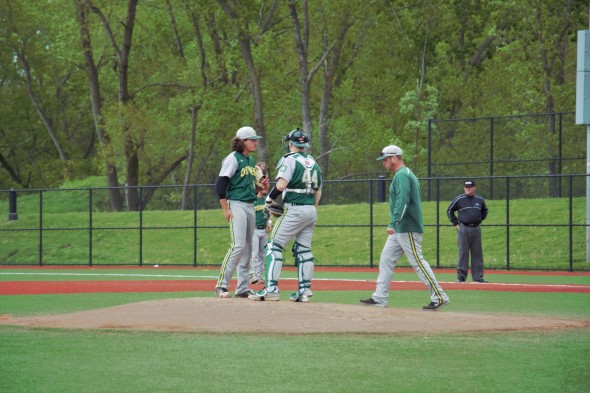 Donnelly worked out of a second and third, two-out jam in the first inning, and the junior hurler did not run into any real trouble until the sixth.
Tufts University shortstop Christian Zazzali led off the sixth inning with a single to center, but Harry Brown could not advance the runner in a sac bunt situation, as he popped up a bad bunt to freshman catcher Lukas Olsson.
The next batter, Oscar Kutch, was hit by a pitch, putting runners at first and second for the Jumbos. A wild pitch then moved both runners into scoring position with only one out. Donnelly then got Tommy O'Hara to whiff on a third strike. Nick Falkson, the four-hole hitter, then grounded out to third baseman Eric Hamilton to end the threat.
Donnelly seemed to add another gear in the latter stages of the ballgame, tallying four of his nine strikeouts over the last three innings.
"When you get out of a jam like that, it gives you a re-boost of energy," Donnelly said. "I was losing a lot of energy throughout the game, but innings like that, when you can come out and find within what you have and get through it, that's what makes a big game winnable."
Oswego State finally pushed across the game's first run in the eighth inning, proving leadoff walks haunt once again.
Wes Randall walked on four pitches to begin the frame and then advanced to second base on a passed ball. Hamilton continued his sluggish start to the regional with a pop out to short, but during the next at-bat, Randall moved just 90 feet away from the game's first run on a wild pitch. This was the first time all game an Oswego State runner was able to advance past second.
After a Mike Dellicarri ground out, Barnes stepped in, going 0-3 on the day to this point. The junior then blooped a single to center with two outs to give the Lakers the 1-0 lead late in the game.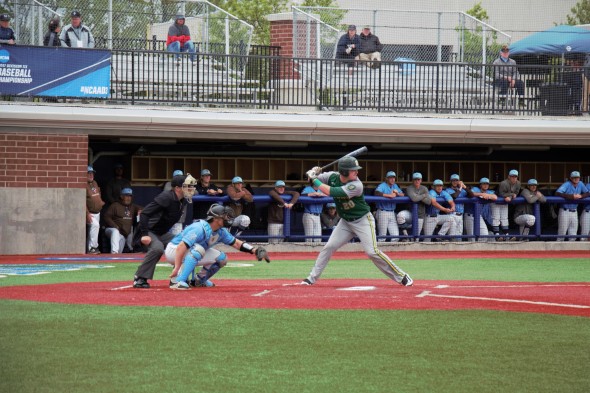 "I was just trying everything I could to put the ball in play and hope for the best," Barnes said. "I didn't hit it that hard, but it found a hole and good things happen. We got a run and [Donnelly] pitched the game of his life."
"I knew my team would come through eventually," Donnelly said. "I had faith in them throughout. I don't get frustrated, I know they can take their time and get it done."
Donnelly had to work out of another tough situation in the bottom half of the eighth inning, this time with two outs. After a single to start the inning from Zazzali and two errors on a single play from first baseman Josh Hoagland, runners stood at second and third. Donnelly came through again though, getting Falkson out on a comebacker at Donnelly.
Tufts University then went down in order in the bottom of the ninth, as Donnelly forced three straight ground outs to secure the victory.
Oswego State now sits at 30-8 after the win and will play Southern Maine Saturday at 11 a.m. after its 10-1 win over The College at New Jersey. Tufts University ended their season with the quick stop in regionals, losing both contests by just one run and falling to 30-10-1