Stymied
Evan Buitenhuis was good, really good, backstopping the Continentals to the quarterfinals of the NCAA Div. III Tournament. But Hamilton College's defense was even better. The defense gave Buitenhuis everything a goalie could ask out of the guys in front of him. Oswego State outshot Hamilton College 35-29, but the deficit could have been even larger if the Lakers' offensive opportunities in the slot did not come with two to three guys on them at all times.
There were numerous times during this game where pucks were put in the slot but had to go through a multitude of sticks and legs. Were a lot of those passes forced? Probably, but at some point you just need to get pucks into those areas and hope for a bounce to go your way.
Here is one example. Mitchell Herlihey curled in the corner and tried to connect with Andrew Barton crashing to the low slot. He made a really good pass that nearly worked, but it was through three Continentals and David Ferreira. Nick Ursitti also swooped in at the last second to stick check Barton.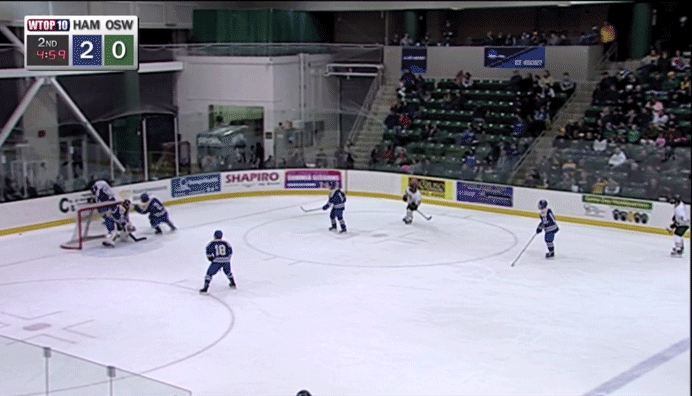 Shawn Hulshof had nearly no chance to get this shot off either.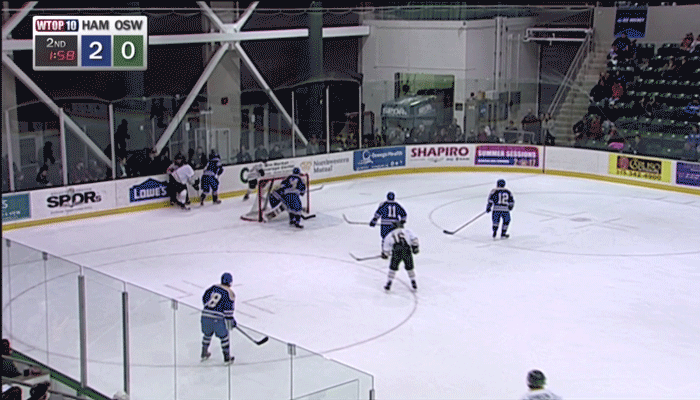 This next rush shows a little look at next season with Joey Scorpio, Josh Zizek and Joey Rutkowski trying to make something happen. Chris Waterstreet started the rush. Scorpio uses his speed and went hard to the net. Then, Rutkowski, who was all over the ice during this game, jumps up in the rush, but the pass to him is knocked away. Zizek quickly got to the loose puck and fired it through the slot, only to have the puck bounce off the boards to Rutkowski inside the near-side circle.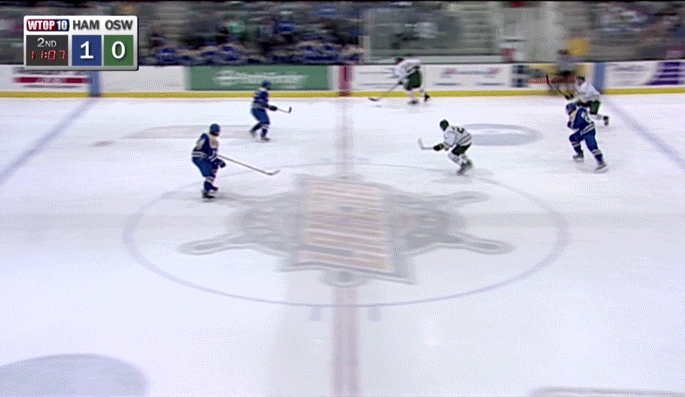 Notice Rutkowski still circling down low after Conor Lamberti disrupted the first pass. There was no play to the middle after that so Rutkowski had to throw it behind the net, but the puck bounced off the end boards and into Lamberti's control.
Pretty much all night Hamilton College was collapsing in the slot, taking away so many would-be high-quality shot attempts for the Lakers. Buitenhuis had to love that.
And when Oswego State did manage to get a puck into a crowded slot, it was shot wide or Buitenhuis was all over it.
Waterstreet had a chance similar to this in back-to-back games. One was knocked away by SUNY Plattsburgh's Ross Sloan. The other, this chance, missed the net.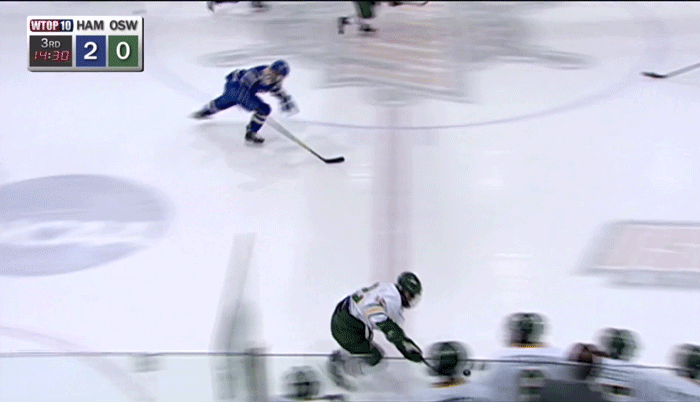 That is one heck of a pass from Joey Davies though.
Some Exceptions
With a chance to tie it, Aaron Huffnagle made this nice pass to Stephen Johnson jumping up in the play. Davies took out Jason Brochu, and that allowed some open space down the middle to allow Huffnagle to work this pass into the slot. If Brochu does not get knocked down and go off for a change, this attempt to tie the game may have never materialized.
Oswego State was creating all sort of chances at this point. A goal here may have opened the floodgates.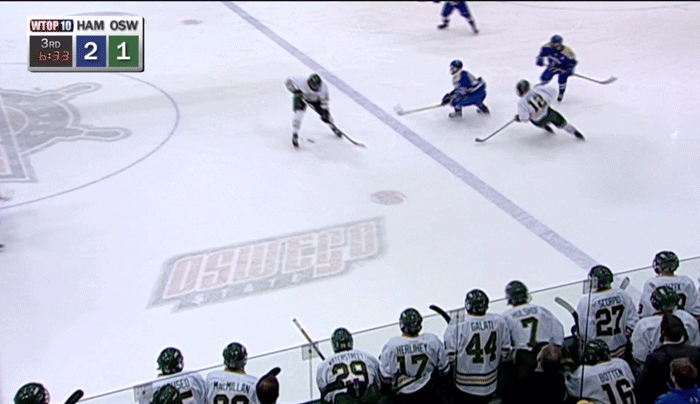 Chris MacMillan's goal was the result of him taking advantage of the Continentals dropping too low on the play. Who else but Kenny Neil to start it all?
Neil drew two skaters to him, curled and fired a pass to MacMillan, who realized he had open space to shoot.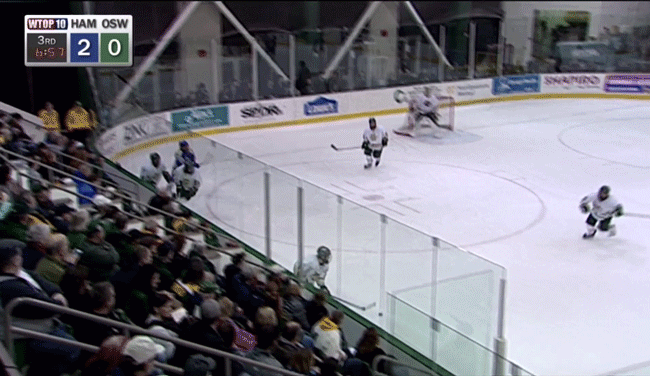 The freshman whiffed badly on the first attempt, but then fired one past Buitenhuis, who was trying to recover from moving to his right anticipating the puck was going to get through. Looks like him coming up empty on the first crack paid off.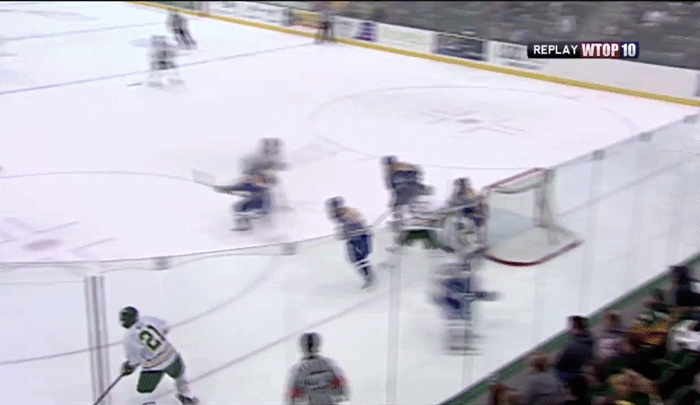 The Difference
Robbie Murden won this game for the Continentals with his two goals and was the difference. Murden has eclipsed the 100-point plateau in his Continental career, and the four guys Oswego State has with over 100 points failed to score once in this game. Hulshof and Neil did both add an assist to bring their totals to 130 and 123, respectively, but Matt Galati ended his time at Oswego State with 10-straight games without a goal and finishes at 118-career points. Botten lands at 118 as well. That is 489 points between those four.
They all had fantastic careers and were driving factors in the success of their teams over the four years, but when a guy who only has two goals to his name is the only one in the goal column after 60 minutes, you know ending that game with a win is going to be tough.
This is the penalty that led to Hamilton College going up 2-0 on the power play that followed. Devin Campbell looks at the ref afterward too like he did nothing.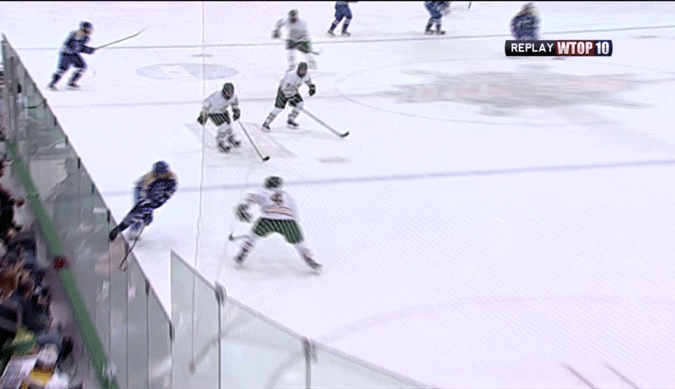 Sterling Bray walked Campbell to get to the inside and has his right arm dragged down in the process. That is clearly worth two minutes. This call was also Campbell's eighth penalty in the last five games.

He took one (high sticking) in the SUNYAC semifinal and Buffalo State scored on that power play. That one really does not matter much because Oswego State was up 6-1 at that point. Campbell got whistled for a pair of tripping penalties in the SUNYAC final. Then he got called for two more in this game (holding and tripping). None of these are penalties coaches want to see.
All of this is from a guy the coaches brought in from Div. I Niagara University that was supposed to give the defense a big boost on the defensive side of the puck.
So, Campbell gave them the opportunity and Murden finished. He had two great deflection chances on this power play. The first one narrowly missed the far post.
The second one, well you know the rest.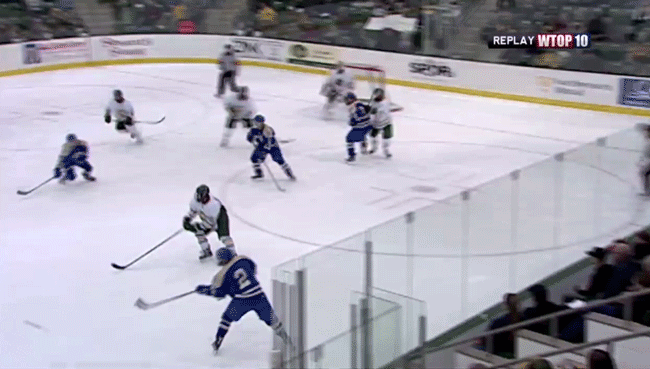 That was a tough puck to deflect too because it was coming in at his body. Hamilton College finished this power play with three shots on six attempts.
The Ending
Murden may not have gotten his name on the scoresheet one more time, but he was the key to all of this. He was 14-18 on draws, the best percentage on his team by far. It was no mystery as to why he was out there to take this faceoff.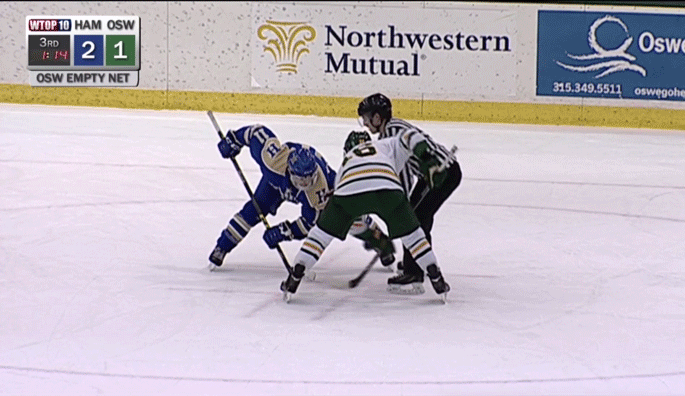 Botten originally appears to win the draw back, but Murden jumps around Botten and swats the puck into the corner to Bennett Morrison. Morrison fired it around the boards and Neil Conway chipped the puck out of the zone. This gave Jon Stickel a clear path at the empty net. I think we all know how this ends.
The Play That Made Everyone Go Crazy
Penalty or no penalty?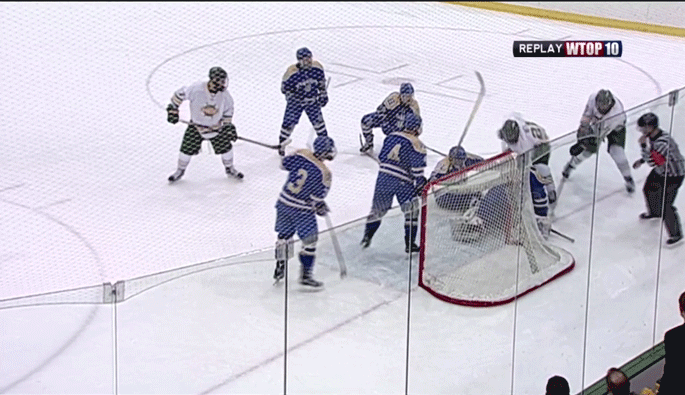 Neil takes a cross-check to the chest after the whistle right in front of the referee, and he does not even flinch. Neil was digging at Buitenhuis pretty good so you know he was going to get something, but a cross-check that took Neil off his feet seems like something the refs probably should not let go.
The fans in the arena really hated this no call. Botten pled his case. Hulshof was looking for the nearest official to get his word in. Even from the blue line Campbell put his arms out to question this after it happened. Head coach Ed Gosek had his time to get his word in as well, but with 5:05 left in regulation the officials did not want to give the Lakers a potential game-changing power play.
Again, this was before Hamilton College took a timeout with 4:08 left to play. The Lakers were buzzing but could not get a call to go their way.
This should have been the first man advantage the Lakers got. They finished the night without even a second of power play time. It is hard to win the special teams battle when you do not even get a look five-on-four.
Future
Next year's team is most likely going to have a totally different feel to it with 12 seniors leaving. 11 of them played regular minutes too. That is going to be a lot of holes to fill this summer.
Herlihey is one guy that is going to be a force next season to help fill those voids. He can kill penalties as well as any forward on the team, finished fifth on the team in scoring (8-19-27) and has played in 77 games in his Laker career. The former Nepean Raider is at a .948 point per game pace as well over those 77 games. Sure seems like he could be a top candidate for a captain spot next fall.
This spin-o-rama was even nicer in real time. This is not the best camera angle, but you get the picture. He opens up to receive the pass, turns and breaks in all in one motion.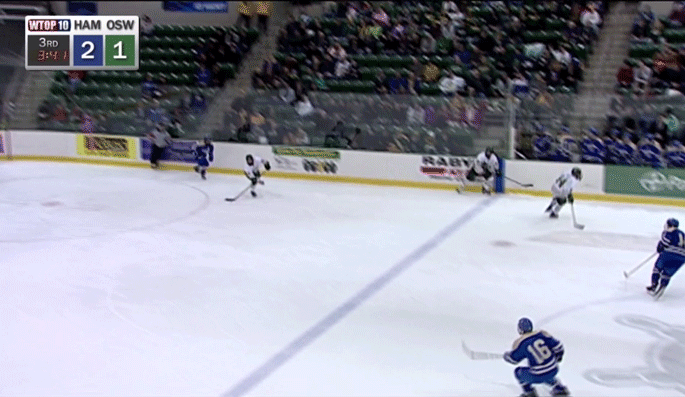 The mantra this season was have the freshmen fight to crack the lineup to keep the upperclassmen from getting complacent. This is especially true for the forwards. MacMillan was the only player to play in each game this season, but the highest total for a first-year forward was 18 from Mitch Emerson.
Aaron Huffnagle should get his chance to make a name for himself next season. With this skating ability the sky is the limit for him. He also finished the night with seven shot attempts, according to Oswego Athletics Live Stats.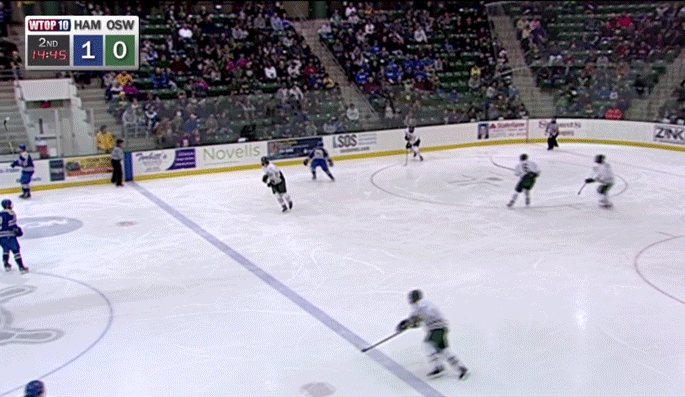 Over/under 25 points for the former Philadelphia Jr. Flyer next year?
Rutkowski is another skater poised to take a big step next season. He jumps up into the rush so well, and even in big games like last Saturday he is not afraid to do so. The Rome native is a fantastic skater and also carries quite the mean streak with him, even though he is only 5'10".
This play should get everybody excited to see what he brings next year. He grabbed the puck along the wall, worked his way into the zone, dropped a pass off for Waterstreet and continued to the net for a rebound chance. Of course Buitenhuis does not allow one though. The little jab of the goalie and two shoves to the defenders is just the tip of the mean streak mentioned above.
Remember all those big hits he punished people with this year?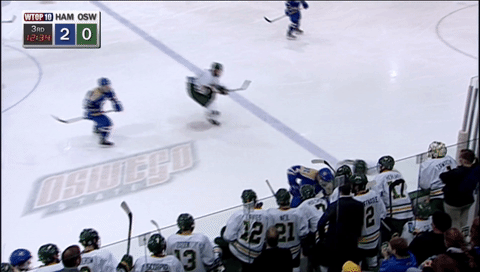 He is giving Murden the business here with the linesman right there. The difference between this and the cross-check Neil took is clear though. Murden remained on his feet.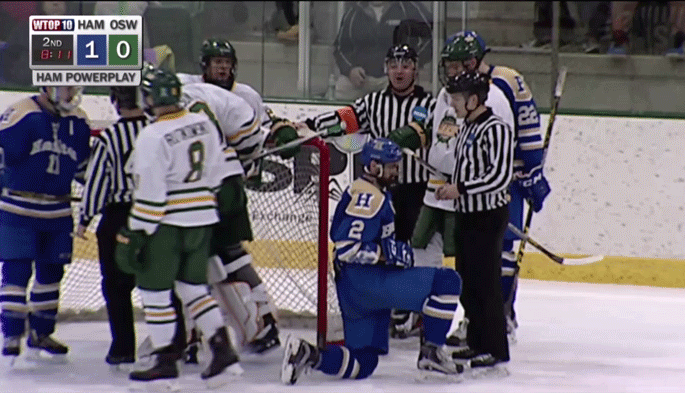 There is a downside to his aggressive nature though, and this is it. Penalties are his issue, especially ones this like. He led the team in penalty minutes this season and needs to cut that number down. However, a big chunk of that was the game misconduct he took against SUNY Potsdam.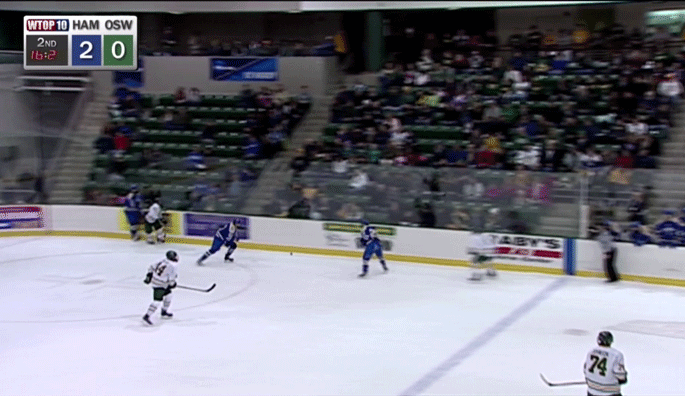 Out of all the returning defenseman on the roster, Rutkowski is the one with the best offensive ability. His game resembles Stephen Johnson's in many ways, and Rutkowski could be the guy quarterbacking power play one in 2017-2018.
Next year's roster, as it stands now, looks like this. There will be five returning defenseman, 12 forwards and three goalies. That includes redshirt goalie David Richer.
The following breakdown will change tremendously with the incoming class and if any player does not to return for any reason. This just serves as a look for what the Lakers need next year, assuming they get to roughly 30 players again to continue the constant competition to get into the lineup. It worked this season, so why not again?
Herlihey-Zizek-Sullivan
Huffnagle-Ferreira-Scorpio
Berry-Sneath-Emerson
Bruce-Durocher-Lipa
---
MacMillan-Brun
Campbell-Rutkowski
Pelnik- //
---
Jacobson
Hansen
Richer
It is no question the roster will be filled come time for camp, but where will the goals come from? The main concern for most people prior to the start of this past season was how will the offense perform after the down year in 2015-2016. Neil even pointed that out in the post-game press conference after the loss to Hamilton College. That same question will be making the rounds again, except this time it has more merit.
Oswego State only lost two percent of its goals coming into this season. Brandon Adams' two tallies were the only goals the team was graduating. This upcoming season is a different story. With the 11 skaters graduating, 91 goals will be leaving as well. The Lakers will be losing an enormous 70.5 percent of its 129 goals scored in 2016-2017.
Where will those be replaced in 2017-2018? It will have to be a combination of things, but let us hope the new class has some goals in their back pocket.