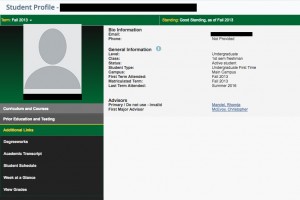 With the first few weeks of classes behind us, students are debating which classes they want to drop because they find the workload for a class to be too much or they've waited for the right moment to jump into a class they need to graduate.
     While the "add" period ended on Sept. 8, the "drop" period continues until Sept. 19. The usual way students would drop or add a class is through their MyOswego account, which is a system that not only lets students add or drop classes, but also pay their bills, add Laker Dining Dollars, change their major and apply for graduation, among other things.
     While freshmen and transfer students are getting used to MyOswego, upperclassmen will notice some changes to their account. Over the summer, MyOswego added two new features to the platform that could change the way the system works in the future.
     The first is the student profile. This profile not only displays the student's ID photo taken at orientation, it also makes it easier for students to look up their grades and schedule. Information about a student's advisor, schedule and major is right there on the profile (advisors, schedule, etc.). It's a great tool for those who are new to the school because they'll have everything right on the profile. Those who have been at Oswego State for a while can go either way. They can use the old-fashioned method and go all over their account to find their grades or go right to their student profile.
     The highlight of the student profile is the "View Grades" link. It's an easier way to view grades from the past, rather than going to the student records tab and clicking on unofficial transcript to look up previous grades. It also breaks down the same information about hours and points seen on an unofficial transcript in an organized way. The student profile is has a link for each student's DegreeWorks account, which is good for those who don't want to deal with the trouble of finding it and then clicking on "Connect to DegreeWorks" afterwards.
     MyOswego also created a second, more advanced way of registering for classes. This alternative method of registration is a mix of handiness and complication. When searching for classes, students won't have to press the control button on their computers to add more than one major or professor to their search. Plus, there is the option to only search for classes with available seats. It's pretty convenient if students find themselevs scrambling to find open classes at the last minute.
     My only little problem with the new registration system is the planning option, which lets students plan out their schedules for the upcoming semester once the list of courses is available.
     As someone who prefers the old fashioned way of finding the course and writing it down on a piece of paper, I wasn't crazy about this new feature. I usually prepare my schedule way in advance but some people don't prepare their schedules until either the day before or the day of their registration time. Why bother with an electronic planner if not a lot people will use it? It's nice for those who do plan ahead, but a waste for those who don't.
     There's some other kinks that need be worked out with the new MyOswego. For example, some links will show an error on the page, but I'm predicting in the next year or so, this fleshed out profile and advanced way of registering will replace the "bland" but simpler design of the old MyOswego.