The selections have been made and this weekend some of the very best student films throughout the SUNY system will be showcased as the Oswego State campus hosts the annual SUNYWide Film Festival for the second straight year.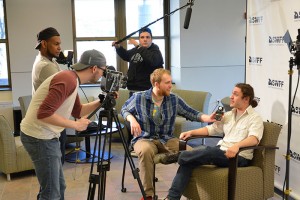 The seventh installment of the festival, which kicks off on Friday, April 8, features SUNY Stony Brook as a co-sponsor to the festival as they look to spread the word about their budding MFA program for film. It is through Oswego and Stony Brook's collaboration that the festival's keynote speaker will be esteemed film producer Christine Vachon, who was the executive producer for the Academy Award-winning film "Still Alice" in 2014 and the Academy Award-nominated film "Carol" in 2015.
"We had a wonderful keynote speaker last year," said Oswego State professor and SUNYWide Film Festival Director Joshua Adams. "This year we have Vachon who is with our co-sponsor SUNY Stony Brook. We're very excited to have her be a part of this, being the position she's in with Killer Films and the success she's had throughout her career with her production company and the films she's put out. It's wonderful to have them be a part of this."
Vachon's involvement in the festival speaks to Oswego's cinema and screen studies program's successful attempt to take the SUNYWide Film Festival to new heights. The campus relieved SUNY Fredonia of hosting duties in 2015 after the former had hosted the first five festivals dating back to 2009. Upon becoming the host campus, the cinema and screen studies program at Oswego looked to model SUNYWide into a festival that would benefit the visiting student filmmakers beyond the aspect of screening films and presenting awards.
As a result the festival includes workshops and panels providing insight on a variety of topics from MFA programs in film to breaking into the film industry. Above all else, however, it is the interaction and connection formed between student filmmakers that can leave a lasting impact. Jared Biunno, a film student at SUNY Binghamton and co-founder of the Binghamton Film Initiative, attested to this when regarding BFI's collaboration with Buffalo State's Akram Shibly on the film "Project Nomadic."
"The collaboration was a great example of the kind of friendships that can result out of SUNYWide," Biunno said. "I've been working with Akram for a year now on 'Project Nomadic' and since then we've stressed together, we've celebrated together, we've schemed together, it's been a wild ride."
Last year's festival served as the coming out party for Biunno and his friends at the Binghamton Film Initiative. Their three visually stunning films "Dead Meat," "Ember" and "Fallout" were some of the most talked about films in the festival with "Ember" winning honorable mention in the fiction category and "Fallout" winning the grand jury prize. This year BFI returns, once again with three films out of the six they submitted selected in "MIME," "ANNA" and "CUL DE SAC." While many are looking forward to BFI's films, co-founder and cinematographer Oliver Lau is looking forward to attending.
"Like any other film festival that I attend, I try and steer away from the hope of winning awards and such," Lau said. "The best part about attending festivals are the filmmakers we get to meet and the mini community that forms around such festival. Nothing excites me more than seeing quality works from my peers and the prospect of teaming up and collaborating with them."
As the Binghamton Film Initiative has proved, SUNYWide can be a platform for making a statement and turning heads. Great, quality films can come from places people either least expect or haven't paid enough mind to.
In this year's festival are three films from three different community colleges including two documentaries in SUNY Dutchess County Community College's "Aberration," a film that follows a woman with schizophrenia, and "One Love: The Eric Tallman Story" from Tompkins Cortland Community College which follows the tragic death of Eric Tallman. The final film from Westchester Community College is "Virginia," a stunning statement on gun violence in relation to the Virginia Tech massacre in 2007.
Even with the influx of rising film programs and movements on display at SUNYWide, it is the festival mainstays of Oswego, Fredonia, and Purchase that lead the pack once again. Both Fredonia and Purchase find five films in the festival representing, with three of Fredonia's coming in the animation category, joining Oswego and Binghamton as the schools with the most selected films in one category. Being the host campus, it is Oswego that has the most selections for the second straight year, this time with six, one less than last year's seven.
In this batch of Oswego selections lie two of the final student films made by now Oswego alumnus Peter Myers, who holds two of Oswego's three selections in the animation category in "From Dust" and "Orchestrate." During his time at Oswego, Myers had sculpted a reputation as an admired student animator and filmmaker, previously winning the award for best picture at the Oswego Film Club hosted Mixed Emotions Film Festival in 2014 for "Gone Fishing."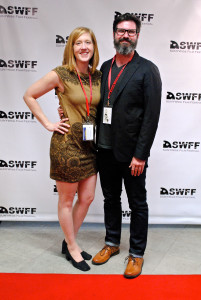 Oswego also finds two films in the experimental category in "Unrestrained" and "Walk." Emma Rathe, a senior who wrote and acted in the latter, struggled to find the words to her emotions regarding her film's selection.
"I'm so flattered just because there was some really great content out there so to have ours be chosen to compete was just a great feeling," Rathe said.
"I'm looking forward to all the films," Adams said. "I think they're all great and they're all in good standing in representing what SUNY is doing in filmmaking and artistic endeavors and the creativity of the students. I'm also looking forward to that communal idea of filmmaking and forming friendships, bonds and relationships going forward."
The stage has been set for what should be a monumental weekend at SUNY Oswego as the SUNYWide Film Festival begins on Friday, at 5 p.m. with the opening night reception in the Marano Campus Center.
The keynote address with Vachon will take place at 7 p.m. in the Marano Campus Center auditorium. The festival is a two-day affair that ends with Saturday night's award ceremony at 8:30 p.m. in the Marano Campus Center auditorium.