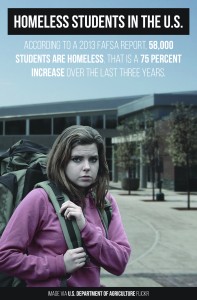 Three months out of the year, crashing on a friend's couch is the norm for Senior Dylan McGill.
With his nearest relative in Ohio, McGill scrambles to find a place to live on school breaks.
"Nine months out of the year you have somewhere to call home," McGill said. "The other months I don't have somewhere to go and I have to figure it out."
According to the Free Application for Federal Student Aid (FAFSA) McGill is one of 58,000 homeless college students across the U.S. who lacks fiscal support.
Uprooted at 15 years old the Wolcott, New York native became a ward of the state when his father was imprisoned and his mother moved to Pennsylvania.
"It's not one of those easy things where I could just stay with a parent," McGill said. "I am the first one to go to college."
At 18, McGill filed his FAFSA as an independent, allowing him to skip imputing his parents' financial information.
To afford the expense of tuition, McGill serves as a Resident Assistant at Scales Hall and works 10 hours a week at Lakeside Dining Hall. He also takes out loans.
According to Oswego County Opportunities Director Eric Bresee during the off-campus season homeless students are displaced.
"Young people during the semester have housing because they're staying in their dorm," said Bresee. "Once a school break comes they don't have housing anymore and are essentially homeless."
For months, McGill slept on a couch in a friend's living room. Often, the tension builds between housemates in the tight living quarters.
"Last winter break I spent it with a friend [and] we are no longer friends," McGill said. "Some people can handle living with some people and some can't."
Bresee explained it takes between four to six months for homeless students to overextend their invite.
Meanwhile, McGill packs his bags and moves into another companion's place until it's time to leave.
"The hardest part is the uncertainty," McGill said. "The uncertainty paired with everything going on with classes. When it comes to the middle of semester where am I going to go once this time is up?"
Bresee explained it's difficult for students to maintain coursework while they are in between homes.
"It's a challenge for students to stay in school and complete school with the challenges they have at the moment," Bresee said.
Homeless shelters in Oswego County are non-existent. The nearest safe haven, The Oxford Street Inn, is 34. 8 miles outside of the city in Syracuse, New York.
As a transgender male McGill fears sexual assault in a cis-gendered facility.
"If I ever had to go into a homeless shelter I would not feel safe," McGill said. "As a trans man [you are] more likely to be raped. That's something I fear living in male quarters."
In a 2011 report by the National Center for Transgender Equality, 15 percent of trans men are sexually assaulted in shelters.
Bresee explained the LGBT community is disportionately affected by displacement.
"There has been a trend recently where you have differences in core values," Bresee said. "You might have a college student exploring their sexuality [or] identifying as gay, lesbian or transgender. The values at home just don't match."
McGill's grandmother disowned him for his gender identity.
"When my mother asked her [mother] if I could stay for a short period of time, she said no," McGill said. "It hurt she loved me unconditionally when I was younger [and] I came out and it got ripped away."
Last year, McGill discussed the option of summer break housing with ResLife. According to college policy, only international and out-of-state students can stay on campus during vacation.
"The homeless can't go home," McGill said. "But they are not allowed to stay."
Assistant Vice President of Residence Life and Housing, Richard Kolenda, was unable to comment before publication.
Next month, during Thanksgiving break McGill will once again make phone calls to friends to manage his now four-year displacement.
"I want to have the familial support to say, 'come home,'" he said. "But I don't have a place to call home."