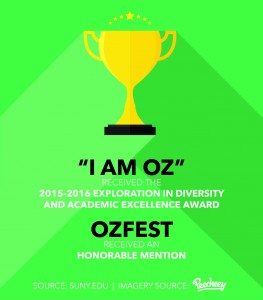 Over the past year Oswego State has made an effort to spread awareness of multiple cultures and backgrounds on campus.
Last week, "I Am Oz" and Ozfest received recognition from SUNY for outstanding programming.
According to SUNY, awards are given to "outstanding student affairs programs that have demonstrated a positive impact on students and their development." The "I Am Oz" campaign won the 2015-2016 Exploration In Diversity and Academic Excellence Award as well as SUNY Council award in the international, multicultural, gender, LGBTQ, spirituality, disability and related programs category. OzFest won honorable mention.
The "I Am Oz" campaign shines light on orientation, the "I Am Oz" speaker series, "I Am Oz" poster campaign, federal heritage month's programming and the "Shine the Light on Oz" all incorporate different aspects of dispersing diversity among students, professors and organizations.
The "I Am Oz" program emerged Sept. 2014 in hopes of engaging the campus community in substantial and respectful conversations in regard to race, gender, sexual orientation, religion and ethnicity.
Daniel Roberts, coordinator of new student orientation and acting chairperson of the Diversity and Inclusion Committee, explained the purpose of the campaign.
"The 'I Am Oz' Campaign was a yearlong series of programs, conversations and photographic displays designed to help recognize and celebrate the richness of the SUNY Oswego community," Roberts said. "It was a way for all members of our campus community to recognize, celebrate and appreciate the various cultures, values and ideals that now make SUNY Oswego a vibrant community."
Justin Brantley, a 2015 alumnus, was one of the founders of the Diversity and Inclusion Committee. He explained how a black face incident that followed Black History Month sparked the creation of the committee. With the supervision and support of Dr. Jerald Woolfolk as interim diversity and inclusion officer, "I Am Oz" began to flourish.
Roberts and Brantley both believe the school has demonstrated the need for the program and as executed well-organized campaigns and programs to receive such honor. The school has clearly demonstrated that the "I Am Oz" program is having a positive effect on the community as a whole.
"I think the award is very telling in the change of culture here on SUNY Oswego's campus, and I mean that sincerely," Brantley said. "That award is a culmination of all of those events being created and seen to fruition within a calendar year. As it relates to the SUNY system, we were able to set a standard here for the year, and we had no problem talking about. I believe it was an amazing first step."
SUNY also awarded Ozfest with an honorable mention. Last May, Oswego State provided an alternative to Bridge Street Run, a bar crawl, for students to enjoy their last day of classes.
The event was free and included games, food and music leading up to the annual spring concert, declaring it a new tradition known as OzFest. The concert featured TimeFlies, B.O.B and Mac Miller and headliner Big Sean for students who paid for a ticket to attend.
Oswego State plans to continue these projects. Upcoming speakers for "I Am Oz" speaker series include Robin W. Kimmerer, a notable teaching professor at SUNY College of Environmental Science and Forestry, who will present "Finding Common Ground Between Indigenous and Scientific Ecological Knowledge." This event will take place Nov. 16 at 7 p.m. in the Marano Campus Center auditorium. On Dec. 2 Alrene Kanter. A law professor at Syracuse University, will present "Who's In, Who's Out and Who Decides: The Rights of People with Disabilities" in the Marano Campus Center.
Brantley believes last year's campaign acts as a model to better this year's experience and Roberts declared "I Am OZ" a program that is here to stay.
"I think the 'I Am Oz' series is in a wonderful place. There are a lot of great people, students, faculty, staff and administrators that are putting their energy and effort into making Oswego a more inclusive community," Roberts said. "With that kind of collaborative support and passion at our backs I think that means the series will continue to grow, evolve and have an impact on campus for years to come."