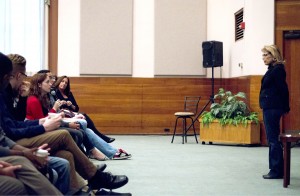 Oswego State President Deborah Stanley hosted a town hall meeting on Monday for students to share their questions and concerns about hot topics related to campus.
This was the third Conversation With President Stanley event.
"I get to talk to students directly and hopefully, they get to hear me directly," Stanley said. "Once you get a filter around a big campus like this, it's so hard to correct the record." Stanley said the meetings are as beneficial to her as they are to students.
"When we call ourselves student-centered, that means something," Stanley said in her prefatory remarks. "It is backed up by what we do. But along the way, we have some issues."
These issues were voiced by students throughout the evening in a meeting that lasted nearly two hours. One student asked why it is so hard for students to get into the classes they need to graduate. Another brought up concerns with the washing machines, dryers, Wi-Fi and showers in Moreland Hall. A concern was raised about a lack of commuter spots in parking lots and also about active shooter situations.
An issue on Oswego State senior Rebecca Herwood's mind was the problems with the Waterbury Hall renovations. Herwood said she feels the front desk is "not the most safe place to be" and that she has also noticed problems with the study rooms in Waterbury Hall. Stanley responded that the $11 million renovation project had to be done in a short amount of time, and because of that, no change orders could be put in after renovations began.
"I felt that my concerns were heard, but that I had trouble on my own speaking publicly and that, added with my frustration when I was told that our concerns would be addressed for Scales in two years instead of with Waterbury now, lead my response to be muddled," Herwood said.
Michael Hegarty, an Oswego State senior, asked Stanley about the town's plans to protect the D-Bus from being banned. Stanley said she feels the D-Bus often "enables unhealthy, antisocial behavior."
"That's the attitude that causes kids to die," Hegarty replied. "Let's not tell kids not to go to parties… It's just a part of our culture; I understand you don't want that."
A student brought up the campus-wide smoking ban, saying his asthma made it a problem that students continue to smoke on campus, in spite of the ban.
"This policy was adopted by the campus without punishment being the leading force," Stanley said.
Jerald Woolfolk, Vice President for Student Affairs and Enrollment Management, also addressed this query. "Culture changes take a while. As individuals, we have to take some initiative as well."
Woolfolk advised students to speak up if they see someone smoking to help this culture change take place.
"The smoking question surprised me. I wasn't expecting to hear that still is a problem," Stanley said after the meeting.
One student talked about the trouble she and her friends have traveling to and from New York City. She said she would like to see Oswego State provide more affordable, direct transportation options.
Michael Flaherty of Auxiliary Services recommended the Trailways service for transportation. The student said Trailways did not meet her transportation needs and Stanley told her, "your complaints are the exact opposite of what we've heard."
Stanley said she will ask faculty members to "take a really strong look at that" and to reevaluate the issue.
Stanley answered questions on topics including Centro drivers texting while driving, problems with Hart Hall's maintenance, Oswego State homecoming, the quality of professors on campus and the population of homeless students on campus. Many faculty members were present as well, answering the questions specifically related to their department.
"I was glad that President Stanley had staff there that could answer these localized questions from department to department," Herwood said.
Hegarty said he appreciated the event because it ensured a sense of visibility with the administration.
"A lot of the student body doesn't feel like there is one," Hegarty said. "They feel they don't know what's going on, so this helps that… I think there's a long way to go, but I think there's more transparency."
Stanley said she thought the meeting was "overall okay."
"I'm always surprised at where the questions fall," Stanley said.
She said Oswego State administrators will be holding meetings related to the issues students raised during the evening and that students can expect to see action being taken.
Stanley said she plans to hold another town hall meeting at the end of this semester. All students will be invited again to ask Stanley their questions face-to-face.